Wegelnburg, a panoramic treasure and a ruined castle
Located in a forest on the French-German border, we can find the remains of the 12th century Wegelnburg castle. Built on large sandstone rocks, the castle was destroyed several times over the centuries and is now best known for its astonishing panoramic views.
Wegelnburg's history
Located in the forests of the German border community of Northweiler, you'll find the remains of the 12th-century castle Wegelnburg. The castle was initially built by the Hohenstaufen dynasty to preserve the border of their territory.
When we look back at the writings of that period, we note that it was first mentioned in 1247. It was already taken in 1272 by the troops of the Prince-Bishopric of Strasbourg and subsequently passed into the hands of Rudolf I of Germany.
Thanks to his funding and his ministers' help, the castle was expanded over the years. In 1330, the castle was pledged to the Electoral Palatinate, and finally, in 1417, the castle came into the possession of the dukes of Palatine-Zweibrücken.
Throughout the 16th and 17th centuries, the castle was attacked several times by the French troops, after which it was regularly repaired and enlarged. Eventually, it was heavily damaged by the imperial mercenaries during the Thirty Years' War at the end of the 17th century. 
According to the literature of that time, the current remains of gates, buildings, large rock chambers, and circular walls date from that time.
Key facts about Schloss Wegelnburg
Wegelnburg is currently surrounded by fencing, but it is still possible to visit the ruins.
| | |
| --- | --- |
| Key facts | |
| Region | Rhineland-Palatinate, Germany |
| Built in | 12th century |
| Names | Burgruine Wegelnburg, Burg Wegelnburg, Schloss Wegelnburg, Wegelnburg, Ruine Wegelnburg |
| Price | Free accessible |
| Address | Lembacher Str. 13, 76891 Nothweiler |
| GPS coordinates | 49°03'39.60″ N, 7°47'13.20″ E |
Key facts about Schloss Wegelnburg
Our visit to Burgruine Wegelnburg
We visited Wegelnburg as part of our road trip, during which we traveled through Europe for a week in a campervan including Schloss Lichtenstein, Santuario Madonna Della Corona, and Veves Castle.
We arrived at Wegelnburg on a cold winter night, and because there was a clear sky, we decided to look at the stars and enjoy our night. While we were stargazing and exploring the area around the Castle, our electronics were charging in our motorhome using the Ecoflow River Pro power station.
Although the parking was not equipped with electricity poles or showers, we spent the night in our camper (wild camping) until the following day.
Please note: during our nighttime hike to the castle, we encountered several wild animals in the distance, from wild boars to a family of deers. The walking path is not lit at night, so it is best to bring a flashlight if you're planning to do the same. We helped ourselves with our Nanlite PavoTube II 6C lights.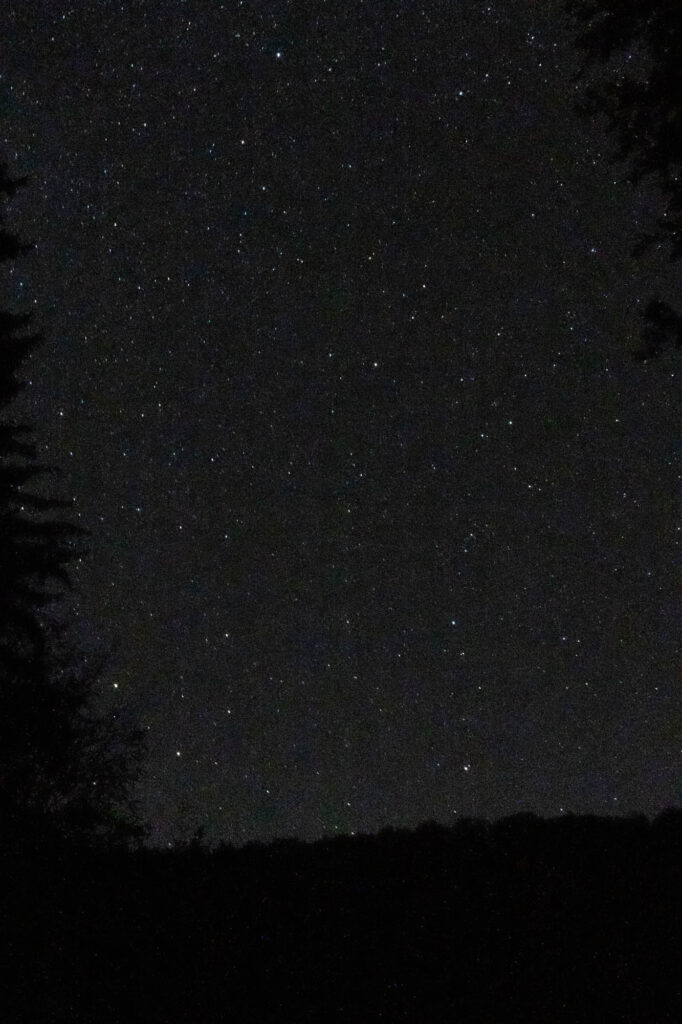 How to reach Burgruine Wegelnburg
The ruins of Wegelnburg are located in the middle of the Palatinate forest, which means you'll need to hike towards the ruins. It also means that it's surrounded by nature, which creates a fantastic atmosphere when the season changes.
So be sure to pay attention during autumn and winter, as the road to get there can get very muddy.
We parked at the Wanderparkplatz Nothweiler during our trip and followed the zigzagging hiking trail to Wegelnburg. This route is around 5 kilometers long, regularly crosses the German-France gens (so cell phone connections are cut), and passes several sights on its way: such as Loewenstein Castle ruins and the Buntsandstein Felsen.
It was only on our way back that we noticed a shorter hiking trail, which started in a straight line to the village (at 13 Lembacher Str.). From there, it is only a 200 meters walk to the Wanderparkplatz Nothweiler.
Because Nothweiler is a border town with France, there are hardly any options to visit this place by public transport.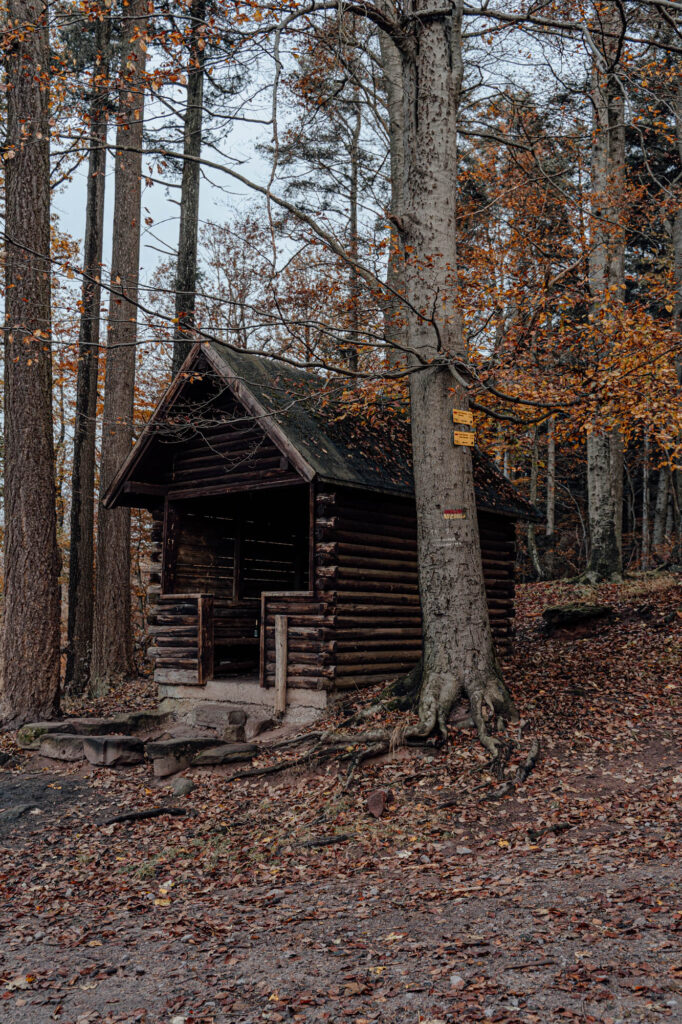 When to visit Wegelnburg
The Wegelnburg is located on top of a mountain, making it a subject that can be admired from different points of view in the wider area.
Most photographers choose to capture the ruins during the morning, which allows them to witness the sun rise above the fog from a beautiful point of view.
What to do at Wegelnburg
The region around Schloss Wegelnburg is known for its hiking paths, mountain bike trails, and medieval rock castles. That makes it easy to combine them or turn a visit to Wegelnburg into a full-day activity.
Hike. In the area around Wegelnburg you'll be able to find four other Medieval rock castles (Fleckenstein, Loewenstein, Hohenbourg, and Wegelnburg), which makes an enjoyable and exciting hiking route!
Mountainbike. The forest around Wegelnburg is filled with various mountain bike routes, making it one of the best ways to explore this area. 
Stargazing. We arrived at Wegelnburg on a cold winter night, and because there was a clear sky, we decided to look at the stars and enjoy our night.
Other attractions near Burg Wegelnburg
In Germany's Palatinate forest, and just across the border into France, you can find several castle ruins dating back to the 12th and 13th centuries. This makes it easy to spend an entire day visiting Wegelnburg and its neighboring attractions.
Chateau du Fleckenstein. A ruined castle located on the border of France, with a long history; The castle was built in the Middle Ages and contained an ingenious system for collecting rainwater.
Blumenstein Castle ruins. A castle ruins located on the border of Germany, constructed in the 13th century as part of a defensive castle line.
Burg Drachenfels. The ruins of this 12th-century castle are located on the summit of one of the Siebengebirge mountains and are known as "Dragon's Rock."
Loewenstein Castle ruins. A castle ruin dating back from the 13th century, recognizable because it was built on two neighboring sandstone cliffs. The structure makes us think of Haut-Barr Castle, located less than 80km away.
Château de Hohenbourg. This ruined castle has been listed as a "monument historique" by the French ministry of Culture since 1898.
Buntsandstein Felsen. In the region around the Burg Wegelnburg, you'll find various Red Sandstone rock formations, which are typical to the valley. Some of them are registered natural monuments, like the Devil's Table. 
Ouvrage Four-à-Chaux. The bunker belongs to the "Secteur fortifié des Vosges", and it is one of the larger of its kind. Nowadays, it functions as a museum.
What to pack when visiting Wegelnburg ruins
A visit to Wegelnburg ruins and its surrounding castles can quickly take up a full day, making it handy to bring some essentials with you.
| | |
| --- | --- |
| Essentials to pack | |
| Peak Design 20L Backpack | This has been our go-to backpack for ages. It carries our camera and all our other essentials effortlessly, which is why we selected it as the best camera bag for traveling in 2023. |
| Hiking shoes | With this muddy and rocky environment, it was essential to wear the proper footwear. |
| LARQ Bottle | Staying hydrated is essential; that's why we're constantly carrying a water bottle containing UV-C Light technology; It neutralizes a lot of harmful bacteria and contributes to our zero-waste lifestyle. |
| Holzkern "La Concorde" Watch | Time flies when you're having fun! Especially when you're on a road trip or when you have a schedule in mind, that's why we advise you to keep an eye on the clock. |
What to pack when visiting Wegelnburg ruins
Photographing Wegelnburg
To photograph the Wegelnburg, you'll want to take the weather and its seasonal conditions into account: A colorful forest or a snowy landscape is so much more helpful to create a unique photograph than when the leaves have already fallen.
One thing is sure: the Wegelnburg ruins are the highest situated castle ruin in the Palatine Forest, which makes it the best spot of the area to witness the sunrises. 
Drone rules
Droning around the castle is allowed as long as you follow the new 2021 EU Regulations.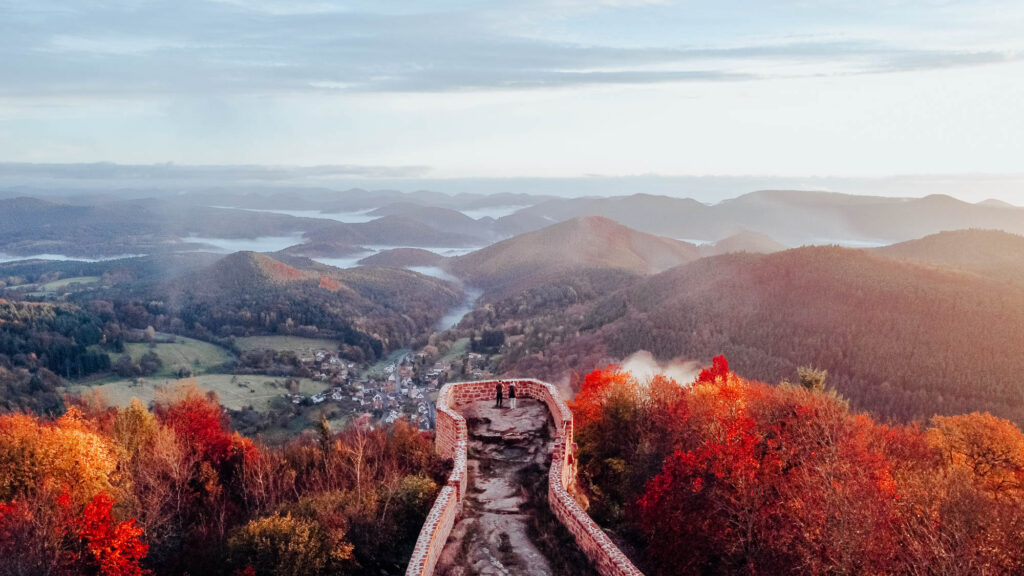 Camera gear
As an experienced and published photographer, my camera bag grew throughout the years. It currently contains various cameras and lenses, each with its function and use – I've listed them below.
| | |
| --- | --- |
| GEAR | DETAILS |
| Sony A7III DSLR Camera (review) | The Sony A7III DSLR Camera is a couple of years old now and is still one of the best options for travel photography. |
| Tamron 28-75mm Lens | My default Sony camera lens. I have a 67mm HOYA polarizing filter screwed on it as standard, which captures the sky more beautifully.  |
| Macbook M1 Pro (review) | We edit our pictures on the new Macbook M1 Pro, mainly because it has a longer battery life and is more powerful in editing. |
| DJI Mavic Mini Drone | Whenever we're allowed to fly, we send our drone into the sky. Our Mavic Mini is perfect for trips like these, because it's a lightweight and still has an amazing camera. |
| Instax Mini 40 (review) | The power of this Instax camera lies in the nostalgic feeling it creates, which is why I use it to capture the vibe while staying in the moment. |
Camera gear
Camera Gear
Camera settings
For aspiring photographers, landscape photography might seem like black magic. This is why we decided to break down the technical details behind this shot.
| | |
| --- | --- |
| Settings | Value |
| ISO | 100 |
| Aperture | f/4,5 |
| Shutter Speed | 1/10 |
Camera settings
Camera Settings
Post-production Software
Post-production is the process of editing your picture in software such as Lightroom and Photoshop. This process helps you to improve the quality of your photos drastically.