Road tripping through Europe with a campervan in 2023 (Itinerary)
With another eventful year behind us, where our trips were less wild and our adventures less spontaneous than they used to be. A year where we were constantly inspired by the beautiful pictures and crazy videos that our social media algorithms presented us.
Since we knew the roads would be calmer in November so we decided to follow our 'Saved Instagram pictures' and enjoy a wonderful autumn trip through Europe.
Our bucket list took us from the outskirts of Brussels to gorgeous medieval German castles, from the astonishing Dolomites to the picturesque Venice, and finally from fashionable Milan to the peaceful Strasbourg – How is that for an adventure?
In this itinerary, we've listed all the info you'll need for a road trip through Europe with a campervan; what items to pack, how to rent a campervan, itinerary ideas, and finally: some tips for a fantastic adventure on the road.
Our road trip summarized in numbers. 
7 Nights
3000 KM's
1x stuck in the Italian snow
Crossed 7 country borders
0 Speeding tickets
… a thousand new adventures and stories to tell about
The roadtrip
After an earlier adventure in which we discovered the Dolomites with a campervan, we immediately knew that we wanted to travel the same way; through Europe with a campervan! 
As we see it, this is the easiest solution to travel through various countries while still complying with all the COVID measurements and having a minimal risk for infection; we'd stay in our own bubble while still having all the comfort we needed: large beds, a small kitchen, and even a shower!
Our goal would be to drive from Brussels to Venice and back while discovering the most fabulous places we could find; after all, we had an immense amount of inspiration and a huge bucket list of places to visit. 
Essentials for a road trip in a campervan
Are you planning to go on a campervan road trip, but want to make sure you have the essentials with you? We briefly listed the essentials that made sure our trip was a success.
Ecoflow River Pro Powerstation
As content creators, we're always haunted by our fear of not having enough power, from the fear of being stranded in the middle of nowhere without a GPS to the fear of having a dying camera battery just when you're about to shoot your favorite location. 
Either way: We've all been there, so we all know these are valid worries! No wonder why one of Google's top road trip-related searches is about finding or generating power. While there are various solutions, we found one that put our minds at ease before starting our road trip; The Ecoflow River Pro Powerstation!
In essence, the Ecoflow River Pro is a massive power bank with 2 AC power outlets and a few USB connections, generating enough power to charge our Macbook M1 Pro laptop 13 times, our smartphone 58 times, and our Sony A7III camera over 30 times. Due to its dimensions, the River Pro can usually last 8 hours, being a massive help for every road trip.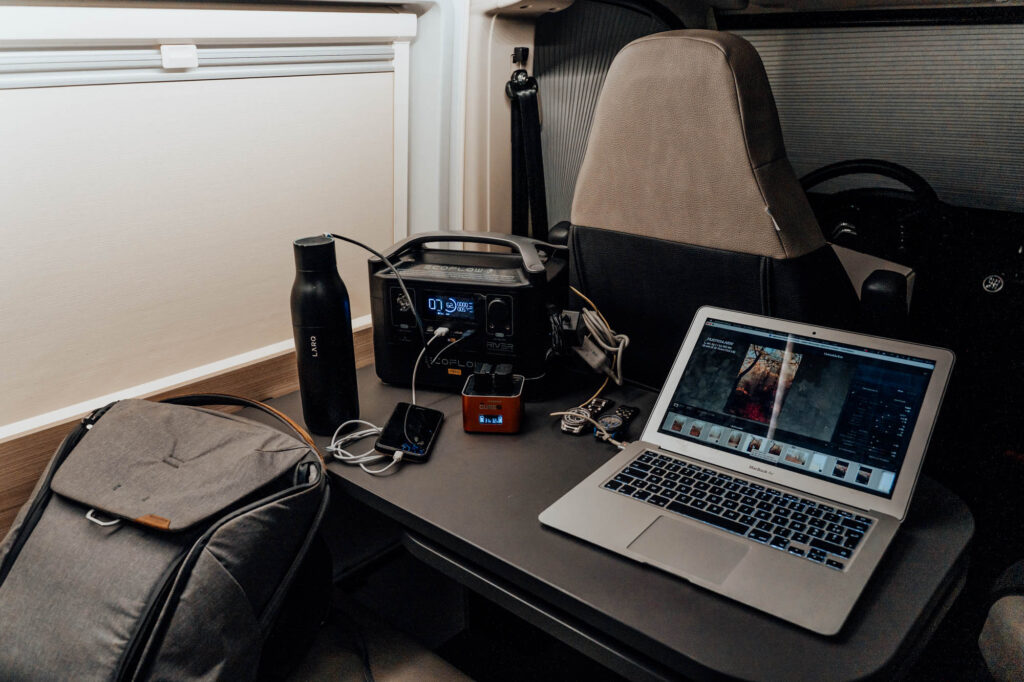 Spotify
When you're planning to cross various borders or wander around mountain passes, you'll have to switch radio stations regularly, or you'll end up with noise. Our trick? Make sure everyone has made their own Spotify playlist in advance! That way, you won't be bothered by the noise and leave room for spontaneous singalong moments to occur.
Data Roaming
If you are located in Europe and are traveling through various countries, you'll need to ensure that your data roaming is enabled on your phone to keep having an internet connection. 
You shouldn't worry about the amount of roaming you use, thanks to the European Union's roaming regulations which say data providers can't charge for roaming in the European Union. However, keep in mind: Switzerland is not included in this regulation! So don't forget to turn off your Data Roaming when entering Switzerland.
What have we learned about road tripping through Europe with a campervan?
Our campervan trip through Europe confirmed something we already knew: that it's very easy to travel between European countries. A 100 kilometers drive can bring you to a different cultural and diverse community.
Next to this, we had a few other learnings as well. 
The ease of a camping site with decent facilities
While traveling in a sustainable campervan, you've got different options in terms of camping:
You could visit an official campsite which has loads of facilities.
You could park overnight at Highway stops.
You could wild camp and stay at a new place every night.
Most European countries have different rules and regulations about camping, but generally, they (Switzerland, Italy,…) aren't allowing wild camping … which makes it technically illegal. However, in most cases, overnight parking where you don't set up camp or leave in less than 24 hours is allowed. 
Our tip? Make sure you can drive off at any moment so that nobody can complain about it.
The thing is: If you're on the road for over a week, you'll need to clean your campervan and want a more luxury shower. Don't hesitate to stop wild camping and pause at a camping site with decent facilities. 
The ease of planning
Being prepared for your campervan trip ensures that you can switch gears faster and need to spend less time worrying. The things that helped us a lot were:
Backup locations. Since we used our itinerary as a guideline, we had the flexibility to skip specific locations because of bad weather. Having backup locations made it less of a hassle to find hidden gems.
Ecoflow River Pro. We knew we would probably wild-camp a lot, which meant not having the power to charge our electronic devices (laptop, camera,…). Luckily our friends at Dutchtravelshop.nl hooked us up with this mobile power station, which we didn't have to recharge one single time during our 8-day trip.
The costs Tolls and Vignettes
Something we have underestimated is the fact that most European countries have toll roads, which can make your trip very expensive very fast. Luckily, there are exceptions, such as Germany, Netherlands, and Belgium.
Some countries such as Austria and Switzerland are working with a vignette, which is a prepaid motorway toll in the form of a sticker you typically purchase from petrol stations before you cross the border and which you stick on your windscreen.
Alternatively, you can always avoid tolls by picking alternative routes on Google Maps or Waze, but these will guide you through the smaller roads, resulting in a slower and longer route. 
Our tip? If you have the time, save your money and go for the slower, more scenic route. If you're in a hurry or have a tight schedule: go via the tollways.
Our road trip Itinerary
Since the lockdown started, we've been saving Instagram pictures of destinations that inspired us and deserved a place on our bucket list. We've added them all to a Google Maps collection and started planning the regions we wanted to visit.
From there on, we casually decided that we wanted to visit the Dolomites, Venice, and Milan. Because the beauty of a road trip in a campervan is that you can make up your itinerary along the way: when you're experiencing bad weather, you can just start a few 100 km's and adjust your itinerary as you go.
Additionally, once your start to post Instagram stories or timeline pictures of your trip, people will automatically start to recommend locations that weren't on your bucket list to start with!
Remember that our style is to have a flexible road trip itinerary and adjust our planning accordingly. As a result, we'll need an internet connection during our trip, which can't always be found when traveling to rural destinations like the dolomites.
DAY 1 – Getting started
Our first day was mainly focused on picking up our campervan, unpacking the bags, and learning how to drive the campervan properly. Ultimately we already wanted to drive to our first location so that we could start our hike early!
Pickup Campervan in Brussels
We started our trip by picking up the campervan in Brussels in the afternoon, where we finally met the owners of the campervan face-to-face, received an extensive explanation of how the campervan functions, and finally managed the paperwork (for example; noting down the milage of the car, check for damages, etc).
After unpacking our bags and filling the drawers, we started driving towards our adventure! We left Brussels around 3 pm and drove straight to our first stop in Rheinland-Pfalz. Just when we crossed the steep hills of Malmedy, darkness fell over the highway, and fog started to appear. 
Since the darkness prevented us from sightseeing opportunities, we quickly arrived at our first stopover and sleeping place – the "Wanderparkplatz" in Nothweiler on the German-French border. This parking is located in the middle of the woods, which explains why we came across some wild boars on our way to the parking spot.
Wegelnburg – Wanderparkplatz Nothweiler
After (wild) parking at Wanderparkplatz Nothweiler, we looked up at the sky and noticed how beautiful the stars were in the sky. We decided to unpack our Nanlite Pavotube II's light tubes and used them to illuminate the (unlit) hiking trail, looking for the perfect spot to stargaze.
We decided to follow the winding hiking trail that crosses the German-French border until we found an open spot, which we used to capture the stars.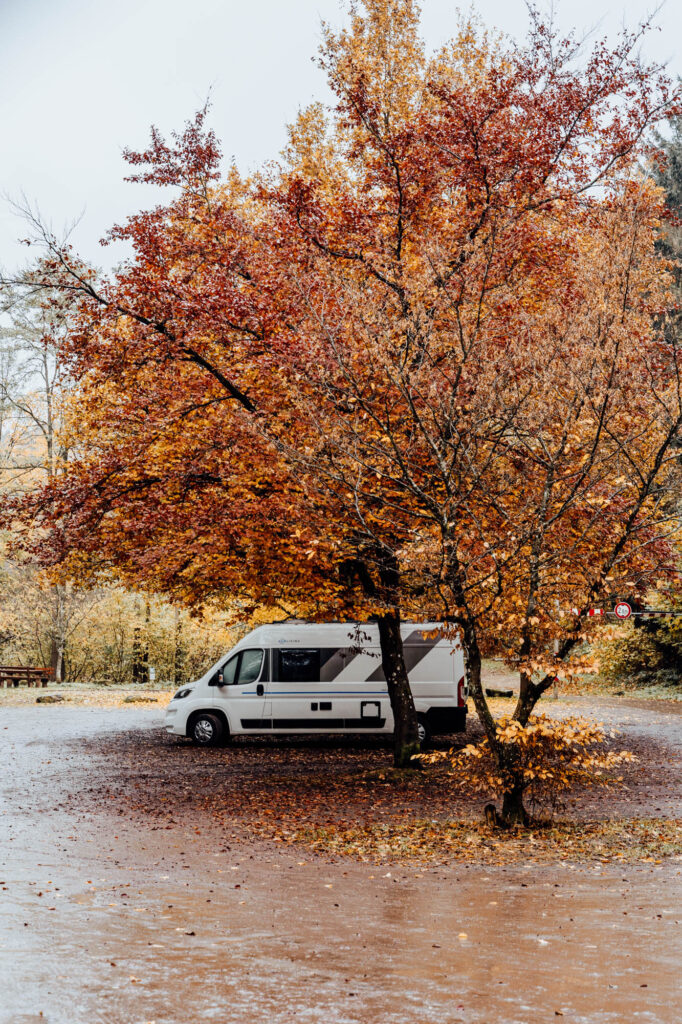 Day 2 – Chasing castles
We knew in advance that during our road trip to Venice, we had to pass through the German provinces of Rhineland-Palatinate and Baden-Württemberg. Both regions are known for their medieval castles, of which most have a panoramic view.
Our goal was to visit the most impressive castles on our route to Venice.
Wegelnburg, Germany
Wegelnburg, a ruined castle located in a forest on the French-German border, is best known for its panoramic view and incredible sunrise.
We wanted to witness that specific 7 am sunrise, so to observe this, we had to start our hike at 6 am, where we followed the zigzagging hiking trail to the Wegelnburg. This took us 5 kilometers, regularly crosses the German-France border, and passes by several other ruins on its way. The hike was covered in darkness since the sun was still about to set, making it an authentic experience. However: seeing the sunbeams roll over the mountains with such a fantastic panoramic view was just … unreal.
Be aware tho: the entrance of Wegelnburg is surrounded by fencing, so at first, we thought it was closed to visitors, but nothing could be further from the truth!
We found a shorter hiking trail on our way back, which brought us directly to the village, only 200 meters walk to the Wanderparkplatz Nothweiler.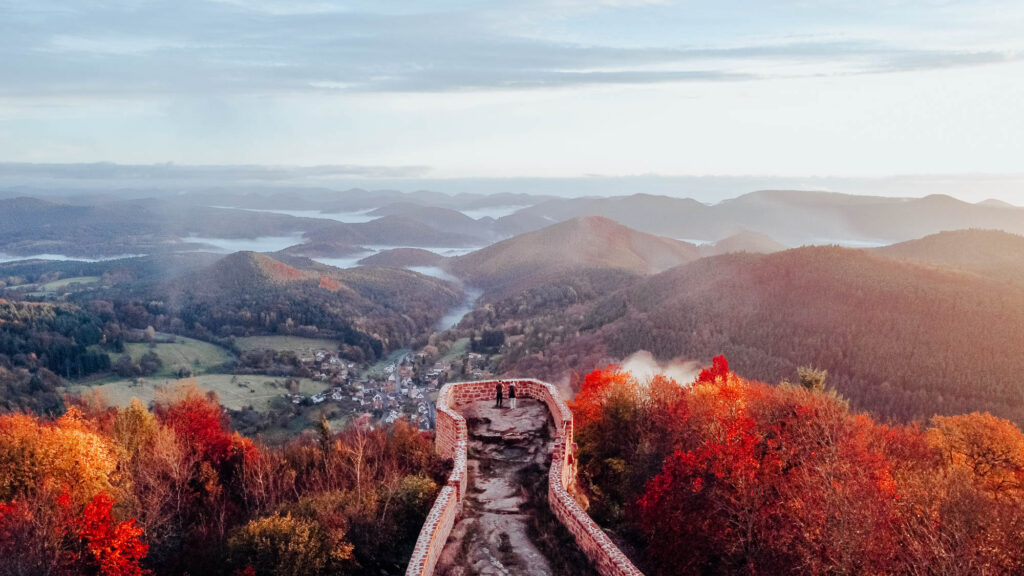 Schloss Lichtenstein, Germany
To make our route to Venice even more interesting, we aimed to visit interesting stopovers every 2 to 3 hours (+- 200 to 300 km). In this instance, we drove towards Schloss Lichtenstein: a 12th-century fortress built on top of an 800-meter high cliff.
We noticed that the castle was managed from a commercial point of view, where everything involved a cost: parking, entering the courtyard, etc. 
Nevertheless, the panoramic view over the valley and the fantastic color palette of the surrounding trees, hills, and valley made it worthwhile. It also struck us how beautifully everything had been restored and how detailed they had for their sculptures.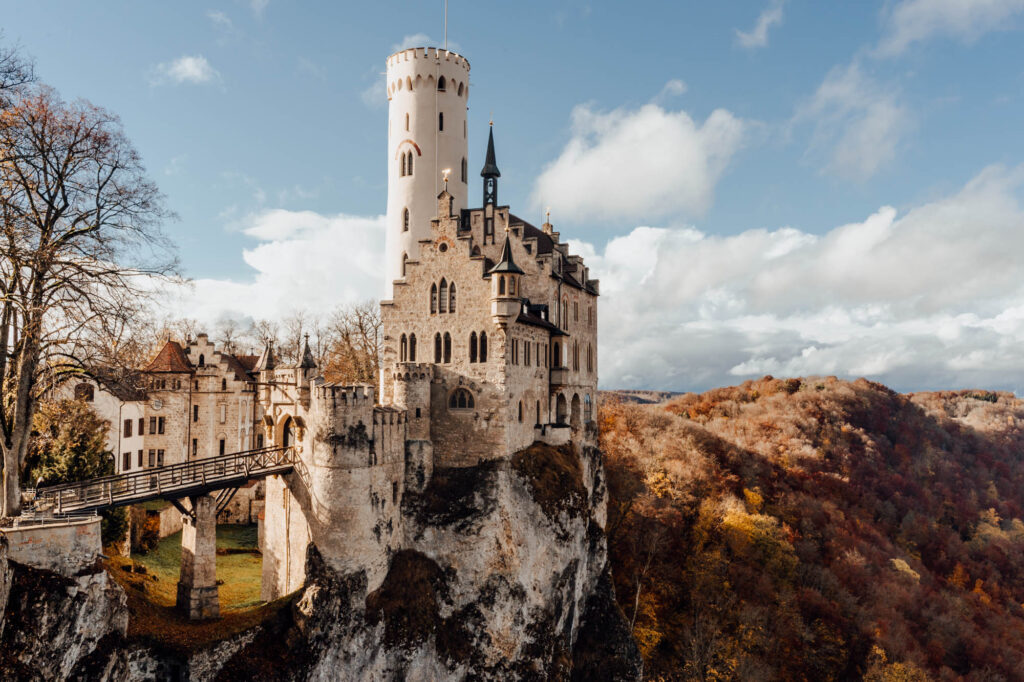 Hohenzollern Castle, Germany
Located less than 40 kilometers from Schloss Lichtenstein, you can find Germany's most visited castle: Hohenzollern Castle! The castle has been known as "The Crown of all Castles" ever since 1267. Reason enough for us to visit it and admire it with our own eyes!
Our tight itinerary wouldn't allow us to stop by the Hohenzollern Castle for an extended visit, so we decided to admire the castle from Zeller Horn's legendary viewpoint; It's the mountain range located about 1.5 kilometers away, at the same height as the fortress. As a result, you have the best view of the castle and the surrounding area.
We have to be honest tho: it took us a while to find the exact location of the Zeller Horn viewpoint, but once we found it … we loved it! You can judge for yourself … 
Plansee, Austria 
While we had already discovered some of the most amazing places, we decided to push our luck: our goal was to visit Plansee lake, located just beyond the Austrian border, and search for its very instagrammable viewpoint that looks down over the lake.
Unfortunately, a combination of traffic jams and mandatory stops (buying our Highway Vignette to enter Austria) caused us to arrive just after sunset. We learned during our road trip through the mountains that as soon as the sun has set, it'll be pitch dark in a matter of minutes. The same goes for our visit to the Plansee lake: as soon as we crossed the bridge, we couldn't move without using our Nanlite lights.
After our short stop at the lake, we decided to continue our journey to a place to sleep for the night: the legendary Innsbruck city.
Innsbruck city
We've visited Innsbruck city numerous times, and we may even say that it's our favorite city in Austria. This is because of its beautiful mountain background, architectural gems, alternative culture, and Innsbruck's importance on the winter sports community.
Once we arrived, we decided to head downtown to reminisce memories from the past and see how the historic buildings (such as the Liberation Monument on Landhausplatz and the building with the golden roof) are lit up at night.
We decided to end our evening at the Hard Rock cafe to explore the same downtown area the next day after dawn before the shops opened.
Day 3 – Arriving in the Dolomites
During our previous road trip, we visited the Dolomites and missed out on a few of our bucket-list locations. Since the Dolomites were only a slight detour from our route to Venice, we decided to give some of these places a second chance … but not before we wandered around Innsbruck first! 
Innsbruck, Austria
Imagine the feeling of waking up, opening the doors of your campervan, and looking out across the streets of Innsbruck with their impressive mountains as a backdrop. Well, that's precisely how we woke up!
After a quick shower in our campervan, we decided to wander around the city again and rediscover the same historic buildings, but this time using daylight. 
Another reason why we stayed in Innsbruck is that we've been following Holzkern Watches on Instagram for ages and noticed we could visit their shop in Innsbruck. We made an appointment, and were welcomed by their store manager Stefan who explained to us more about Holzkern's philosophy and lifestyle, showed us how an automatic watch works and how to replace the chains of a wristband.
During our visit to the store, we fell for the charms of the La Concorde watch and the Intergalactic watch, which we took home as a reminder of our road trip.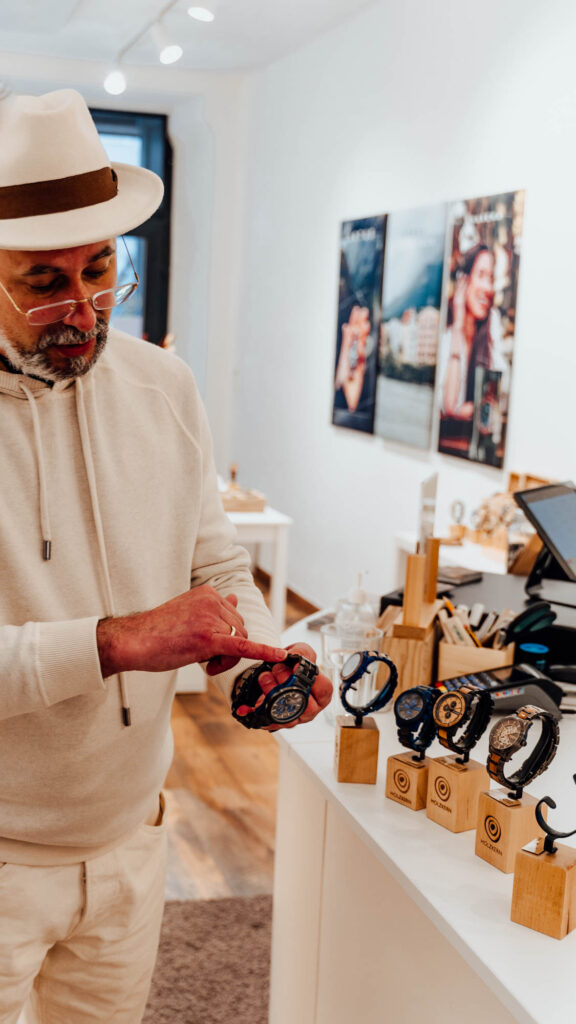 MMM Corones
Since we visited the Dolomites last year, the MMM Corones (being designed by Zaha Hadid) have been on the top of our bucket list. When we entered the region around the Dolomites, we noticed that the lakes weren't frozen and the roads were not covered with snow … so our first reaction was to visit MMM Corones.
Unfortunately: the ski lifts were closed because the season hadn't started yet, and the roads were now permanently closed and accompanied by prohibition signs. So one thing is sure: MMM Corones can only be visited in a dignified manner when the ski lifts are open.
With pain in our hearts, we had to make a cross over our visit from MMM Corones, but luckily there are plenty of other places to visit in the region … so we decided to drive to the legendary Lago di Braies.
Lago di Braies
Lago Di Braies – also known as Pragser Wildsee – is the biggest lake in the Dolomites and is known as the most beautiful lake of the Alps because it's surrounded by beautiful pine forests, towering limestone peaks, and included a unique boathouse. As a result, most people know it as ("Lago di Instagram"). 
The last time when we visited the lake, it was totally frozen and covered in snow. This setting certainly had its charm, but we also wanted to visit Lago di Braies before the snow fell. Unfortunately, there was so much fog that we still couldn't admire the lake in its best condition. Next time!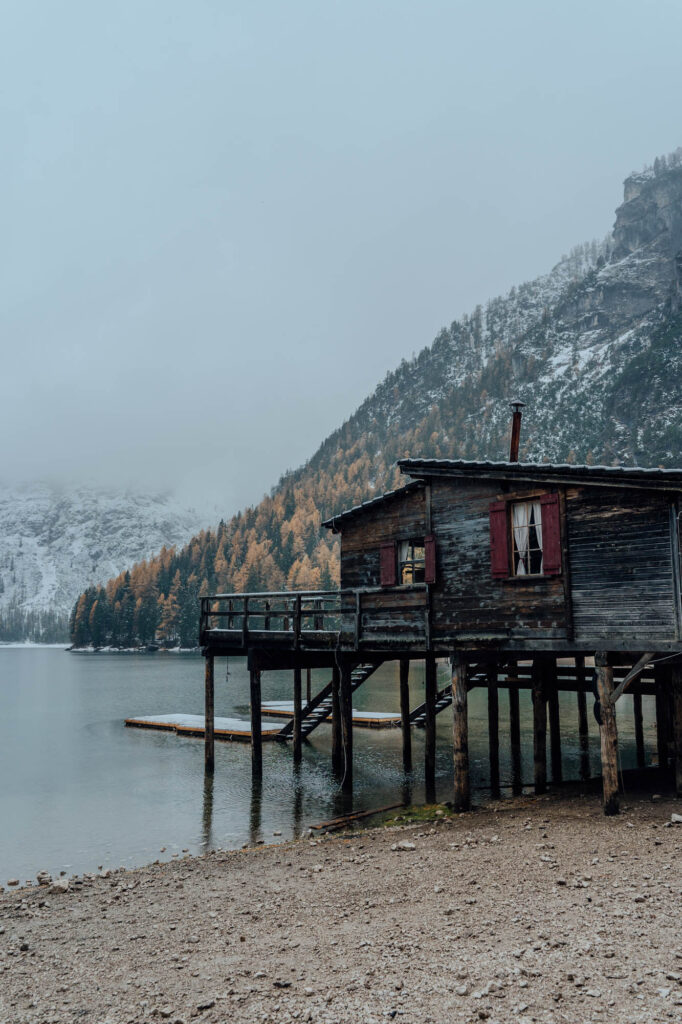 St. Johann church in Villnostal
Noticing that the sunset was approaching fast, we decided to revisit one of the most legendary sites in the Dolomites: St. Johann in Ranui Church in Val di Funes, Villnostal.
While driving over the winding roads, we noticed that the weather conditions would be utterly different from our previous visit: there wouldn't be any snow, but the church and its surroundings were covered in fog. 
Unfortunately, we didn't notice too much of the sunset since the fog blocked all the sunbeams. By the time we left the church, it was already pitch dark.
Alpe di Siusi & Earth Pyramids Renon
We decided to drive up to Compatsch to experience the sunrise at Alpe di Siusi to save some time. Last time, we missed this view since it's located in a nature resort and has a curfew for cars: no-one can drive by between 9 am and 5 pm.
This time, we could access the road to Compatsch, but while we were driving up the mountain, it started to snow, almost to the level of a snowstorm. When we arrived in Compatsch, our van got stuck, and a local farmer had to pull us out of the snow. 
According to the local weather forecast, it would snow for the entire night, and we would miss the sunrise anyway since it would be covered in fog. In fear of getting stuck, we decided to go back down the mountain and skip our visits to both Alpe di Siusi and the Earth Pyramids of Renon. 
We ended up spending the night at a truck stop next to the road.
Day 4 – The road to Venice
We knew it wouldn't be the shortest route to Venice, but we decided to drive via Santuario Madonna Della Corona and Lake Garda since it captured our imagination.
Santuario Madonna Della Corona 
What's more astonishing than an ancient place of worship, located 800 meters into the side of a cliff? We wanted to experience it, so we drove towards Santuario Madonna Della Corona, only a 15 minutes drive from Lake Garda (the Italian part)!
We parked at Localita Santuario 1 in Spiazzi, on a parking lot that usually wouldn't allow campervans and mobile homes, but we decided to risk it since it was empty. The reason for this might be the thick fog that stood over the mountain, on the fact that it's not the most touristic period to visit Santuario Madonna Della Corona.
Although we could not fully admire the Santuario Madonna Della Corona due to the thick fog, the location continued to impress us. We also had the opportunity to check our fitness by climbing the steep stairs to access the sanctuary.
After arriving, we learned that this sanctuary is a place of pilgrimage that already existed before the year 1000! We've listed our findings in this specific destination article about Santuario Madonna Della Corona.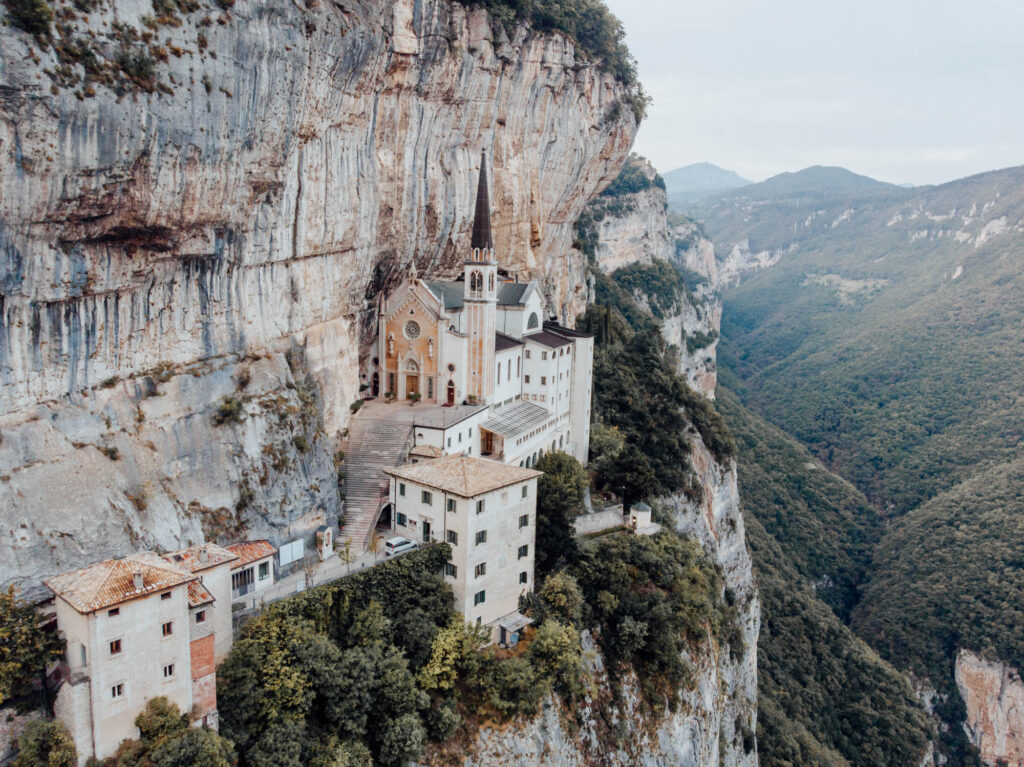 Lagi di Garda
In less than 24 hours, we went from a small snowstorm in the Dolomites to a 20-degree summer breeze at Lake Garda. 
The small town was quite dead, considering the tourist season was already over here, so we just briefly wandered through the city. Our goal was to catch the sunset in Venice before 5 pm anyway, so we quickly left the lake.
Venice City
Where we spent the past few days in quiet or remote regions, with endless possibilities to park and wild camping … Venice would be a bit more crowded and strict. That's why we decided to spend the night at the campsite of Venezia village, which had some fantastic facilities: decent showers, an elegant restaurant, and a clean swimming pool. 
An additional advantage was that there is a bus stop in front of the campsite, with busses that go directly to Venice. The ride to the city takes no longer than fifteen minutes and drops you off at Piazzale Roma.  
By 4 pm we arrived at the tourist center, where we were overwhelmed by history and architecture! Strolling with our camera in hand, we followed the small corridors of the city, arriving at a (relatively empty) San Marco square just after sunset.
Unfortunately, The darkness brought in some shady types, from aggressive salespeople who punched us on the shoulder to get our attention to pickpockets popping up from sketchy streets and following us until we noticed them. As a result, we decided to skip the rest of the city and return the following day.
Pro-tip; Gelateria il Doge's ice creams are known as the best in the old town.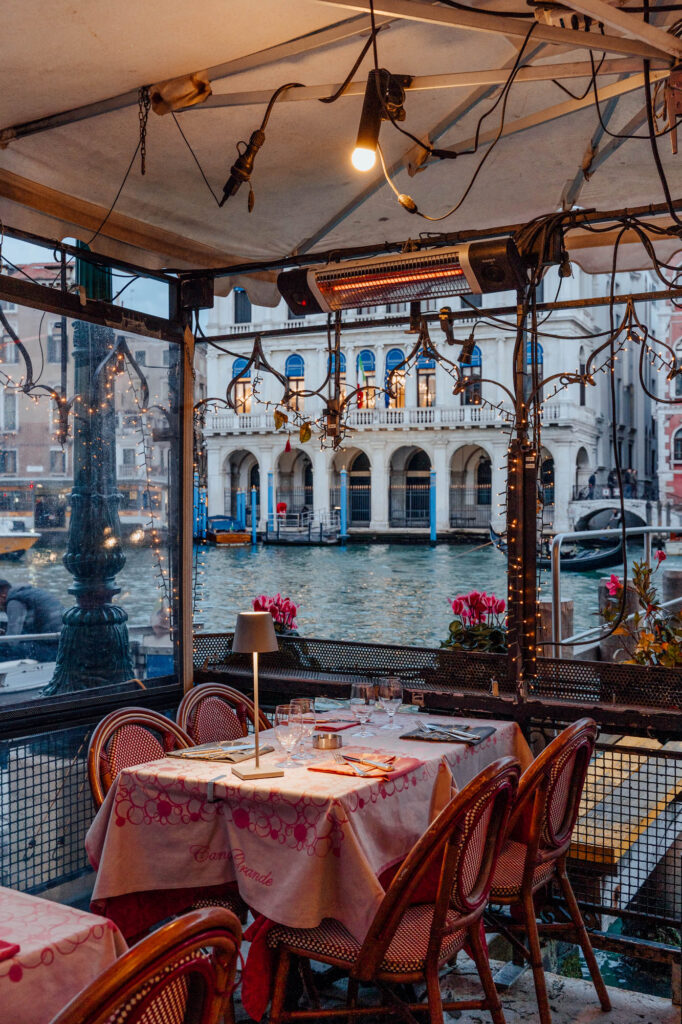 Day 5 – From Venice to Milan
By now, our road trip was already halfway through, so after enjoying Venice's charms in the morning, we had to start on our way back. This time we chose to spend the night in the city of Milan since we wanted to discover some of their ancient buildings as well.
Be aware: Something we didn't realize before going on this trip is how many toll stops you can find in Italy, especially between Venice and Milan.
Venice, the city of canals
Since we ended our wanderings around Venice early the night before, we decided to sleep in first… and then head back into the city!
This time we parked our campervan in Venezia Tronchetto Parking because we were only planning to stay in the city for a few hours. Ultimately, we stayed for 4 hours and realized that we had paid more for this parking spot (without any facilities except) than staying an extra night in the camping Venezia Village. Yikes!
Unlike the previous evening, where we walked to San Marco square via Basilica S.Maria Gloriosa dei Frari, we now had the time to take a different route: via Basilica di Santa Maria della Salute.
Milan and its impressive Duomo di Milano
Since we took our time to wander around Venice, we arrived in Milan during rush hour and had to endure several traffic jams before arriving in "Camping Village city of Milan."
The campsite's reception was already closed, but luckily google maps had a function that allowed us to know perfectly see what public transport connections would lead us to the Duomo di Milano. Our trip was a bit more delicate since we needed to transfer from the bus to the metro, in a place we had never visited before. Luckily we had google maps to fall back on.
Since this route to the center of Milan took almost an hour commute, we only found the time to discover the illuminated cathedral and the neighboring streets. To make it easy for us, we also made a quick McDonalds stop here.
Day 6 – From Milan to Strasbourg
We had less than two days to cover 1000 kilometers and go from Milan to Brussels. This gave us enough time to visit the center of Milan and then leave for Strasbourg in the afternoon.
Milan, Italy
Since Milan is such a beautiful city accompanied by ancient architecture, a sense of fashion, and art … we made a small "bucket list" of locations that we had to see during our visit to the city center.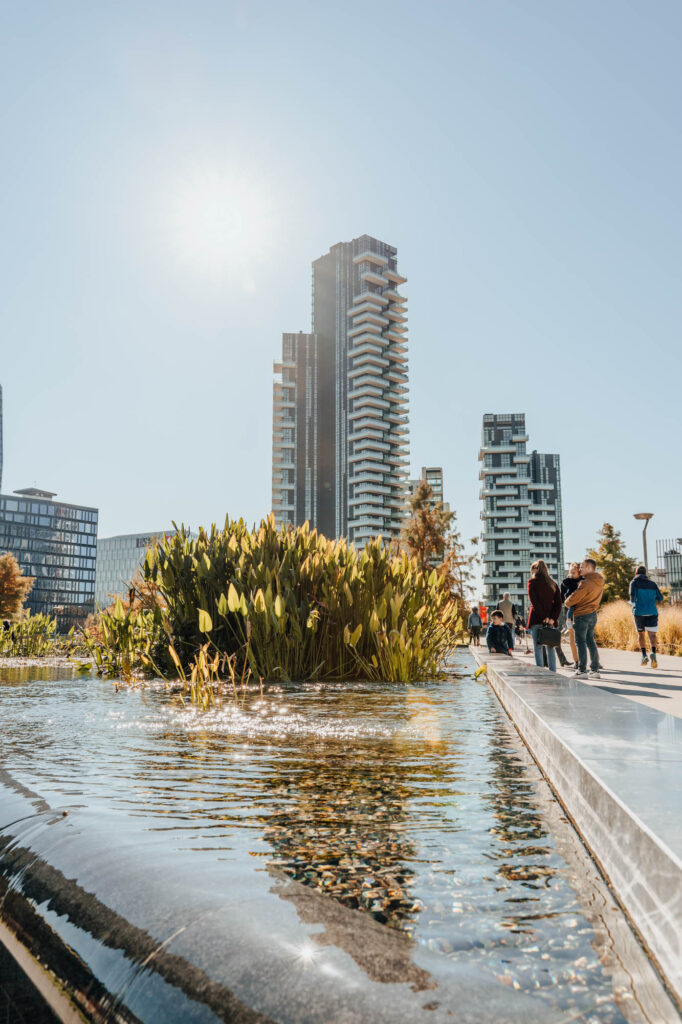 Castello Sforzesco
Castello Sforzesco – also known as Sforza Castle – is a fortress that was built during the 14th century. 
Over the centuries, the fortification was destroyed in various wars, by the troops of Napoleon and during World War II. It was extensively rebuilt in 2005 and currently houses several of the city's museums and art collections. That's why it's currently one of the most famous landmarks in Milan.
Arco della Pace
Arco della Pace is a huge triumphal arc located where the ancient Romans built their city gate. The gate is called "The Porta Sempione" and refers to the district it was located in.
While the origin of the arc can be found in 1807 when Napoleon was in command of the city, the construction of the "Arch of Peace" was paused when the city of Milan fell under the control of the Austrian Empire. The construction of the Arch was resumed in 1826 and was finally completed in 1838.
Bosco Verticale
The Bosco Verticale – or Vertical Forest – are two residential towers built in 2014 and are already known as the most iconic and most recognizable buildings of the last decade in Milan.
Pictures of the building often surface on Instagram and Pinterest, as it is iconic for its pioneering incorporation of a vertical forest.
Duomo di Milano
The Milan Cathedral, known as Duomo di Milano, is without any doubt the most known building in Milan.
It is logical too since they started the constructions in 1386 and only finished working on it more than six centuries later: in 1965! What's even more impressive is the fact that the cathedral contains over 3400 different statues.
Strasbourg, France
As mentioned: Milan is still a 1000km drive from Brussels, so we had to keep going if we wanted to back on time! We decided to pass via Switzerland, which meant buying a new vignette when crossing the border and disabling our roaming data.
Once we arrived at Strasbourg, we parked at Parkplatz Friedhof since it was close to the city center, and parking on a Sunday would be free of any charge.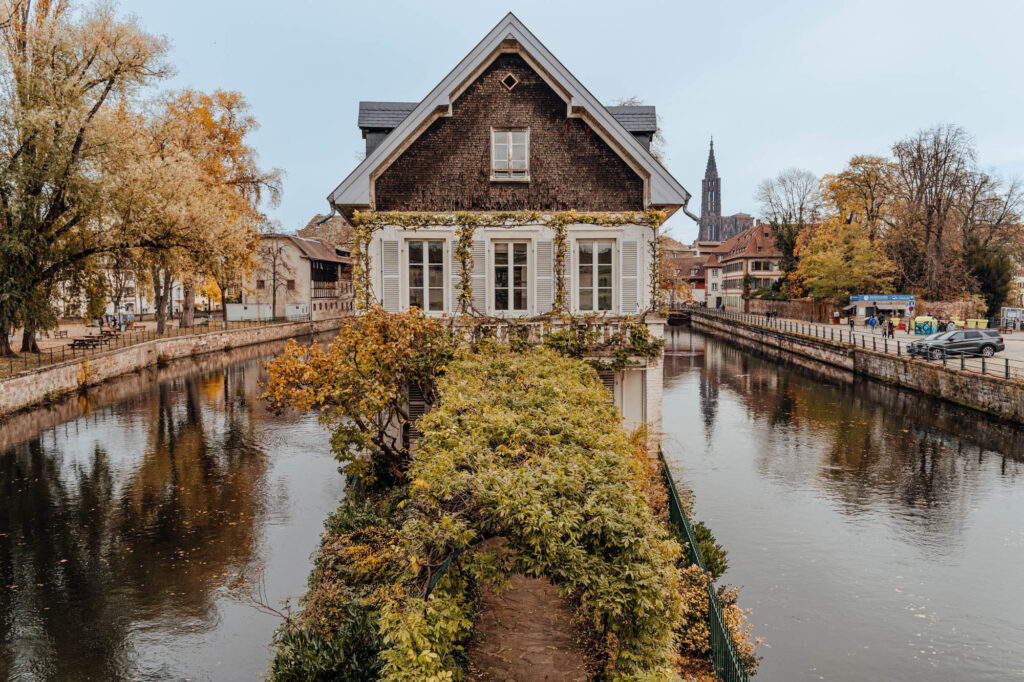 Day 7 – Back to Belgium
Every fairy tale comes to an end, and unfortunately, ours too. It was the last day where we were actually on the road; we wanted to enjoy it until the end. That is why we chose to discover Strasbourg in the morning and pass quickly via Veves Castle in the afternoon.
Strasbourg
Being a university city on the border of France and Germany, Strassbourg is a very characteristic and cultural city, with enormous history. Proof of this is the street art that can be found all around the city or the ancient buildings scattered around the city (such as their cathedral).
We had some help from some locals; we were advised to discover the part of the city known as "Le Petit Paris."
Vives Castle
What's a better way to end our trip than to visit a 12th-century castle? We arrived rather last-minute: 10 minutes before the castle closed, so we didn't have the chance get to explore it from the inside … but the sunset made up for it!
If you don't know about Veves Castle yet, make sure to read the extensive guide we wrote, it contains the history of the castle, the legends around the castle and how to reach it. 
A fascinating part about the castle is that the same family has owned it for the last 800 years, and that is classified as an exceptional heritage by the region of Wallonia. As a result, the castle is referred to as Sleeping Beauty's castle.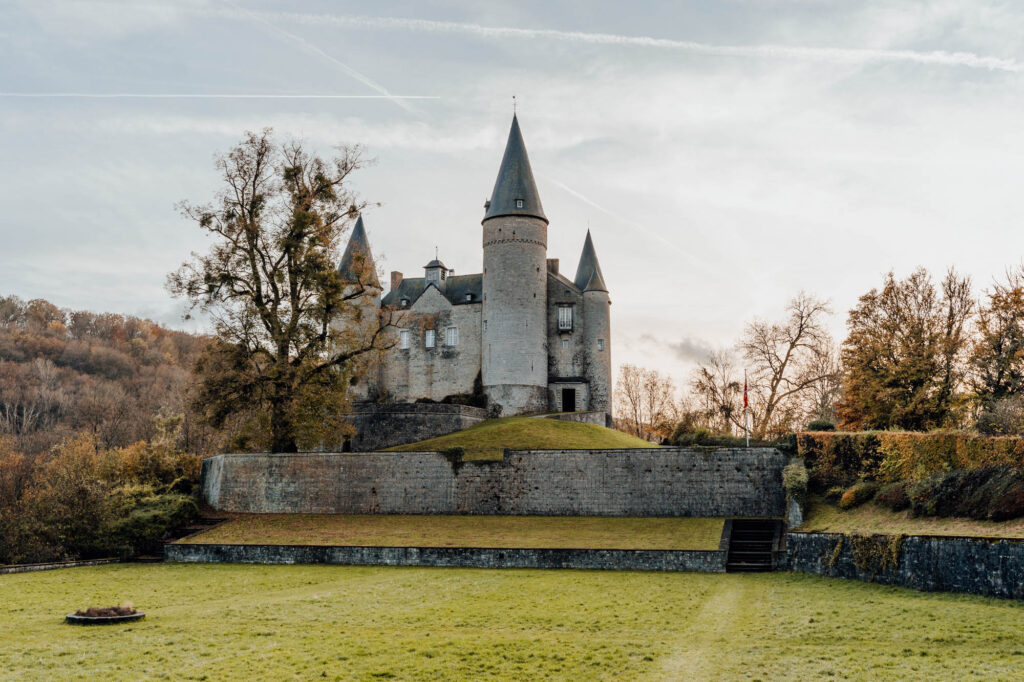 Day 8 – returning the campervan
Our last day was mainly focused on bringing back the campervan, where we had to pack our bags, clean the campervan in a self carwash, and ultimately fill in the paperwork again (check for damages, note the number of kilometers we've driven,…).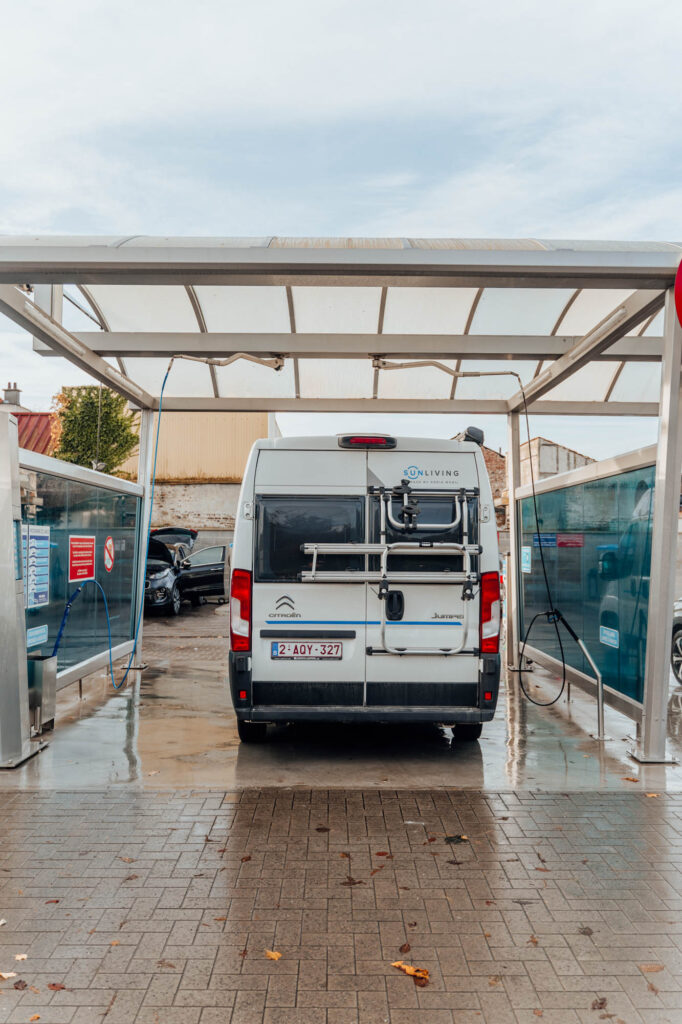 Save to Pinterest