Review: Holzkern La Concorde automatic watch
What comes to your mind when you hear about watches with a wooden finish? Sounds fantastic, right? Well, it's a specialty of the Austrian watch brand Holzkern. We tested their La Concorde watch and are here to share our findings. 
What makes Holzkern unique?
Holzkern is an Austrian company founded in 2016 that processes raw and natural materials into unique timepieces and jewelry. 
Premium Hardwoods and Quality Stones
Holzkern's philosophy is to provide a unique and personal piece of nature for all of its customers. They achieve this by creating classic and minimalist designs, which all use a wide variety of premium hardwoods, carefully coupled with a variety of quality stones.
Pledged to help the environment
Ever since the company started, Holzken has pledged to give something back to nature. To achieve this, they invest € 1,- for every watch they sell into reforestation projects, the development of more sustainable packaging, the occupation of people with physical or mental disabilities, and other projects that promise a strong future for the planet (such as their coral reef reforestation and bee saving projects).
Holzkern's packaging
Another way in which Holzkern differentiates itself from its competitors is by reinforcing its environmental claim by finding a zero waste solution for their packaging and storage boxes: using high-quality bamboo.
The packaging includes: 
The Watch
A safe-keeping box
A pillow
Tools & Accessories (wristband chains)
A warranty card
An authenticity Certificate
Our visit to Holzkern Innsbruck
We visited Holzkern's shop in Innsbruck as part of our Camptoo road trip, during which we traveled through Europe for a week in a campervan and visited fabulous places such as Wegelnburg, Schloss Lichtenstein, and Santuario Madonna Della Corona.
We were welcomed by their store manager Stefan who explained to us more about Holzkern's philosophy and lifestyle, showed us how an automatic watch works and how to replace the chains of a wristband.
During our visit to the store, we fell for the charms of the La Concorde watch and the Intergalactic watch, which we took home as a reminder of our road trip.
The "La Concorde"-model
As the name suggests, Holzkern's "La Concorde" model is inspired by Paris' largest square, Place de la Concorde, which the 43mm diameter case made from leadwood and stainless steel in brushed silver refers to.
The wristband is, just like its case, made from leadwood and stainless steel in brushed silver and has an adjustable length, making it fit on every male's wrist.
Last but certainly not least: Holzkern's La Concorde model is an automatic watch, which means it gets its energy from the movement made by the person who wears it.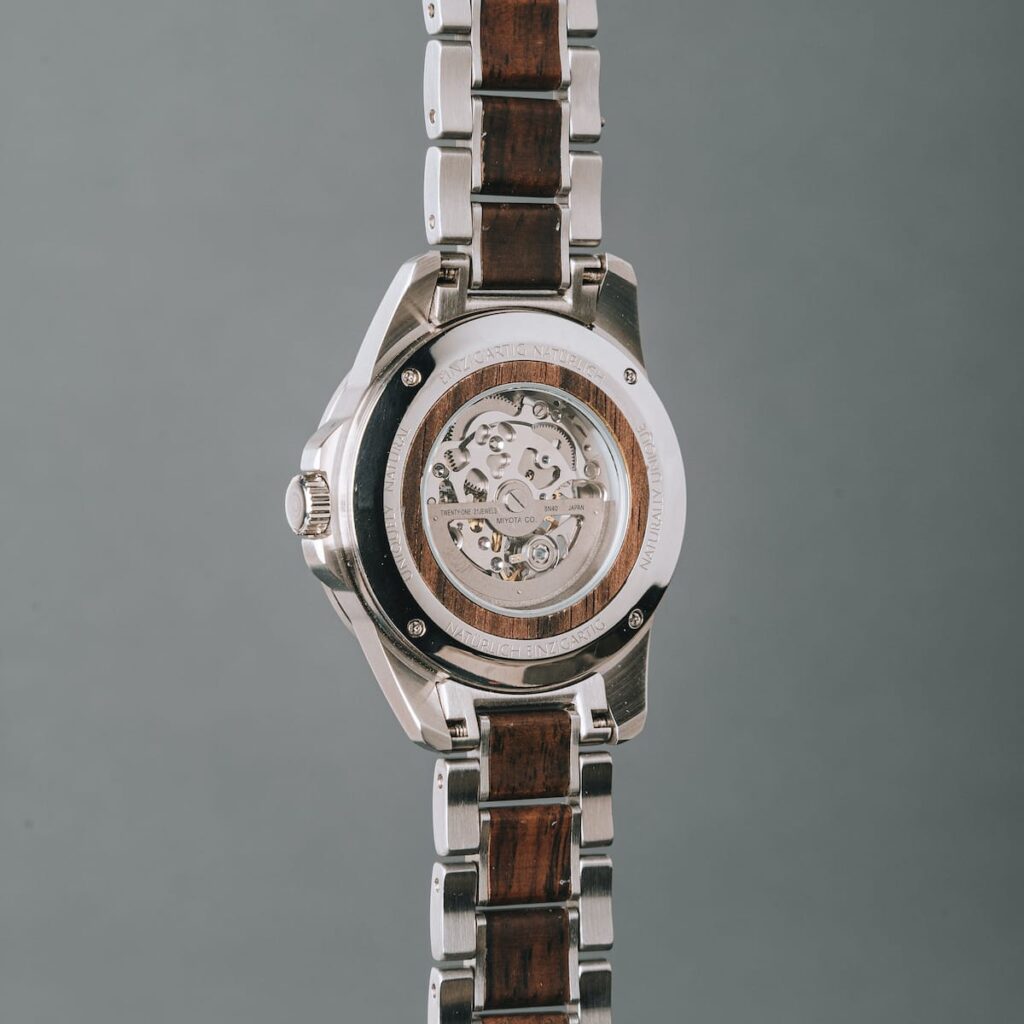 What is an Automatic Watch?
To explain the mechanism briefly, an automatic watch has a metal weight at the back, which is meant to power the timepiece. This metal weight swings with every wrist movement, tensioning a mainspring inside the watch and thus powering it. The Holzkern's La Concorde timepiece has a glass case back, so when you simply flip it over, you'll see this process in real-time.
A huge advantage of this system is the fact that they are made to run forever, whereas a regular watch will need a battery replacement from time to time.
Please note: Most mainsprings can maintain their power for more than 38 hours without any movement. When the mainspring is unwound, it will temporarily stop working until it's recharged (by movement) again. After this, you'll have to set the correct time again. 
In Summary
The design of La Concorde is our favorite timepiece from Holzken's collection because the mechanical element has been given the leading role in the design, and because the watch has such subtle finishes.
Collectors who are regularly alternating between watches will need to get used to configuring the correct time again, but apart from this, Holzkern's automatic watches are known to meet the expected quality standards. Especially since the mechanical part of the watch is made by the Japanese electronics company Citizen.