Lago di Dobbiaco, an astonishing breeding ground for rare birds
Lago Di Dobbiaco is a cozy lake at the foot of the Tre Cime mountain range, known for its unique fauna and flora. In addition to its beautiful views, the lake is also surrounded by old WWII bunkers, which were part of the Alpine Wall.
About Lago di Dobbiaco
Lago Di Dobbiaco is a small mountain lake, located south of Dobbiaco, created by the Rienza river – "Rienz river" in German –  that originates at the foot of the Tre Cime mountain range. From Lago di Dobbiaco this river flows further through the Pusteria valley. The lake has been recognized as a protracted nature reserve since 1977 and is part of the Fanes-Senes-Braies Nature Park.
In 1939, Mussolini commissioned 5 bunkers to be built around Lake Dobbiaco to protect Italy's access roads. These bunkers were part of a protective barrier which stretched all over Italy – the so-called "Alpine Wall."
At the turn of the 21st century, the local government built a nature trail around the lake, which is about 4.5 km long and where you can easily walk around for two hours. The trail runs by various resting and breeding nests of many rare birds, making it the perfect place to spot wildlife. 
Basic facts about Lago di Dobbiaco
Many of the Dolomites's inhabitants speak German since it's located in northern Italy, close to Austria and Switzerland. This is the reason why most of the landmarks here are known by their German name. In Italian, the lake is known as Lago di Dobbiaco while it's called Toblacher See in german. 
| Lago di Dobbiaco Key Facts | |
| --- | --- |
| Region | Val Pusteria, South Tyrol |
| Altitude | 1,259 meters above sea level |
| Size | 14.3 hectares |
| Depth | 3.5 metres |
| Type | Mountain Lake |
| Names | Lago di Dobbiaco, Toblacher See, Lake Dobbiaco |
| GPS coordinates | 46.7039109°N, 12.214855°E |
WOII bunkers around Lago di Dobbiaco
During the 1930s, the Italian political leader Benito Mussolini commissioned the construction of several bunkers on Italy's borders, meant as a frontline defense line during wars. These bunkers formed a fortification of about 1,851 kilometers long to protect Italy from its neighboring countries: France, Switzerland, Austria, and Yugoslavia. Most of this defense line was located in the Alps, which is why it was nicknamed Alpine Wall.
The construction of these fortresses started in 1931 and continued well into the second world war. Spread all over Italy, there were over 1,475 bunkers completed in 1942, and more than 450 were still under construction at that time.
After World War II, the Alpine Wall fell apart: the western part was destroyed, the eastern part was given to Yugoslavia, and other parts were sealed and preserved. During the cold war, the bunkers were used by NATO for a while, but between 1991 and 1992, all bunkers were stripped of their materials and sealed.
Around Lago di Dobbiaco you'll find five bunkers, along with the Dobbiaco Bunker Museum – called "Bunker Museum Toblach" by the locals. Here you'll find a more detailed explanation of the construction and function of this bunker system.
How to reach Lago di Dobbiaco
Lago di Dobbiaco is one of the most beautiful lakes in the Dolomites but is, unfortunately, not as known as Lago Di Braies, which is barely a 25-minute drive away. Because both lakes are so close to each other, which is why most tourists visit both lakes on the same day. When we traveled with our campervan through the Dolomites, we visited Lago di Braies during sunset and Lago di Dobbiaco the next day during sunrise.
Lago di Dobbiaco is well equipped for tourists and is therefore easily accessible by car and by bus.
| | |
| --- | --- |
| By Car | Er is een kleine parking te vinden naast het meer, dat wegens zijn populariteit wel snel volzet is. |
| By Bus | Take the public bus 445 in Dobbiaco (route Dobbiaco – Cortina D'Ampezzo) and get off at Lago di Dobbiaco stop. |
When to visit Lago di Dobbiaco
Lake Dobbiaco – "Toblacher See" – is a unique location visited by tourists during summer and winter.
Observing wildlife during summer
During summer, various rare and unique flora grow in the area around Lago di Dobbiaco, which on the one hand, ensures that the lake is extremely photogenic, but on the other hand also attracts many rare birds and predators because it is the perfect nesting place for them.
Wonderland during winter
During the winter, the lake's altitude causes the temperatures to drop, causing the lake to freeze partially.
Stay overnight for the best picture
Most photographers already know that the twilight zone is the best time to make Landscape pictures. At Lago di Dobbiaco, this moment is even more special because the light slowly disappears behind the mountains at sunset. Fortunately, you can stay overnight at the campsite (Camping Toblacher See), and a hotel (Hotel Baur Al Lago) – both of them have a unique view of the lake.
What to do at Lago di Dobbiaco
In addition to a breathtaking view, there are also various activities that you can participate in around the lake – both during summer and winter.

Hiking and cross country skiing. Toblacher See has a natural trail that runs around the lake and is 4,5 kilometers long. During the winter, the same trail is used by langlaufers, so the trail is easily accessible and well marked. 
Swimming and Paddle Boats. While it's not forbidden to swim, it's not recommended because of the cold water. Luckily, the lake is equipped with (paddle) boats, making it easy to enjoy the lake. 
Observing wildlife. Due to its unique fauna, Toblacher See is a breeding ground for rare animals and predators.
Ice skating, hockey, and curling. During winter, the lake freezes over, making the lake popular for various winter sports.
Fishing. It's allowed to fish in the lake, provided that you purchase a fishing license on-site.
Culture. The city of Dobbiaco is known for its cultural events. This is because famous composer Gustav Mahler had a summer house in Dobbiaco, where he composed a few of his most famous symphonies. As a result, the city organizes a yearly event called the Gustav Mahler Music Weeks.
Other attractions near Lago di Dobbiaco
Bunker Museum. There are 5 WOII bunkers located around the lake, built in 1939 by Mussolini to form an "Alpine wall" that could protect Italia against attack from their enemies. The bunkers were in use until the '90s and were used by NATO during the Cold War.
Innichen Abbey. The abbey – "Duomo di San Candido "La Collegiata" in Italian – is a former Benedictine monastery founded in the 8th century.
Tre Cime di Lavaredo. One of the best-known mountain groups in the Italian Alps, famous because of their three distinctive peaks. 
Parco Avventura – Abenteuerpark Toblach. An adventure park located less than two kilometers from the lake. 
Lago di Braies. The lake, also known as Pragser Wildsee, is the biggest in the Dolomites and is known as the Alps' most beautiful lake. Lago di Braies is located only 25 minutes from Lago di Dobbiaco.
What to pack when visiting Lago di Dobbiaco
Heading out for a day hike when you visit Lago di Dobbiaco is a delightful way to explore nature. Just remember: the longer and the more remote your hike is, the more you'll need to prepare. That's why we listed some of the essentials to pack before you head out to Lago di Dobbiaco.

| | |
| --- | --- |
| Hiking shoes | You will most likely hike several kilometers, which makes good footwear a necessity. |
| LARQ Bottle | We personally have invested in a LARQ water bottle, which we bring to all our hikes. It contains a UV-C Light technology that neutralizes many harmful bacteria and contributes to our zero-waste lifestyle. |
| Sun protection | Don't forget to bring your sunscreen and sunglasses because it can get quite warm in the summer.  |
Photographing Lago di Dobbiaco
The most important part of photographing Lago di Dobbiaco is to be there in time, especially because the sun appears – or disappears – so beautifully behind the mountains, making it easy to create unique content.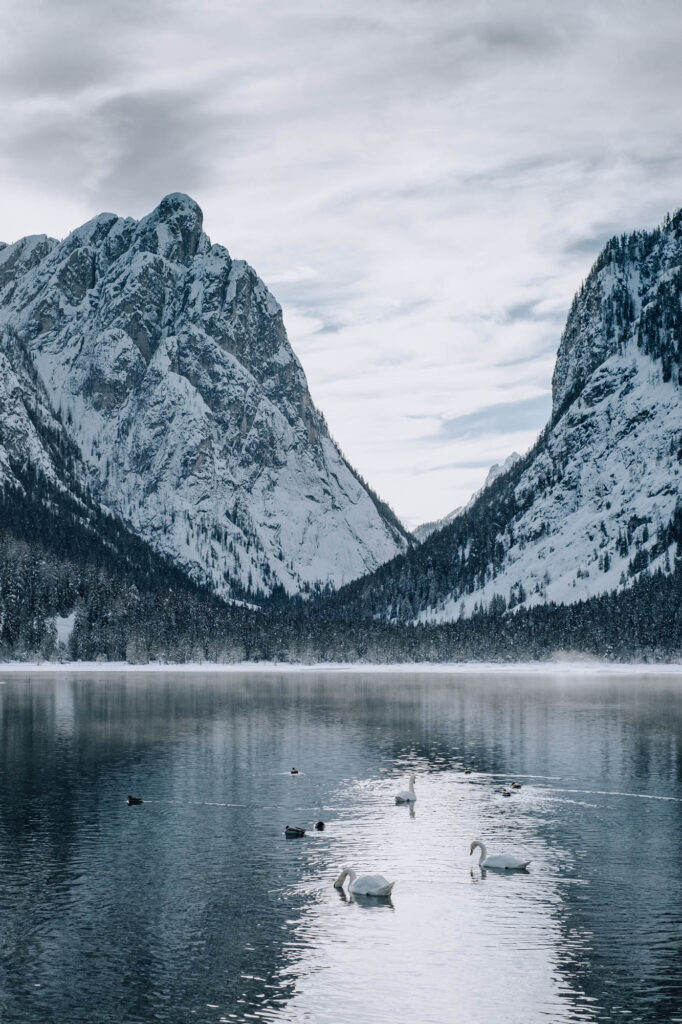 Drone rules
The lake is not marked as a no-fly zone, so as long as you respect the new 2021 European drone regulations, you can fly here. 
Camera gear
As an experienced and published photographer, my camera bag grew throughout the years. It currently contains various cameras and lenses, each with its function and use – I've listed all of them below.
| | |
| --- | --- |
| Gear | Details |
| Fujifilm X-E2  | The Fujifilm X-E2 has been my go-to camera for years and is the camera I used for shooting the photos of Lago di Resia. |
| Fujifilm X-T30 | The Fujifilm X-T30 is my favorite camera for making video content, which I mainly used at Lago di Resia for B-roll footage and background videos. |
| Fujifilm X100F | Whenever I walk around a city, I use my X100F. The reason is that the camera is so compact this it forces me to be more creative because of its fixed lens. |
| Fujifilm 35mm F1.4 lens | My all-time favorite lens. I always have it mounted on my X-E2 camera. I have a polarizing filter screwed on as standard, which captures the sky more beautifully. |
| Fujifilm 18-55mm F2.8-4 lens | The 18-55m is the regular FujiFilm kit lens, perfect for creating video content. |
| Huawei P30 Pro Smartphone  | When there is no time to open my camera bag, I use my P30 Pro. It can save RAW photos, making it easy to edit photos instantly in the Lightroom app. |
| Yuneec Mantis G | Whenever I am allowed to fly, I send my Yuneec Mantis G drone into the sky. The drone has a 30-minute battery, which makes it perfect for road trips! |
This guide on Fujifilm lenses for traveling provides a comprehensive overview of some of the best options available, including wide-angle and zoom lenses, to help you capture stunning photos of your travels.
Camera settings
For aspiring photographers, landscape photography might seem like black magic. This is why we decided to break down the technical details behind this shot.
ISO: 200
Aperture: f/5.6 
Shutter Speed: 1/180
Save for later …