Fujifilm Instax Mini 40 instant camera Review
Fujifilm Instax Mini 40
$99.95
The Instax Mini 40, released in April 2021, is the latest version in Fujifilm's line of instant film cameras, which is the perfect excuse to get nostalgic and put the camera to the test!
Our background
As a team of photographers, our expertise is not only limited to DSLR or Mirrorless cameras such as the Fujifilm XS-10 or the Sony A7III; We've been playing around with Instax cameras ever since the Instax Mini 8 was released in 2012. 
This means we already had some experience with instant cameras, which is why we knew what to look for or what features we hoped had improved. 
To test the Instax Mini 40, we drove to the Vosges and visited both Lac des Corbeaux and Château du Haut-Barr to test out the capabilities of this instant camera!
Unique Features of the Fujifilm Instax Mini 40
The Instax instant camera brand has been around for over 20 years, ensuring that the Instax Mini 40 camera is well-developed and has a few unique features. We've listed the most important ones below!
Built-in automatic exposure. The Fujifilm Instax Mini 40 is operated by two buttons: the power- and the shutter buttons; this means that there are no controls available to configure the exposure of the camera or even the flash. The automatic exposure turns the Mini 40 into a simple point-and-shoot camera.
Distinctive vintage design with silver accents. The Fujifilm Instax Mini 40 instant camera has a great retro look, which gives it a vintage ecstatic and is in line with the other FujiFilm camera lines. The material is still regular plastic, but the silver accent and the leather-looking texture grip make it look more premium.
Two-button operation. The two-button operation camera helps entry-level photographers and young kids efficiently use the camera by making it easy to operate. Remember that taking a good (instant) picture is still more than just hitting a button, so you'll still need some time to learn what the camera can and can't do. 
Fujifilm Instax Mini 40 – Built-in selfie mode and mirror
Fujifilm updated the camera with an adjustable lens barrel to improve the sharpness. Additionally, they added a refractive selfie mirror to assist while framing selfies. 
The default lens focus is made for objects distanced over 0.3 meters away; by pulling out the lens, you activate the selfie mode and increase the close-up range. 
BONUS: Sparks your creativity
As a photographer, you're always looking to push your creativity to the limit, which is something the entire Instax camera line allows you to do. With some imagination, you can 100% customize the camera and the Instax film.
A few examples: 
Customize the experience with Instax Mini film
A new Instax film cartridge always starts with a safety sheet to prevent the film from getting wet, hot and in direct sunlight. This means your first photograph will be 'blank,' after which the counter on the back of the Fujifilm Instax Mini 40 will tell you how many shots are left.
After taking a picture, the film paper appears almost immediately. At this point, most people start to wave lavishly with the film, while instant film's charm and romance lie in the fact that you can watch and see the photo come to life in front of your eyes. This magic truck – which still surprises kids – lasts about 90 seconds before the film is developed to its final state. 
Next to being a fundamental part of the Instax experience, Fujifilm has realized that the frame of the film offers a lot of opportunities for customization. That's probably why no instant film paper is included when you buy the Fujifilm Instax Mini 40 unless you specifically buy a bundle package.
The different frame designs of Fujifilm Instax film
Before we dive into the differences and the opportunities of the frame design, we'll first have to highlight that the Instax brand has three different camera lines .. each with its own type of film.
Instax Mini. We have the Instax Mini line, which has the smallest frame, approximately 8.6 cm by 5.4 cm … a similar size to a credit card – which means it should be able to fit into your wallet. The picture itself is 6.2 cm by 4.6 cm, leaving room for a note or caption below the shot. 
Instax Square. Similar size to the Instax mini, just a little wider (7.2 cm)
Instax Wide. The Instax wide is twice the width of the Instax mini film (10.8 cm).
These three types of Instax film are mini, square, and wide; they all have different dimensions, which means you won't be able to switch film types between other Instax cameras.
Instax Mini film options
Next to different film types, you're able to customize your Instax film experience by using film paper with varying styles of frames or designs. We've listed a few of the most popular film options; just realized there are way more Instax film options.
Instax Mini 40 VS Instax Mini 11 comparison
The most significant difference is one which we can easily spot in the blink of an eye: The Instax Mini 11 was built to look like a toy with standout colors, while the Instax Mini 40 is, in essence, a repackaged Mini 11, with a more professional look. 
Both cameras have the same features, which means that the only difference is the price apart from the looks.
Travel photography with the Fujifilm Instax Mini 40
The Instax Mini 40 is a 'two-button operation'-camera, less intended to experience the science behind taking a photo, but rather for enjoying a unique moment quickly and simply. Although we must admit that you'll experience a slight learning curve when using the camera.
If you're a travel photographer who's aiming to capture beautiful sunsets on Instax film: we'll (unfortunately) have to announce that the camera has a certain inability to capture bright scenes. However, if you're on a city trip with friends, it'll be the perfect gadget to bring along; it's designed to capture the vibe when traveling with friends. 
From our experience, it's better to photograph people instead of places or landscapes. Best practices would be to snap bold colors, selfies, and group shots (for example, during parties).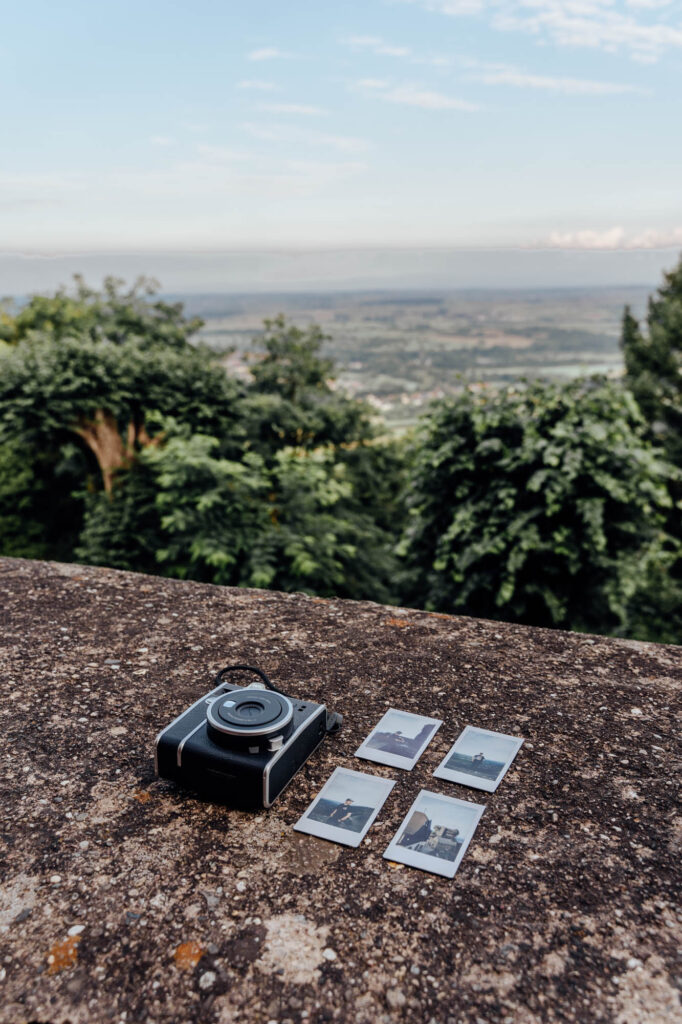 In Summary
The Instax Mini 40 is a good-looking camera and more importantly: fun to use. 
It has a few restrictions due to its limited resolution and exposure, but that's not the goal of an Instax camera anyway. Its power lies in the nostalgic feeling it creates, where people stay in the moment while capturing the moment.
If you've got any questions or are looking for more specifications about the Instax Mini 40, we advise you to visit the Instax Mini 40 product page. 
Pros
Point-and-shoot simplicity
Classy retro design
Batteries are included
Easy to replace/insert film.
Entry-level/user-friendly. 
Cons
Auto-exposure can struggle
Plastic makes it feel like a toy
Buying film can become expensive
New to photography?
If you are new at photography, you want to look into these free guides.