The Ultimate Guide to Zero Waste Travel for a Lighter Footprint
One of the biggest shifts of the 21st century is the "Zero Waste" lifestyle – a way of life aiming to combat the impact we make on our planet by reducing consumption, minimizing waste, and maximizing recycling. But traveling is one aspect most Eco-environmentalist still struggle with. 
Being a zero-waste traveler is difficult because traveling anywhere (other than on foot or by bike) generates a carbon footprint. 
You'll also leave the comfort zone of your usual zero-waste-friendly spots (shops, restaurants, etc.) meaning you'll need to take the time to find new alternatives.
Over the past few years, we've been figuring out ways to try and achieve our zero-waste travel goals. It's been a steep learning curve, and it certainly didn't happen overnight, but it's absolutely worth it
You have to acknowledge that there is always more you can do and learn, so the key to success is being well-prepared. 
Plan your trip Zero Waste friendly
When planning your next travel destination, look for areas that have initiated a change towards reducing their environmental impact. The European Union already voted to ban all single-use plastics by 2021, so look at countries and cities that are going even further. 
Planning your means of transport
We've already hinted towards it, but the way you'll travel will have the biggest impact on the carbon footprint. Every flight we take leaves behind tonnes of CO2, so unless you're traveling overseas, try to look into lower-emissions travel alternatives. 
But finding alternatives is much easier said than done, and it very much depends on where you are and where you're going. If you're based in Europe, it's much easier to be a tourist using public transport since most countries are well connected by interrail trains, buses, and even ferries. 
You'll need nerves of steel and a few hours of spare time to figure out your way through all the different companies in the European network… It's almost as bad as figuring out rocket science. But anyway, when you figure out a good Eco-friendly solution, you might get more leg space, amazing views, and maybe even some additional small city trips and adventures in your journey.
Imagine planning a trip from London to Rome only using public transportation in combination with walking, cycling, or longboarding. You're producing close to zero carbon, it's good for your health, and you get a more captivating and authentic travel experience: Every transfer is now an opportunity for a mini-city trip!
Have you decided to travel to another continent, thus only having the option to fly? Book direct flights if you can. During the flight, fuel is emitted most during takeoff and climb. This is because burning fuel results in a lighter plane, which results in fewer emissions to cover the same distance.
The fewer flights you take, the fewer takeoffs, resulting in fewer emissions. Or you can always compensate for your footprint by purchasing carbon offsets. 
Bonus tip: Go paperless.
Most airlines, trains, and buses now offer downloadable tickets, enabling you to keep your e-tickets on your phone. Not only does this save the hassle of needing a printer or looking through a stack of paper tickets, but it also saves paper itself.
Getting a printed boarding pass at the airport is still advisable in case your phone dies or gets lost in the shuffle, but those passes are much smaller than the paper you would use at home!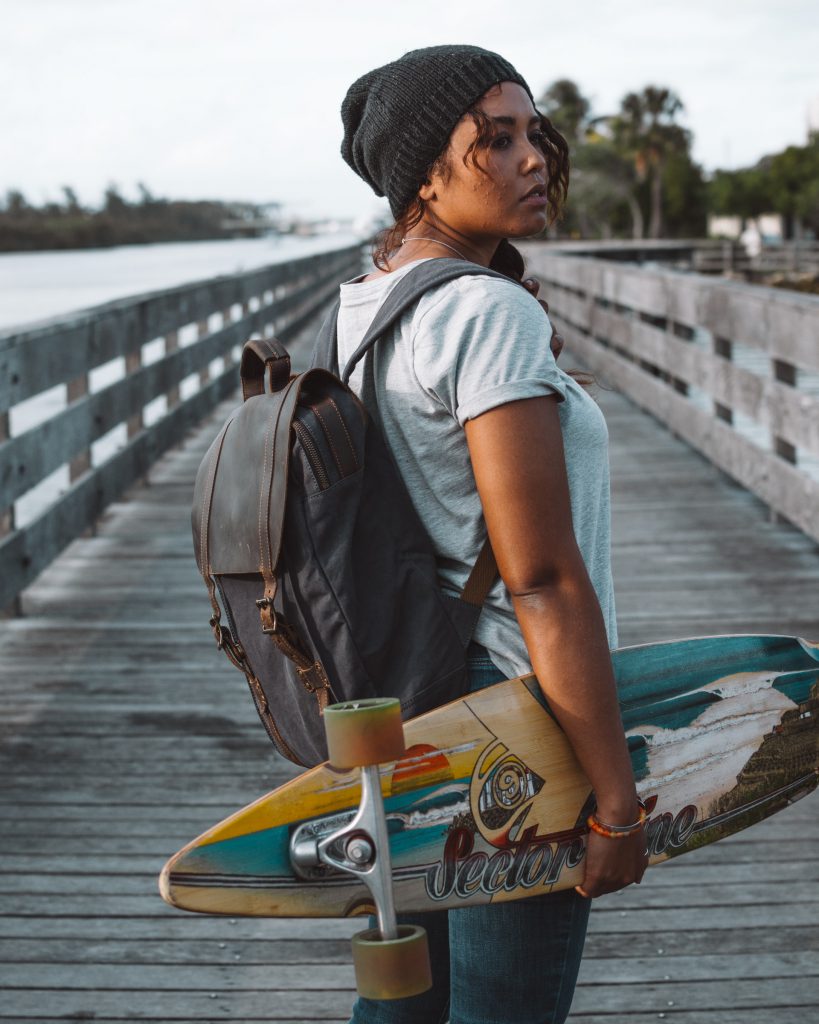 Booking your accommodation
Another aspect that can reduce your footprint significantly is your accommodation. If you picked a destination that's already investing in environmental impact, chances are that the local hotels will be investing in (and are stimulated to do) this as well. That's why it's best to search for and actively ask for green certifications that have been approved by the Global Sustainable Tourism Council (GSTC).
But camping or staying in Airbnb's are great alternatives to staying in hotels, as you can recycle, compost, make your own products, and cook your own meals when staying outside of large commercial properties.
Look into details
So you've got a general sense of where you're going and have already planned your transport and accommodation? Congratulations!
The next thing to do is look into details and plan with a zero-waste mindset so you're set up for success. Get to know where you're going and find zero-waste alternatives. 
Here are the biggest and most apparent details you'll need to look into:
Is it safe to drink tap water?

If not: are there places where you can refill your water bottle?

Where are the zero-waste grocery stores located?
Are there eco-friendly restaurants (perhaps vegan or vegetarian options)?
For restaurants, we advise you to try local street foods. Most are easily handheld and are packaging-free, with no extra wrapping papers, napkins, or containers.
Before you leave
One of the first principles of a zero-waste lifestyle is to discourage companies from producing more than is needed or throwing away unnecessary food – but that's precisely what we are doing when we buy our gear new or forget to eat all the food in our fridge before we leave. 
Put your home "to sleep" before leaving.
During your holiday, you should eliminate any unnecessary electrical usage at home. 
Walk through your house and unplug anything in an outlet. Even if it's not on (for example the TV), by being plugged in energy is still being used. 
If you're leaving for a week or more, scan through your fridge and pantry for perishable items and see how you can preserve them, make snacks for the trip, or give items to your neighbors who might be sticking around.
Pack zero waste friendly
Reducing your waste is not about depriving yourself of luxury or the things you love; instead, it's about tweaking your lifestyle to get them. The same goes for when you're packaging, and thankfully, it's not so hard! You only need a little forethought, and you'll be amazed at how much waste you'll avoid.
Bring the essentials
We have four absolute essentials on our list, three of them which we pack every time we leave our house. Things you are probably already packing if you're trying to live up to this lifestyle.
A water bottle to reduce plastic waste. 
We personally have invested in a LARQ water bottle, not because of the design, but because it's self-cleaning and worry-free! It contains a UV-C Light technology that neutralizes harmful bacteria and viruses, making it handy when traveling to unsafe drinking water.
If you carry a small tote bag, you'll always be prepared to pick up groceries or whatever else you might need to buy, without needing to buy a plastic bag to carry your goods home in. 
This way you always have a fork, knife, spoon, and maybe even chopsticks on hand so you can cut down on plastic waste when ordering food on the go! Consider bringing reusable napkins and towels to wrap up food and clean up after yourself, removing the need for disposable napkins when ordering takeout.
Get yourself a multi-purpose plug that fits just about every socket in the world. It prevents you from having to own a different one for each trip. 
It's best to look for one with a USB charging port so it works for your phone or tablet as well.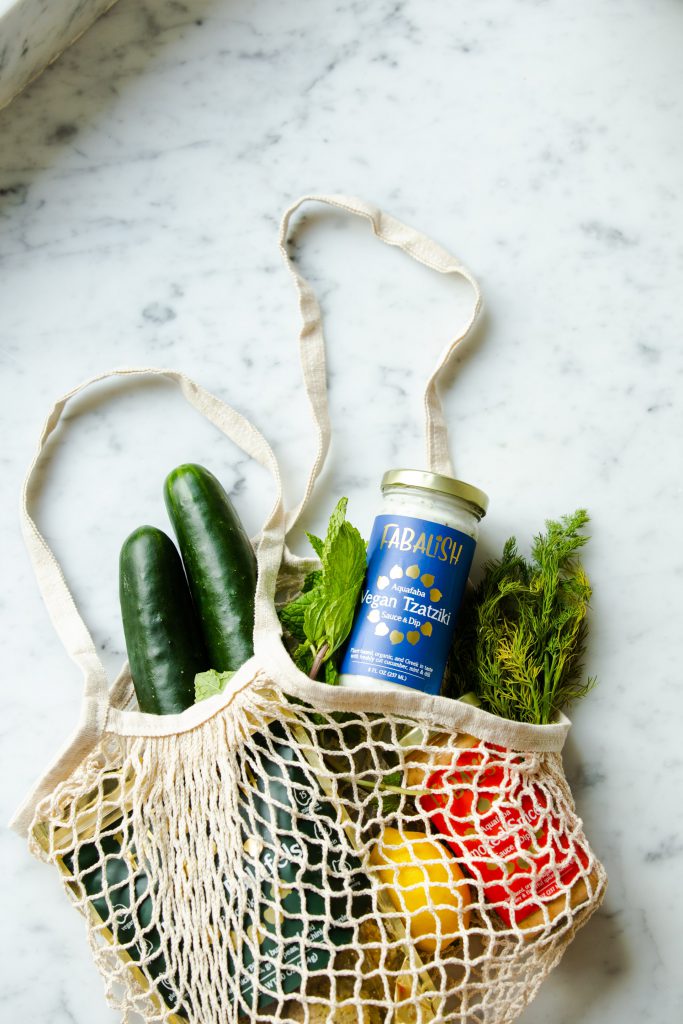 Think about your cosmetics
As someone who's already living the zero-waste lifestyle, this should be a puzzle that you've already solved. We advise you to bring at least shampoo, soap bars, chewable toothpaste tablets, and powdered deodorant.
If you're new to the zero-waste mentality, minimal-waste and multi-use versions of every product you might need are perfect for keeping you clean on your travels. Here are a few popular brands that have this zero-waste mentality: Lush, Lamazuna, Cozie Bio Cosmetics, and of course many more.
From bamboo toothbrushes to make-up removers, it is possible to make your toilet bag completely zero-waste-free. 
What about food? 
Pretty much any food or drink situation while traveling or city tripping involves single-use packaging. We've already reduced a lot by bringing our reusable water bottle, bamboo cutlery, reusable napkins, and maybe even leftovers and snacks from when you were cleaning out your fridge. 
Here are some other food-related tips you could look into while packing: 
To avoid using single-use cups and food containers, bring your own. Lunch boxes and mason jars are all easy to acquire and can be used repeatedly. 
Most takeaway restaurants are easily handheld and packaging-free. This means no extra wrapping papers, napkins, or containers.
Visit farmers' markets or natural shops for the best local and seasonal produce and to buy bulk foods like nuts and beans. Here is where your reusable containers come in!
Pack your snacks and food ahead of time in your reusable bags or containers. Always bring more to avoid the inevitable spur-of-the-moment purchases when you run out of food!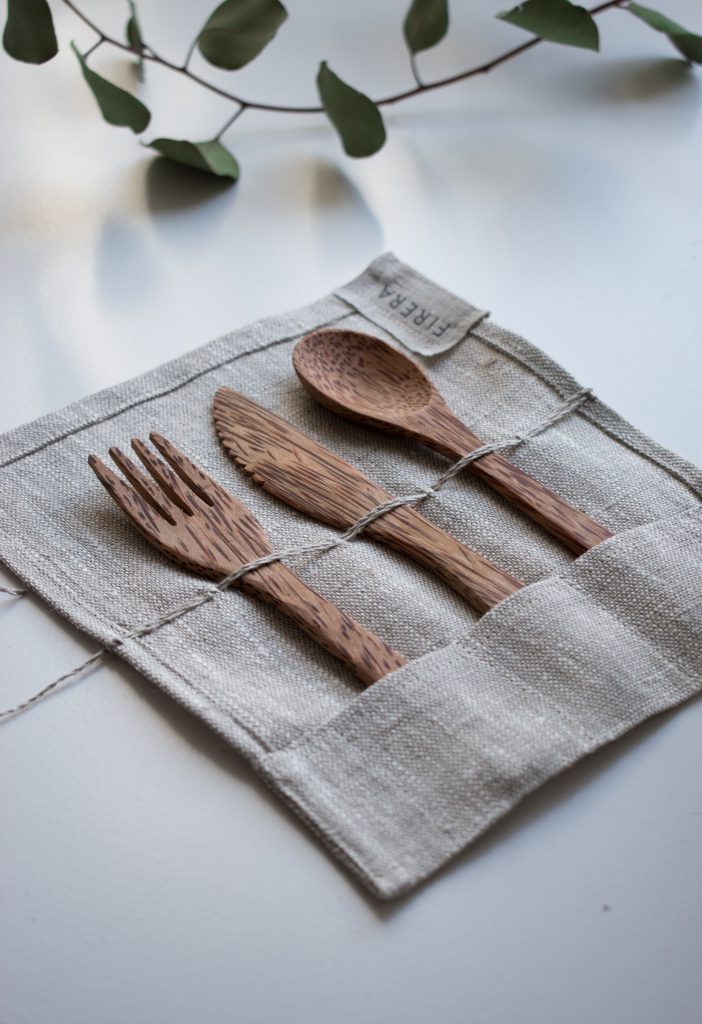 Be smart about packing clothing
After years of traveling, we've learned the advantages of only bringing a carry-on: avoiding baggage fees, not worrying about losing our luggage and being less obstructed by heavy bags while navigating a new place. 
Wearing a thin t-shirt under a sweater will allow you to wear it more often without getting smelly.
The idea is very easy: don't bring anything you don't wear daily. If you don't wear it at home, you most likely won't wear it while traveling.
Bring "dual purpose" items: You can re-purpose a scarf as a blanket, a coat can double as a pillow, etc.
When you finally arrive …
This should be the easiest part since you already have the zero-waste mindset, and you've prepared yourself to the core with all of our tips! 
Here is a small and handy list that should help you keep the zero-waste mentality: 
You're prepared to avoid all plastics, so you can refuse them whenever you get them offered at food-to-go shops and hotels. 
Only buy what you need while you travel. You don't need to buy souvenirs, you can use a camera to save your memories.
Figure out how to recycle wherever you are and use the appropriate bins.
Be mindful of your consumption; 
Don't spill water, do turn off lights, and keep the room closer to outside temperature rather than taxing the central air system.
Hang up your towels at hotels.
It's the universal sign that they don't need to be washed and you're happy to reuse them.
Leave the 'do not disturb' sign on the hotel door.
This is to reduce unnecessary washing of linen, vacuuming, and the use of other chemicals for cleaning.
This is to reduce the single-use of those tiny hotel bottles.
Don't use the plastic water bottles in your room (unless of course, you can't drink water from the tap)
When asked if you want a receipt, ask for it to be emailed.
Go the extra mile and help clean up when you travel.
Choose environment-friendly activities. 
Spend your money on experiences, not things. We don't need souvenirs, take photos of fun activities instead.
Share materials you only use for traveling.
Think about sharing materials like tents, travel guides, DVD players, etc. – you aren't always on a trip at the same time as your friends
Zero Waste Travel for a lighter footprint
Let's not forget that travel is a gift and a privilege. You can show your gratitude in the most responsible way: respecting and preserving local habitats and communities as much as possible.
We believe that what we do can cause a ripple effect, so we strive only to leave footprints during our journey.
Save for later …