Review: Is the Macbook M1 Pro the best laptop for photographers in 2023?
Pros
Long Lasting Battery Life
Most Powerful Macbook ever by far
No. Dongles.
Native SD card and HDMI Port
Full iOS App Marketplace
Cons
Screen 'notch' not compatible with some software
Still MacOS exclusive
M1 Max likely overkill
Larger than previous models
During the new Macbook Pro press conference and within the announcement itself, Apple made a lot of bold claims about the quality, power, and usefulness of the laptop. 
Considering the new Macbooks M1 Pro cost over $2000-, we need to know how practical and powerful this Macbook will be for everything we need to shoot, render and edit.
We got ourselves a Macbook M1 Pro to look at the specs and see what it can do; here are our findings!
Unique Features of the Macbook M1 Pro
Macs have rarely been the most powerful computers on the market for your dollar, often costing hundreds more than an equivalent laptop running Windows; that said, they've always had the quality to back up that price tag. Between their killer suite of native applications like Final Cut Pro and their best-on-the-market screens, they've been a consistent choice for photographers and videographers alike for years. Honestly, they've done a lot to solidify their lead with the new models. They're friendlier to use, more powerful, and have a software ace-in-the-hole that makes them a laptop like no other.
Macbook M1 Pro's Apple Silicon chipset
To talk about the most significant change first, the Macbook M1 Pro and Max run on a new type of CPU, the Apple Silicon. That might sound like gibberish, but it critically is the same family of chips running iOS since the iPod Touch. As a result, the entire mobile and iPad app marketplace just got added to the Macbook. 
Apple Silicon is game-changing for anyone remotely entrenched in the iOS systems for their work or projects; first of all, mobile-first apps like Instagram are no longer trapped in poorly maintained browser-based solutions. 
Second of all, it makes it a lot easier to have a unified offsite and in-office toolset. This might not change some photographers' current workflow, but it opens up tens of thousands of options now and in the future. With a combined library of applications, you're going to have way more flexibility with what you want to use and how you need to use it.
Macbook M1 Pro vs. M1 Max?
When you compare the two, the M1 Max is the standout statistics-wise, but at the same time, we found it generally falls into overkill. Unlike some previous editions of the Macbook Pro, the Pro and Max share the same raw features, like screen resolution and ports, meaning that the main differentiating factor is power and size. 
The M1 Pro already eats 4k video for breakfast and doesn't break a sweat during photo editing. Honestly, unless you're working with 3D modeling or something else more intensive than editing 4k+ video, the M1 Pro is more than good enough. 
If you're enamored with the several extra hours of battery life, or the bigger screen, you can get the M1 Max. Otherwise, pick up the M1 Pro and put the $1000- you saved towards a new lens.  
Why is the Macbook M1 Pro Good for Photographers?
Apple has been relatively dominant in the photography space for a while, with one of its main advertising points being its incredibly powerful retina screens. Made of 10,000 mini-LEDs and covering 1,000,000,000 colors (That is not a typo, billion with a B), there isn't much to say about the screen aside from the fact that Apple was the best and continues to be the best. With each release, they continue to display better contrast and deeper colors from their laptops, and this year is no exception. In fact, this is one of the biggest jumps we've seen in years from Apple, leaving us with the best screens money can buy.
Additionally, Apple has raised the brightness ceiling on the laptop, so you won't need to worry about glare compromising the colors when you're trying to make fine edits. 
When it comes to the screen, we do have a minor gripe. To make the most of the space, Apple elected to use the same black 'notch' at the front-facing camera's top of the iPhone screen. We're not going to complain about more screen, but some software doesn't keep the notch in mind and hides things behind it. It's rare, but it's annoying.
The Macbook's SDXC reader is back
Back to the positive and possibly my favorite thing about the M1 Pro and M1 Max is that they have an SDXC reader and a full HDMI port built directly into the laptop, no dongles or peripherals needed. Considering both these attachments have been disappearing from the race to become lighter and thinner, we're glad to see them back. A direct SDXC slot is one less wire you need to remember in the morning, and plugging the card indirectly is always easier for file management. Thank goodness the SDXC slot is back, and hopefully, they don't take it away any time soon.
As a bonus, Apple has already ensured that the big-name photography applications are optimized for the new CPU, so Photoshop, Lightroom, Affinity, and most other classics work smoothly as silk on the new machines.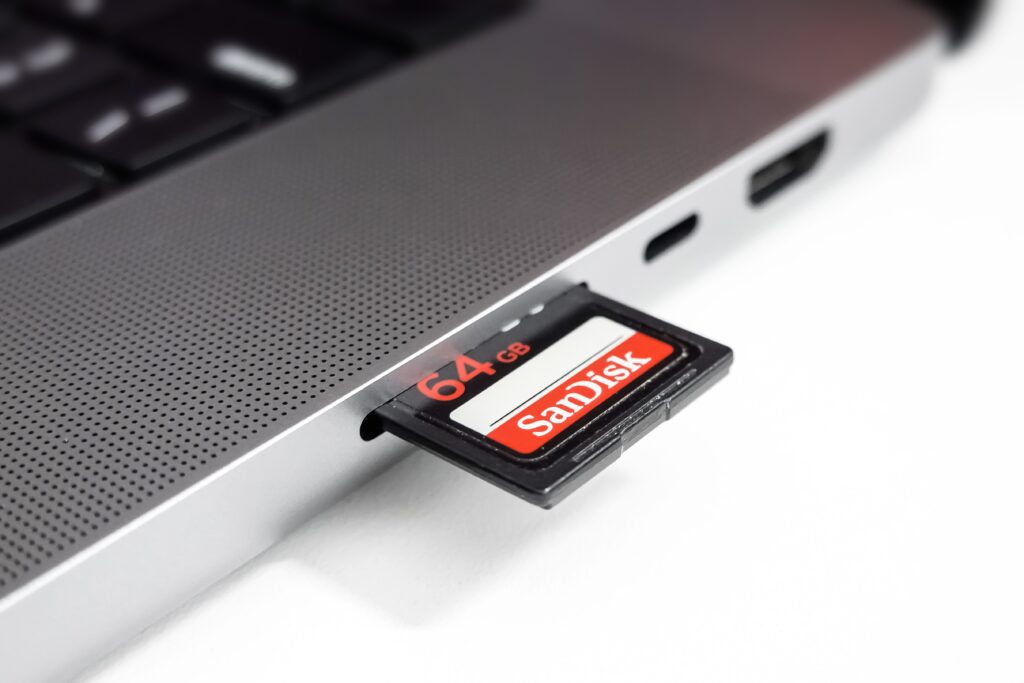 Should You Buy the Macbook M1 Pro for Video Editing?
If you skew more towards the video side of things, there is still a lot to love about the Macbook M1 Pro and Max. First of all, you'll benefit from all of the screen, battery, and travel points we've already talked about, but we all know that video is about power, and the Macbook M1 Pro doesn't disappoint.
At this point, most modern cameras like Sony's A7 IV shoot either directly in 4K or in 7-8K for oversampling. The jump to 4k has left a lot of laptops cooking on desks when it comes to editing and managing video, but the M1 and M1 Max impress here as well. 
Apple primarily talks about rendering speed for these laptops, saying they render between 10 and 14 times faster than the non-Apple Silicon models. That said, for the average editing user, that stat doesn't reflect much. The critical thing to know about the Macbook M1 Pro is that it can easily handle a full 4k timeline on multiple monitors with no stuttering at all. It's a buttery smooth experience that you almost overlook until you work on a different system and realize how often you're waiting a second or two for something to load. It's not a raw statistic, but it's a lovely feeling. 
The above also holds true even if you're using the native HDMI port to work with a multiple monitor setup.  
Finally, as a small bonus, you can lock in the screen's refresh rate if you're hunting for how the video will appear on specific monitors. Like we said, small bonus. 
Is the Macbook M1 Pro Good for Travel? 
Yes. 
The new Macbook Pro line is paradoxically larger and somehow still more mobile than previous models and other laptops. Several important changes ensure that the M1 Pro and M1 Max are better unplugged than their competitors. 
The Macbook M1 Pro has a 30-50% increase in battery life
The first thing to talk about for travel is the frankly stunning battery life of the Macbook M1 Pro and Max. According to Apple's stats, they should last 17 and 21 hours of video playback, respectively. Now, those are in-lab hours under perfect conditions, but even compared to last year's Macbooks which were the longest-lasting ever, it's a 30-50% increase. Assuming you can't get that much battery life out of them, your Macbook will still easily last an entire workday, flight, onsite shoot, or day on the town.
This means you won't be married to your hotel room or shackled to the one seat in the airport that can reach an outlet. Thank God.
No loss in processing power
Possibly even more exciting than the raw battery life is that the Macbook M1 Pro and Max run the same whether they are plugged in or not. This is critical because many computers will cut processing power to save energy if they aren't plugged in, making them useless for rendering your most recent video or making minor edits on the go. Apple ensured this wasn't the case which means that the long battery life isn't a useless feature when you have things to do. 
The Macbook M1 Pro has better cooling
Finally, as a small added note, this Macbook is way better at cooling itself than older models, so you don't need to worry as much about overheating and cooking it if you head somewhere sunny.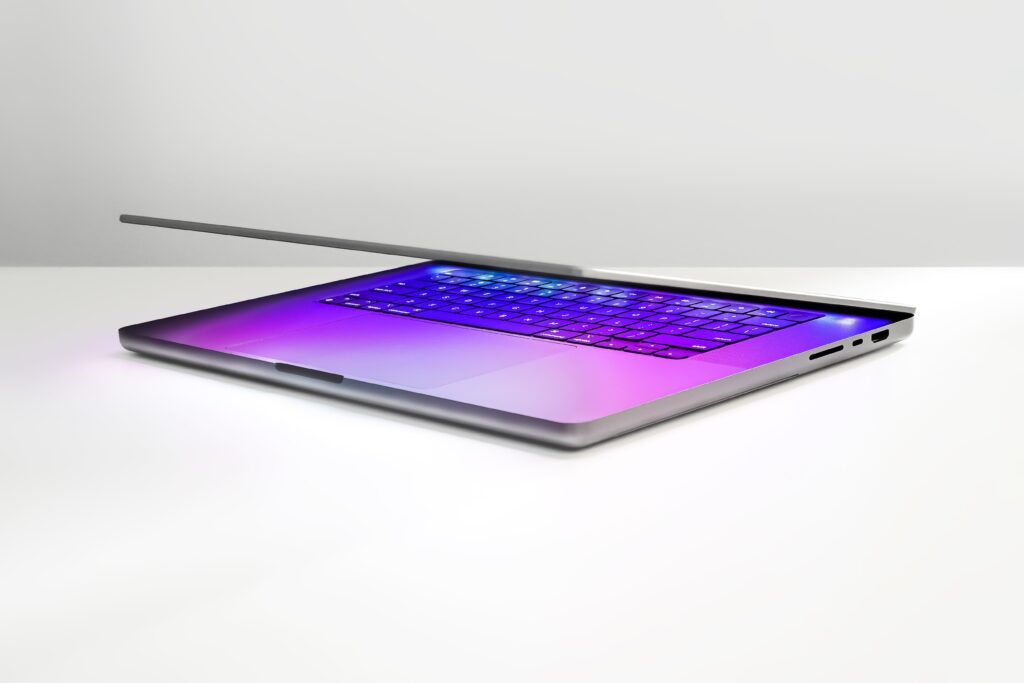 Should You Buy the New Macbook M1 Pro?
Yes. If it comes down to a raw recommendation, replacing your laptop with the new Macbook M1 Pro is going to be a significant jump in quality of life, power, and resolution. Even if you already have a 2020 Macbook Pro. For photographers and videographers, you'd be hard-pressed to find a better option on the market. If it's in your budget, it's a hard recommendation from us. 
Pros 
Long-Lasting Battery Life 
Most Powerful Macbook ever by far
Beautiful Screen
No. Dongles. 
Native SD card and HDMI Port
Full iOS App Marketplace
Cons
Screen 'notch' is not compatible with some software
Still MacOS exclusive 
M1 Max is likely overkill
Larger than previous models