Exploring Thailand's hidden gems: 6 must-see places
Thailand has a total of 1430 islands, many of which are popular tourist destinations such as Phuket, Phi Pho, Koh Tao, and many others. These islands are known for their beautiful beaches, crystal clear waters, and scenic landscapes.
In addition to their natural beauty, many of these Thailand's islands are also home to Buddhist temples as Buddhism has been the dominant religion in Thailand for many centuries. As a result, thousands of temples – also known as "wats" – are scattered throughout these islands.
But Thailand is not just about its beautiful beaches and temples, it also has a popular Thai cuisine, known for its strong flavors and bold spices. Thai dishes often feature a combination of sweet, sour, salty, and spicy flavors, making them a treat for the taste buds.
In this article, we're going to highlight some of the hidden gems of Thailand – astonishing landscapes, delicious regions, and historical temples that are often overlooked by tourists. 
Thailand's hidden gems to Explore
As Thailand is a country shattered with islands and temples, it has many hidden gems to be discovered. While some of these gems are well-known (and already mentioned in our Thailand Itinerary), there are also many lesser-known destinations that offer a glimpse into authentic Thailand.
Gems mentioned in this blogpost:
Huai Kha Khaeng Wildlife Sanctuary
Sukhothai
Khao Ngon Nak Nature Trail
Wat Rong Khun
Wat Chaloemprakiat Prachomklao Rachanusorn 
Kaeng Sam Phan Bok
Huai Kha Khaeng Wildlife Sanctuary
The Huai Kha Khaeng Wildlife Sanctuary, a protected area in western Thailand, is part of the UNESCO World Heritage Site known as the "Thungyai-Huai Kha Khaeng Wildlife Sanctuaries," which is recognized for its exceptional biodiversity and conservation value.
Huai Kha Khaeng Wildlife Sanctuary, which spans an area of approximately 3,300 square kilometers, is home to a variety of wildlife (elephants, tigers, leopards, bears, and a range of bird species) and rare and endangered species (Asian golden cat, the gaur,…).
Sukhothai
Sukhothai is another UNESCO World Heritage site, as the ancient city was once the capital of the Sukhothai Kingdom; the first kingdom in the history of Thailand, which existed from the 13th to the 15th centuries. It is now mostly known for its beautiful temples, palaces, and other historical sites.
The most well-known temple in Sukhothai is the Wat Mahathat, which features a large seated Buddha and a number of smaller temples. The site includes the Sukhothai Historical Park, and just outside of Sukhothai you'll find a number of other ancient temples and artifacts.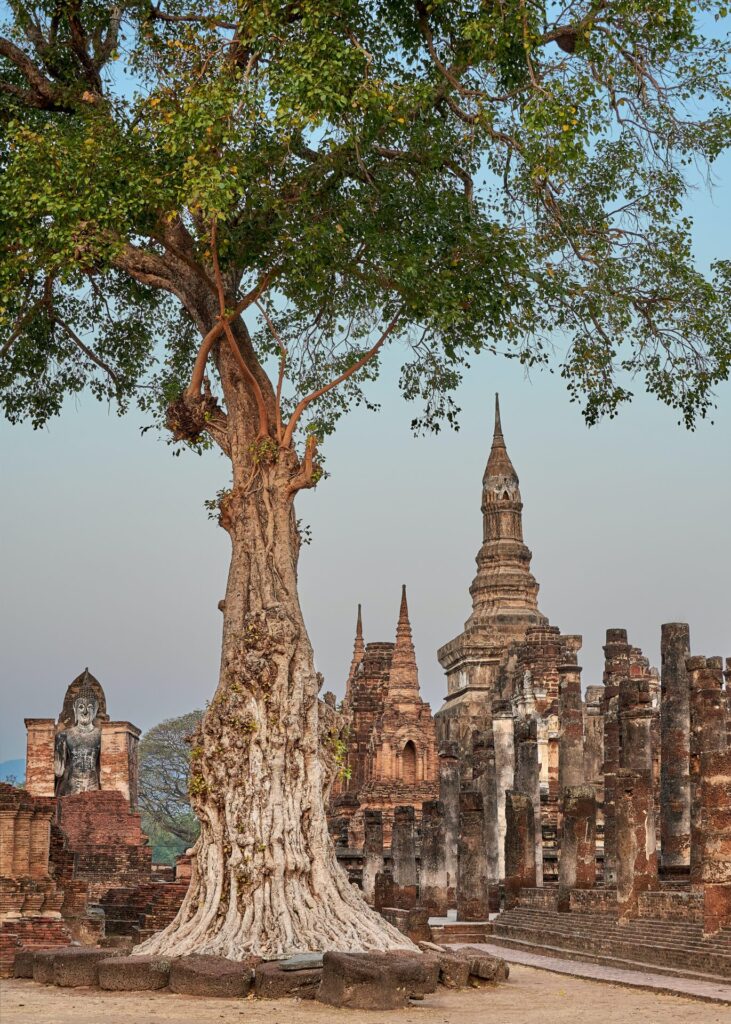 Khao Ngon Nak Nature Trail
Khao Ngon Nak Nature Trail, also known as Dragon Crest Mountain, is an astonishing hiking trail in Krabi, Thailand. It is located in the Khao Phanom Bencha National Park and offers stunning views of the surrounding landscape, including the Andaman Sea and the neighboring islands.
The Khao Ngon Nak Nature Trail is a moderate-difficulty hike that takes approximately 2-3 hours to complete, as it follows a well-marked path through the rainforest. The trail passes by a number of interesting features, such as waterfalls, rock formations, and small caves. 
Wat Rong Khun
Wat Rong Khun, also known as the White Temple, is a contemporary Buddhist temple in Chiang Rai, Thailand. 
The temple was designed and constructed by Thai artist Chalermchai Kositpipat, who has drawn inspiration from traditional Thai temple architecture and Buddhist mythology. He started the construction of the temple in 1997 and added a lot of new features and buildings over time. 
One of the most striking features of Wat Rong Khun is its entryway, which is a bridge over a small pond filled with hundreds of hands reaching up out of the water. This represents the cycle of death and rebirth in Buddhist philosophy and serves as a reminder of the importance of mindfulness and detachment.
Visitors can see several other striking features inside the temple, such as a large golden Buddha statue, a hall of mirrors, and a series of murals depicting Buddhist themes.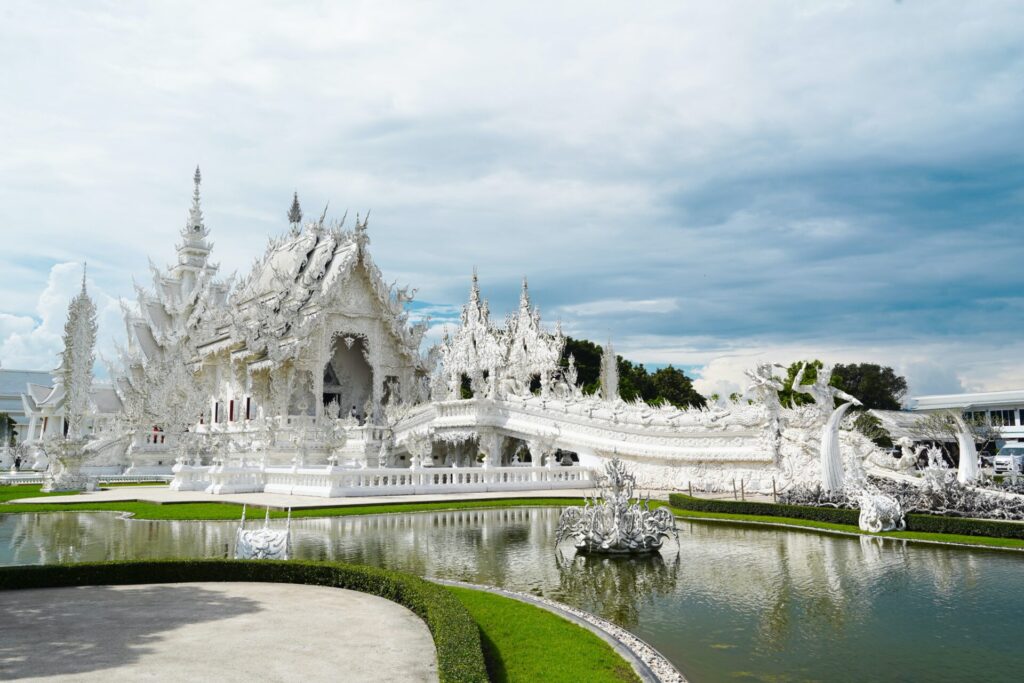 Wat Chaloemprakiat Prachomklao Rachanusorn Temple
Wat Chaloemprakiat Prachomklao Rachanusorn Temple, also known as Wat Chao Fa Sala Loi, is a Buddhist temple in Phuket, Thailand. It is located on the island's east coast, near the town of Saphan Hin.
The temple is named after King Chulalongkorn, also known as King Rama V, who was a patron of the temple and donated land for its construction. It was built in the late 19th century and has since become a somewhat tourist destination in Phuket.
One of the most striking features of Wat Chaloemprakiat Prachomklao Rachanusorn Temple is its main hall, which is decorated with intricate carvings, gold leaf, and colorful murals. The hall is home to a large seated Buddha statue, as well as a number of smaller statues and artifacts.
Kaeng Sam Phan Bok
Kaeng Sam Phan Bok is a natural attraction in Ubon Ratchathani and is basically a series of rapids and waterfalls located on the Mun River.
The Kaeng Sam Phan Bok is a hidden gem for tourists and a popular place for locals as it offers a variety of activities such as swimming, hiking, and picnicking. The area is also home to a number of local villages, where visitors can learn about the daily life and culture of the people who live there.
One of the most popular activities at Kaeng Sam Phan Bok is rafting, which allows visitors to experience the rapids of the Mun River up close. The rafting route is approximately 7 kilometers long and takes about 2-3 hours to complete. Along the way, visitors can see a number of beautiful waterfalls, such as the Pha Pong Nam Yoi Waterfall and the Pha Tad Yoi Waterfall.
Save for later …