Zeller Horn, the best viewpoint for Hohenzollern Castle
Hohenzollern Castle's best viewpoint can be found from the opposite mountain: Zeller Horn. Want to know more about the castle, its haunted legend, or how to find this viewpoint? Read on!
Hohenzollern Castle's history
On the 900 meters high Hohenzollern mountain, you'll find a castle with the same name, which has been watching over Bisingen and its region since the early 11th century. This heavily armed hilltop castle was destroyed twice in its history and initially built on behalf of the Hohenzollern dynasty.
When we delve into the old German literature, we have to dive back into history towards 1061 to find the first mention of the Hohenzollern dynasty ("Wezil et Burchardus de Zolorin"). The castle ("Castro Zolre") was first mentioned in 1267 and was considered to be "The Crown of all Castles in Swabia."
While the castle was appraised to be the most fortified castle of Germany, a ten-month siege in 1423 by the imperial cities of Swabia managed to obliterate it. It took until 1454 for the Hohenzollern dynasty to construct an even bigger and more fortified castle. 
Unfortunately, the Hohenzollern dynasty lost control over the castle during the Thirty Years War, with the result that it changed hands frequently. This caused the maintenance and restorations of the castle to be neglected, leaving nothing more than ruins by the beginning of the 19th century.
According to ancient records, Hohenzollern Castle owes its reconstruction (which started in 1819) to Frederick William IV of Prussia. According to one of his letters, he was researching his family's roots when he visited the ruins of Mount Hohenzollern … and after seeing the sunset, he decided to rebuild the fortress: 
"The memories of the year 1819 are exceedingly dear to me, and as a pleasant dream, it was especially the sunset we watched from one of the Castle bastions… now this adolescent dream turned into the wish to make the Hohenzollern Castle habitable again…"

Frederick William IV of Prussia
In 1850 the neo-Gothic castle was finally rebuilt, making it one of Germany's most imposing castle complexes again. This time, they also added additional military fortifications, such as additional watchtowers.
Unfortunately, the castle was recently damaged again, this time by the earthquakes of 1970 and 1978. It took them until the mid-1990s to renovate the castle from these damages.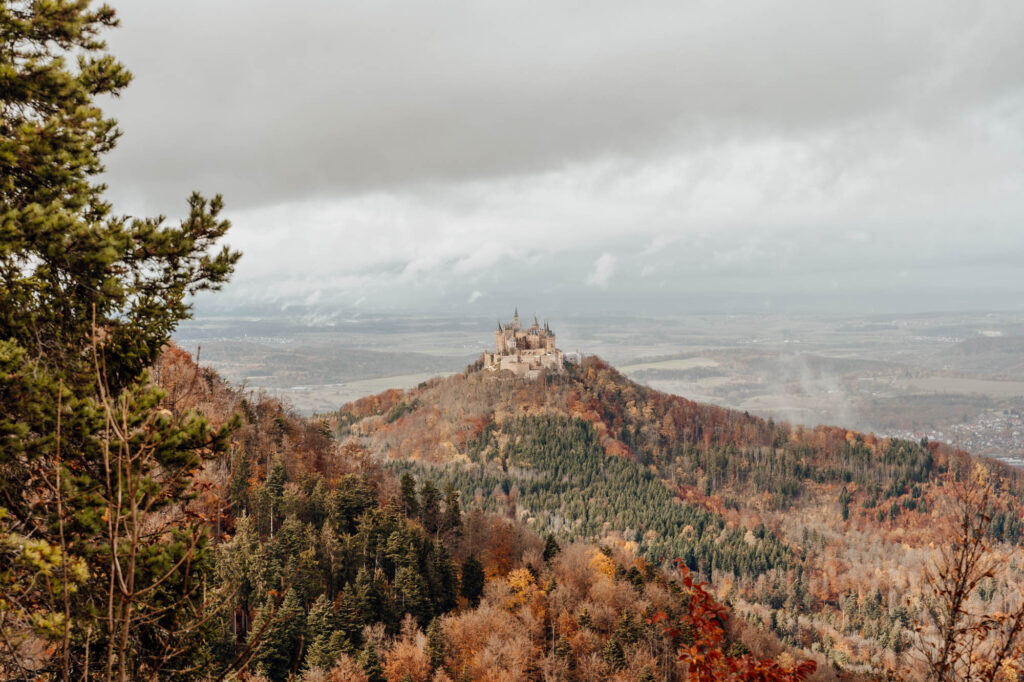 Key facts about Hohenzollern Castle
Nowadays, Hohenzollern castle welcomes over 350.000 visitors, making it Germany's most visited castle. Because the castle is still accessible to visitors, the admission fees cover all current (and future) maintenance, preservation and renovations costs.
| | |
| --- | --- |
| Key facts | |
| Region | Baden-Württemberg, Germany |
| Type | Palace, Castle |
| Architecture | Neo-Gothic |
| Built in | 11th century |
| Height | 855 meter-high mountain |
| Names | Hohenzollern Castle and Burg Hohenzollern |
| GPS coordinates | 48°19′23.5″N 8°58′3.8″E |
Key facts about Hohenzollern Castle
Legends around Hohenzollern Castle
While Hohenzollern Castle is known as one of the most beautiful castles in Germany, the legend around it isn't a fairytale story; rather a ghost story! Various reports through the centuries 'confirm' sightings of a spirit ghost known as the "Lady in White." 
According to the local legend, Albrecht von Hohenzollern – who lived in the 14th century – had a relationship with Countess Kunigunde von Orlamonde, a widowed mother of two children.
While the love between the two was great, Albrecht's parents were not pleased with the relationship. Because of this, Albrecht told his lover that "if it were not for four eyes between us," then he would have married her, but instead, they had to split up. The countess, who was hopelessly in love, misunderstood the phrase "four eyes between us" and thought it was a reference to her children. She, therefore, decided to kill them by poking out their eyes with a golden needle.
Unfortunately: Albrecht was, just like everyone around them – rather shocked by Kunigunde's act. As a result, she had to flee the country and went to seek forgiveness in the Vatican. The Pope ordered Kunigunde to build a monastery and commit the rest of her life to prayer, which she did until she died in 1351.
Legend has it that ever since the countess's death, she started haunting all the castles belonging to the Hohenzollern dynasty. Meanwhile, several historians have tried to fact-check the story, debunking it because the Countess Kunigunde von Orlamonde was childless.
Either way, if you plan to visit the castle, you've been warned!
Our visit to Zeller Horn's viewpoint
We visited Zeller Horn as part of our road trip, during which we traveled through Europe for a week in a campervan and visited fabulous places such as Wegelnburg, Schloss Lichtenstein, and Santuario Madonna Della Corona.
Our itinerary wouldn't allow us to stop by the Hohenzollern Castle for an extended visit, so we decided to admire the castle from Zeller Horn's viewpoint; It's the mountain range located about 1.5 kilometers away, at the same height as the fortress. As a result, you have the best view of the castle and the surrounding area.
While exploring the Zeller Horn and looking for the best views around the castle, our electronics were charging in our motorhome using the Ecoflow River Pro power station.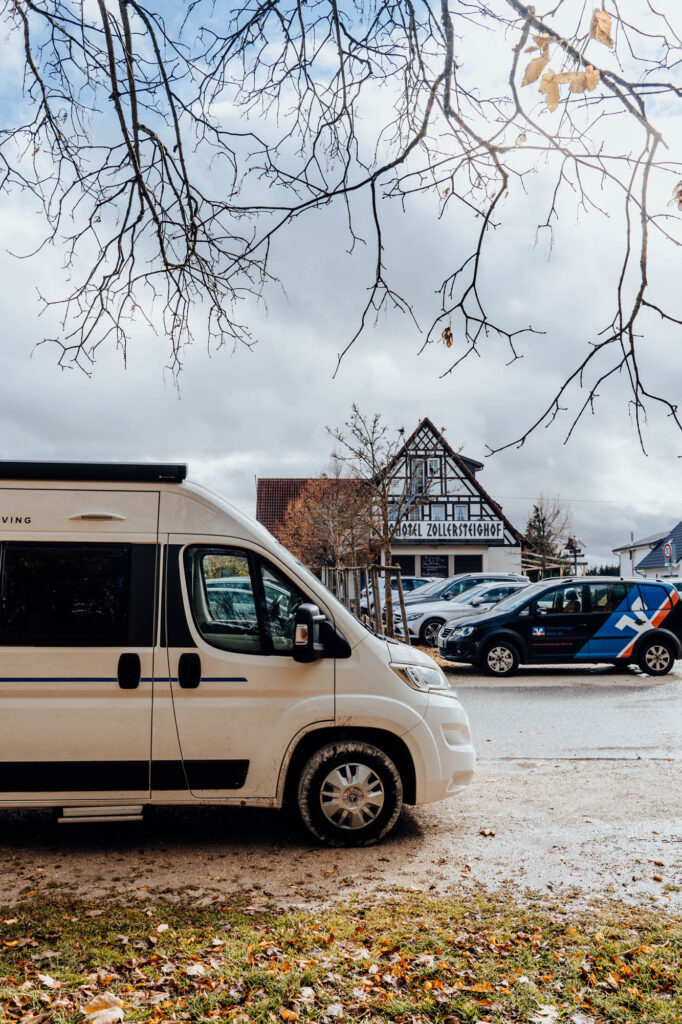 How to reach the Zeller Horn viewpoint?
Relatively close to the Zeller Horn viewpoint, you'll find the Berghotel Zollersteighof. This is the best place to park your car; it is barely a 20-minute walk from the viewpoint.
As it attracts quite a few tourists, the trail is relatively well maintained with several signposts to the "Zellern Horn" viewpoint. Once you arrive, you have a fantastic view of the castle and its environment!
Because the viewpoint is located on the top of the mountain, there are hardly any options to visit this place by public transport.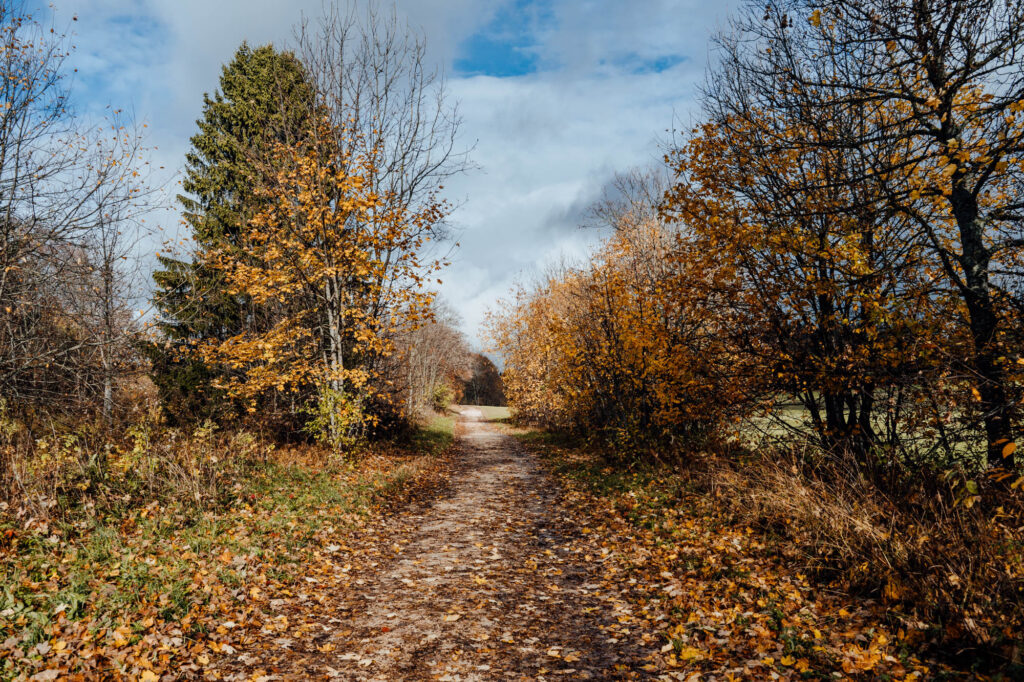 When to visit Zeller Horn
The Hohenzollern Castle is located on top of a mountain, making it a subject that can be admired from different points of view on the broader area.
Most photographers choose to capture the ruins during the morning, which allows them to witness the sunrise above the fog from a beautiful point of view.
What to do at Zeller Horn
The region around the Walzin Castle is known for its hiking paths, mountain bike trails, and snow sport opportunities. That makes it easy to turn a visit to Zeller Horn and the Hohenzollern Castle into a full-day activity.
Hike. There are various hiking trails in the area that passes by the Zeller Horn's viewpoint.
Horseback riding. The local horse farm Pferdehof Schwarz offers rides on fjord horses to children up to 15 years old.
Winter sports. During the winter, Albstadt offers 75 kilometers of double-track trails and downhill slopes. 
Mountain bike. Since September 2006, a permanent 65km mountain bike route has been created.
Attractions near Zeller Horn
You'll find several castles and monuments of Germany's rich history in the vicinity of Zeller Horn; this makes it easy to spend an entire day visiting the viewpoint and its neighboring attractions.
Hohenzollern Castle. Visiting Hohenzollern Castle would be the perfect follow-up attraction after visiting Zeller Horn.
Beuron Archabbey. An 1863 monastery, which has the most extensive monastic library in Germany, containing over 400.000 books! ​​
Sigmaringen Castle. A princely castle built during the early 11th century is most known for being located atop the Schlossberg chalk cliff.
Lichtenstein Castle. A fortress inspired by the novel Lichtenstein, located on top of an 800 meters-high cliff.
What to pack when visiting Zeller Horn
A visit to Zeller Horn and its surroundings can quickly take up a full day, especially when you've decided to visit Hohenzollern Castle as well. This makes it handy to bring some essentials with you.
| | |
| --- | --- |
| Essentials to pack | |
| Peak Design 20L Backpack | This has been our go-to backpack for ages. It carries our camera and all our other essentials effortlessly, which is why we selected it as the best camera bag for traveling in 2023. |
| Hiking shoes | With this muddy and rocky environment, it was essential to wear the proper footwear. |
| LARQ Bottle | Staying hydrated is essential; that's why we're constantly carrying a water bottle containing UV-C Light technology; It neutralizes a lot of harmful bacteria and contributes to our zero-waste lifestyle. |
| Holzkern "La Concorde" Watch | Time flies when you're having fun! Especially when you're on a road trip or when you have a schedule in mind, that's why we advise you to keep an eye on the clock. |
What to pack when visiting Zeller Horn
Photographing Hohenzollern Castle
To photograph the Hohenzollern Castle, you'll want to take the weather and its seasonal conditions into account: A colorful forest or a snowy landscape is so much more helpful to create a unique photograph than when the leaves have already fallen.
Drone rules
The entire area around the Hohenzollern Castle is marked as a no-fly zone, clearly stated on the surrounding fences. This means that drones are prohibited on the entire castle site, including the forest and the parking lot.
Nevertheless, you can find several drone videos of the Castle online.
Camera gear
As an experienced and published photographer, my camera bag grew throughout the years. It currently contains various cameras and lenses, each with its function and use – I've listed them below.
We would advise you to bring a good telephoto lens, because of the significant distance from the viewpoint to the castle. 
| | |
| --- | --- |
| GEAR | DETAILS |
| Sony A7III DSLR Camera (review) | The Sony A7III DSLR Camera is a couple of years old now and is still one of the best options for travel photography. |
| Tamron 28-75mm Lens | My default Sony camera lens. I have a 67mm HOYA polarizing filter screwed on it as standard, which captures the sky more beautifully.  |
| Macbook M1 Pro (review) | We edit our pictures on the new Macbook M1 Pro, mainly because it has a longer battery life and is more powerful in editing. |
| Instax Mini 40 (review) | The power of this Instax camera lies in the nostalgic feeling it creates, which is why I use it to capture the vibe while staying in the moment. |
Camera gear
Camera settings
For aspiring photographers, landscape photography might seem like black magic. This is why we decided to break down the technical details behind this shot.
| | |
| --- | --- |
| Settings | Value |
| ISO | 100 |
| Aperture | f/6,3 |
| Shutter Speed | 1/500 |
Camera settings
Post-production Software
Post-production is the process of editing your picture in software such as Lightroom and Photoshop. This process helps you to improve the quality of your photos drastically.
Save on Pinterest