St Johann in Ranui Church, a symbol of the beauty
Hidden in the overwhelming mountains of the Dolomites lies a 1744 century church. We visited this St Johann in Ranui Church and are more than happy to share its history and how to reach it.
St. Johann in Ranui Church in Val di Funes
The small white baroque church of St. John of Nepomuk at Ranui was commissioned in 1744 by a mine owner called Michael von Jenner, who built it near its medieval ranch Ranuihof.
St Johann in Ranui Church has various references dedicated to the patron saint John of Nepomuk, who was declared a saint in 1729 (inscriptions on its facade, frescoes, decorations on the inside walls of the church, 9 different paintings about John, and a garland shaped start on its roof). 
While St Johann in Ranui Church is housed in an attractive building, it is most known due to its beautiful scenic location in the Funes Valley in the Dolomites, just in front of the Geisler Peaks of the Puez-Geisler Nature Park. This makes St Johann In Ranui Church picture-perfect!
The legend around John of Nepomuk
Legend has it that John of Nepomuk was tortured, martyred, and drowned in the Vltava River in the Czech Republic, after which his remains were found near a star-shaped garland. Since then, he is considered to be the patron saint of all people in danger of drowning.
Key info about St Johann in Ranui Church
Many of the locals speak German since the Dolomites are located in northern Italy, close to Austria and Switzerland. This is the reason why most of the locations are known by their German name. In Italian, the church is known as the Chiesetta di San Giovanni. 
| | |
| --- | --- |
| Opened in | 1744 |
| Entry fee | € 4,-  |
| Region | Dolomites, South Tyrol |
| Valley | Val di Funes / Villnöß / Villnöss / Funes Valley |
| Altitude | 1,352 meter  |
| Names | St Johann in Ranui, Chiesetta di San Giovanni, San Giovanni in Ranui |
| GPS coordinates | 46.6351° N, 11.7243° E |
How to reach St Johann in Ranui Church in 2021
We've visited the St Johann church in Ranui as part of our road trip around the Dolomites, which took place in December 2020 in a partnership with Indie Campers. 
By car
The easiest way to reach St John's church is to drive to the Val di Funes and park near the church. 
By Bus
You can reach St Johann in Ranui with bus #340 from Bressanone to Brixen. You'll have to get off at the last stop: St. Magdalena in Ranui. The scenery will then guide you to the church. 

Be careful: Bus # 340 is known to adhere to its schedule infrequently.
During our visit, the Italian government set several COVID measurements in place. As a result, every ski resort in the Dolomites was closed, causing the associated winter sports tourists to stay home. Consequently, we did not experience any crowds on the road or when visiting the church, making it pretty easy to reach it and park just opposite the church.
When to visit St Johann's Church
If you're visiting Val di Funes with the main reason to photograph St Johann in Ranui Church, you should plan your visit in the fall. This is when the sun appears most spectacularly from behind the mountains.
If you actually want to spend more time in the region, you'll find different activities all year round.
Hiking during summer
During spring, summer, and autumn, you will be able to enjoy the beautiful hiking trails of the Dolomites. There is even a hiking trail that runs through the Puez-Geisler Nature Park and circles the Geisler peaks. The trail is accessible by mountain bike as well.
Skiing during winter
During winter, you'll be able to go snowboarding, skiing, or sledding through the region and it's 12 ski slopes.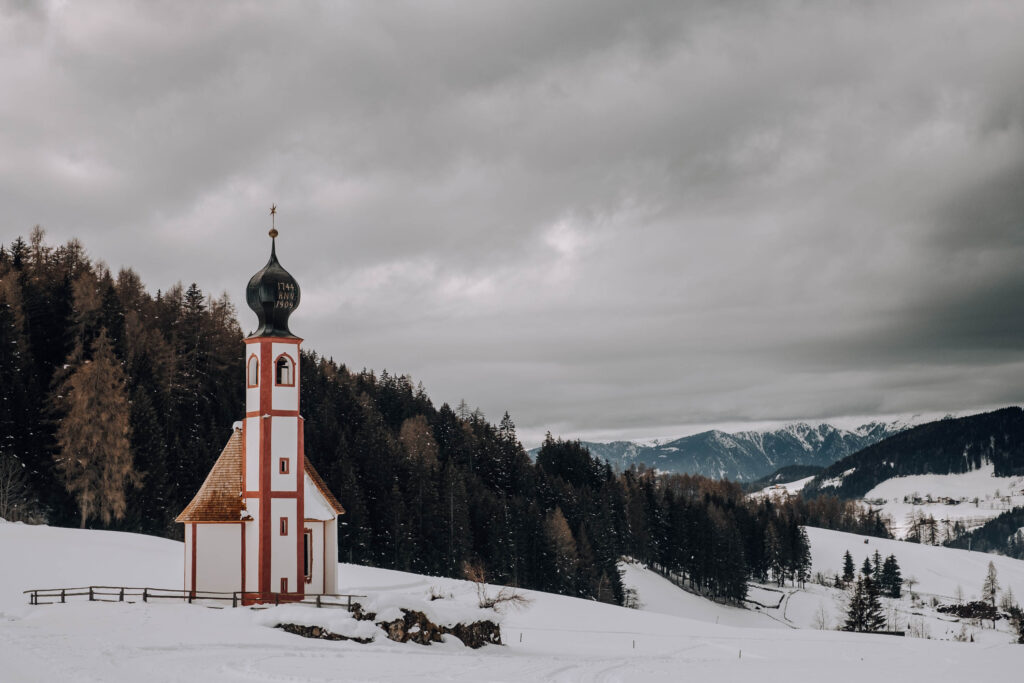 What to do in Val di Funes
The mountains make the area ideal for summer and winter outdoor sports activities. We've listed the most popular activities in Val di Funes – next to photographing the church.
High ropes course: There is a high ropes course run by Hotel Ranuimüllerhof and is located next to the church.
Hiking and Nordic Walking: There is a circular walking route that passes by St Johann's Church. This route leads you to the Geisler peaks and back. Hiking the entire trail takes about 3 to 4 hours.
Mountain biking: The same trail is accessible by mountain bike and brings a bit more adventure to your day. Thanks to its mountain range and its winding trails, both beginners as experts will be able to enjoy themselves here.
Horse riding: There are several excursions by horse riding that can take you to the most beautiful places in the valley.
Climbing: You can climb the mountains or in the climbing centers and gyms in Brixen.
Ski and Snowboard: The region counts 12 ski slopes, where sports enthusiasts can have lots of snow fun.
Sledding: During the winter, the church's domain is used by the locals for sledding, which is also visible in the video at the bottom of the article.
Other attractions near St Johann in Ranui Church
You can explore Val di Funes or learn more about the region's history, by visiting these tourist attractions.

Santa Maddalena church. A 14th-century church named after the Santa Maddalena. According to legend, she miraculously appeared near the Fopal river.
Puez-Odle Nature Park. A nature park filled with walking trails. Many different animal species live here, such as eagles, chamois, deer, and marmots.
Mineral Museum Teis. A museum with a mineral collection of the mountain guide Paul Fischnaller.
Seceda. The most jaw-dropping vantage point in the Dolomites allows you to admire the skyline over the dolomites, for as far as you can see.
What to pack when visiting St Johann in Ranui Church
Whether you're casually hiking to the church or Nordic walking to the Geisler peaks, a well-stocked and comfortable backpack with essentials will be more than welcome.
Photographing St Johann In Ranui Church
The first thing you'd have to consider is that it's a frequently visited place by photographers, which is why the locals surrounded the church with fences, platforms from which photographers can take pictures and marked the area as a no-fly zone for drones.
Additionally, the church is located on the same domain as the Hotel Ranuimüllerhof, which is why they are approaching it from a commercial point of view; they installed a turnstile for tourists, which allows them to visit the church up close in exchange for a € 4,- fee.
Due to the lack of different vantage points, you'll need to be creative to capture a unique photograph. In general, there are two popular perspectives to photograph the Church of St. John from: The first one is by a fence close to the church, which has been erected on the edge of the field to stop reckless visitors encroaching on the private property.
The second perspective is at a nearby road, located a few minutes walking from the road. This gives you a better view of the mountain peaks of the Geisler in the back. 
We recommended bringing a zoom or even a telephoto lens if you want to photograph the church.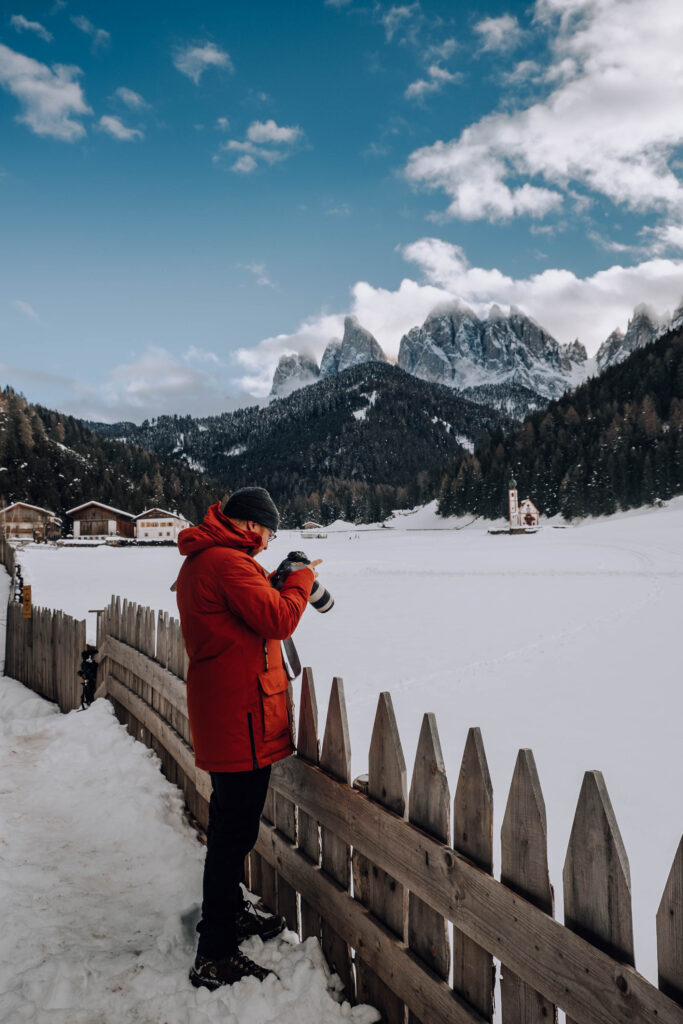 Drone rules
The area is marked as a no-fly zone, which is also clearly stated on the surrounding fences. Nevertheless, you can find several drone images of the church online.
Camera gear
When visiting the church, my camera backpack contained several cameras and lenses, each with its function and use – I've listed all of them below.
| | |
| --- | --- |
| Fujifilm X-E2  | The Fujifilm X-E2 has been my go-to camera for years and is the camera I used for shooting the photos of St Johann. |
| Fujifilm X-T30 | The Fujifilm X-T30 is my favorite camera for making video content, which I mainly used at Val di Funes for B-roll footage and background videos. |
| Fujifilm 18-55mm F2.8-4 lens | The 18-55m is the regular FujiFilm kit lens perfect for imaging this church. |
| Huawei P30 Pro Smartphone  | The P30 Pro is known for its good zoom camera, which I tested here. |
This guide on Fujifilm lenses for traveling provides a comprehensive overview of some of the best options available, including wide-angle and zoom lenses, to help you capture stunning photos of your travels.
Camera settings
Aspiring photographers sometimes struggle to capture landscape photos, so we decided to share our picture's technical details. The key to understanding these details and taking better photos is knowing the basics of exposure and understanding how it impacts your photography.
| | |
| --- | --- |
| ISO | 200 |
| Aperture | f/5,6 |
| Shutter Speed | 1/640 sec |
Post-production Software
Another way to drastically improve your pictures is by editing them in Lightroom. To show you how powerful Lightroom Mobile is, we edited a picture taken with our Huawei P30 Pro Smartphone via their mobile app. Enjoy!
Save it for later …