A complete guide to Los Angeles, California
Los Angeles, also known as the City of Angels, is a vibrant and diverse metropolis located in Southern California. LA has something for everyone with its beautiful beaches, world-famous attractions, and thriving arts and culture scene. 
From Hollywood and Beverly Hills to downtown and Santa Monica, this guide and itinerary will help you explore the best of what Los Angeles offers and plan the perfect trip.
A Los Angeles Guide; everything you need to know about The City of Angels
When traveling through Los Angeles, it is important to be prepared for traffic. The city is known for its congested roads, so be sure to allow extra time for your trips and consider using public transportation or car-sharing services to avoid the stress of driving.
Another thing to keep in mind when visiting LA is the diversity of its neighborhoods. From the glitz and glamour of Hollywood and Beverly Hills to the laid-back beach vibes of Venice and Santa Monica, each area has its own unique personality and attractions. 
Be sure to research and plan your itinerary to make the most of your time and experience the best of what the city offers.
What to know before visiting Los Angeles
If you are a foreign national planning to travel to Los Angeles, you may need to obtain an ESTA visa or a traditional US visa before entering the United States.
When you look at a map of Los Angeles, you'll find over 70 miles of coastlines and over 100 beaches. This means it has plenty of island, coastal, and inland swimming spots.
Los Angeles has no city center; The city is so spread out it is impossible as a tourist to stick to one compact area. The city is split into various regions, such as "the Valley" and "The Basin." When we look at the most famous neighborhoods like Santa Monica, Beverly Hills, and West Hollywood, we have to conclude that they are separate cities sandwiched into the city of Los Angeles.
Los Angeles is covered with free museums; The Broad, Getty Center, Getty Villa, Hammer Museum, and MOCA.
LA is famous for having a diverse and rich restaurant scene, but nothing seems to have as strong of a hold on the Los Angeles food culture as Tacos.

Key facts about Los Angeles
| | |
| --- | --- |
| Country | United States of America |
| Names | LA, El Lay, City of Angles, Southland, La-la Land,… |
| Currency | United States dollar ($) |
| Population | Over 3.849 million |
| Airport | Los Angeles International Airport (LAX)John Wayne Airport (SNA)Hollywood Burbank Airport (BUR)Ontario International Airport (ONT)Long Beach Airport (LGB). |
| Travel adaptors | Type A and Type B |
Los Angeles Travel Costs
The cost of visiting Los Angeles as a tourist can vary depending on a number of factors, such as the time of year, the length of your stay, and your personal preferences. In general, however, LA is known for being a relatively expensive destination. 
Accommodations, food, and activities can all add up quickly, so it is important to plan your budget in advance and look for ways to save money. Some tips for reducing the cost of your trip include staying in a budget-friendly hotel or Airbnb, eating at local restaurants or food trucks, and taking advantage of free or low-cost activities, such as visiting the beach or hiking in the local mountains.
Below are some of the most basic expenses to give you a general idea of the cost of living in the city.
| Expense | US Dollar | Euro |
| --- | --- | --- |
| Hostel | $54,- | 50 euro |
| Budget Hotel | $69,- | 65 euro |
| Decent Meal | $ 17,- | 16 euro |
| Bottled Water | $1,30 | 1.22 euro |
| Beer | $6,- | 5.7 euro |
| Cola | $3,- | 2.8 euro |
| Coffee | $5,- | 4.7 euro |
How do you get to Los Angeles
There are several ways to get to Los Angeles, depending on your location and personal preferences. The most common way to get to LA is by flying into one of the city's airports, such as Los Angeles International Airport (LAX) or Bob Hope Airport (BUR). 
Another option is to drive to LA, either by car or by bus. The city is accessible by several major highways, including Interstates 5 and 10, and several bus companies offer service to and from LA. Finally, you can also take the train to LA, with Amtrak offering several routes to the city.
Getting to Los Angeles by plane
Most of the tourists visiting Los Angeles will arrive at their main airport, Los Angeles International Airport, better known as LAX. It's easily accessible from the city, located only 30 kilometers from Downtown LA.
The LAX airport is one of the busiest airports in the world, offering hundreds of flights to domestic cities, connecting over 92 cities and 46 countries. This means it's safe to say that LAX is an enormous airport, servicing over 74 million passengers a year.  
Next to LAX, Los Angeles has 4 other airports; The Bob Hope Airport in Burbank, which is located the closest to Hollywood. People traveling to Disneyland best fly to the John Wayne Airport in Santa Ana.
Getting from Los Angeles airport to the city center
After arriving at the airport, you have the classic 4 options to make it downtown LA; you can either take a taxi, a private shuttle, the bus, or the metro. Taking a taxi (or a ride-sharing service) is the quickest and the most expensive option. 
The cheapest transport option from Los Angeles airport to downtown is to take the metro, but unfortunately … there is no metro station at LAX airport! This means you'll first need to take a free 15-minute shuttle to the Aviation/LAX Metro Rail Station.
Transport in Los Angeles: How to get around in Los Angeles
LA is a busy metropolis that spreads over 45 kilometers in width, with attractions and sightseeing opportunities spread out around this entire city. This makes a car the most convenient way to explore Los Angeles and its surrounding areas. 
Rental Car in Los Angeles
One of the best ways to get around Los Angeles is by car. The city is known for its sprawling layout and vast network of highways and freeways, making it easy to explore different neighborhoods and attractions by car. Renting a car is a convenient option, with several major rental car companies located at the airport and throughout the city.
When driving in LA, it is important to be aware of the local traffic and road conditions. The city is known for its heavy traffic, especially during rush hour both in the morning (from 7 to 9 AM) and in the evening (from 3 to 7 PM), so be sure to allow extra time for your trips and avoid driving during peak times if possible.
Additionally, with LA's toll roads and expensive parking fees in mind, you might consider using a car-sharing service instead. 
Taxis in Los Angeles
Another option for getting around Los Angeles is by taxi. Taxis are readily available throughout the city and can be hailed on the street or called in advance by a taxi company. The cost of a taxi ride will depend on the distance and duration of the trip, as well as any additional fees or surcharges.
To ensure a safe and pleasant experience, it is important only to use licensed and reputable taxi companies. Look for a company that is registered with the city of Los Angeles and has a good reputation for customer service and safety. 
In addition, be sure to agree on a fare with the driver before starting your trip, and always carry small bills and change to avoid any issues with payment.
Metro in Los Angeles
The Los Angeles Metro system is another convenient option for getting around the city. The Metro operates buses and light rail trains throughout the LA area, covering many destinations, including downtown, Hollywood, Santa Monica, and many other popular neighborhoods.
Using the Metro is a convenient and affordable way to explore Los Angeles. The system offers a variety of fare options, including single-ride tickets, day passes, and monthly passes. You can purchase tickets at vending machines located at all Metro stations or use a TAP card, which is a reusable card that can be loaded with fares and used for multiple trips.
To plan your trip, use the Metro Trip Planner on the Metro website, which will provide detailed route and schedule information. The Metro is also a convenient and affordable way to get to and from the airport, with the Metro Green Line offering service between LAX and downtown LA.
Where's the best place to stay in Los Angeles
We already briefly mentioned it: Los Angeles is a city with no real city center, which makes it spread out in various neighborhoods. Our favorite areas and neighborhoods to stay in are Venice Beach, Santa Monica, Hollywood, West Hollywood, Beverly Hills, and Downtown LA.
The biggest tip would be to plan out the attractions you're planning to see and the restaurants that you want to visit. Use this to pick the neighborhood you'll be staying in. 
During my latest visit to LA, I decided to rent a boat in Marina Del Ray and use this as my homebase. This allowed me to wake up to the sound of barking sea lions and cruise around Venice Beach on a longboard in the morning – such a vibe! 
As I wasn't sure beforehand whether I would like this boat experience, I already decided to stay at Hotel Figueroa in Downtown LA during my second week in Los Angeles. This also allowed me to reposition and discover a new neighborhood.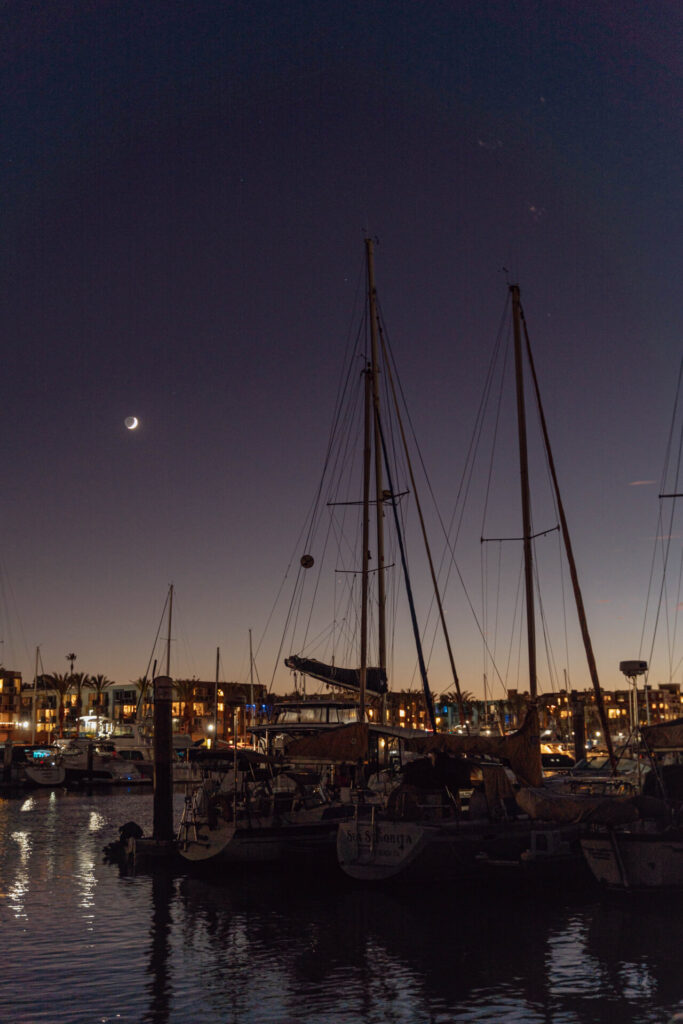 As I couldn't test out every hotel in the city, I thought we'd include some of the accommodations that other reputable sources and blogs mentioned. Keep in mind that most of these other sites included the same recommendations that I have given above.
Loews Hollywood Hotel
Hotel Erwin (Venice Beach)
The Ritz-Carlton (Downtown LA)
Gateway Hotel (Santa Monica)
Charming Studio (West Hollywood)
Hotel Sirtaj (Beverly Hills)
The best places to eat and drink in Los Angeles
The beaches, Hollywood, Beverly Hills, the valleys… Los Angeles is a city that boasts a unique blend of cultures and serves as an international center for design, art, creativity, and entertainment. This cultural diversity is reflected in its cuisine, making it one of the top dining destinations in the USA. In addition to its renowned dining scene, Los Angeles is also home to some of the best speakeasies in the country, offering a unique and memorable experience for those looking to taste the rich flavors of Californian cuisine while enjoying a classic cocktail.
The list below isn't meant to be the definitive list of LA's best restaurants and coffee shops; it's just where we've eaten and what we've enjoyed during our stay. Feel free to use this list to guide you along the way! 
Places to eat and drink in Venice Beach
Gjusta Bakery: An artisanal bakery located in a very instagrammable warehouse with a very cozy terrace. My favorite discovery of this trip, especially since they serve both breakfast and pizza.
Alana's Coffee Roasters: A great place to drink house-roasted coffee in a hip and modern setting. What I liked the most? The authentic character of the shop!
The Wee Chippy: A hip counter-serve joint for french fries and burgers – the perfect way to end the day.

Places to eat and drink in Downtown LA
Birdies Donuts: Known by the locals for their artisanal donuts, fried chicken sandwiches, and coffee.
Wok N' Tenders: When you crave chicken tenders and wings.
Cafe Fig: Located at Hotel Figueroa, DTLA Café Fig was a pleasant surprise for a delicious meal. 
Rappahannock Oyster Bar: Rappahannock is an actual oyster farm in Virginia, with several restaurants around the southeast. They nestled their first West coast location in the Los Angeles Warehouse District, just blocks from the Arts District and Little Tokyo.
Places to eat and drink in Hollywood

Solar de Cahuenga: Solar de Cahuenga is a breakfast and coffee shop located in the heart of Hollywood. The perfect place for locals to lay around and work on their next film script.
Intelligentsia Coffee: A coffee shop located right on Hollywood's Walk-of-fame, known for its quality coffee, its red ceiling, and its famous mural that appears in the movie "LA LA LAND." 
In-N-Out Burger: It's America's favorite burger chain for a reason. Try it!
Other places to eat and drink in Los Angeles
Kura Revolving Sushi Bar (Little Tokyo): Have you ever been to a sushi place that delivers its food on a conveyor belt, delivers drinks via a robot, and rewards you once you have accumulated 15 plates? No? Well, then, this restaurant should be on your bucket list because it's a real experience!

Esters Wine Shop & Bar (Santa Monica): The restaurant lured us in with its looks and vibes, as it perfectly balances a late-night spot and laid-back day hangout. In essence, it's a wine bar, wine shop, and an all-day restaurant in one. Kinda pricey, but the perfect spot for brunch!
What is Los Angeles known for?
Los Angeles, shortened to LA, is one of the most well-known cities in the United States. But why is Los Angeles so famous?
Hollywood – the larger-than-life symbol of the entertainment business – is situated in Los Angeles, turning it into the world's Entertainment capital. It's the place where the earliest film studios and production companies emerged. It is also the birthplace of various genres of cinema, such as comedy, drama, action, musical, romance, horror, and science fiction.

Los Angeles has the perfect weather. This is because it's surrounded by mountain ranges that block extreme weather conditions, as it's situated in a desert region. The Pacific ocean breezes make sure that LA has a mild Mediterranean climate.

Los Angeles is the US's second biggest city. LA actually has a lot of assets that turned it into the second biggest city in the United States: they have the busiest seaport in the Western Hemisphere, easy railroad connections, and its ideal weather made it great for agriculture, tourism, movies, petrochemicals, construction works, and aerospace; all industries that grew fantastically fast in the 20th century.

Skid Row is the largest population of homeless people in the United States. It covers a 54-block area just east of downtown Los Angeles that has become synonymous with homelessness and poverty.
Los Angeles is home to several professional sports teams. The metropolitan area has twelve major league professional teams: the Anaheim Ducks (Ice Hockey), the Los Angeles Angels (Baseball), the Los Angeles Chargers (American football), the Los Angeles Clippers (Basketball), the Los Angeles Dodgers (Baseball), Los Angeles FC (Soccer), LA Galaxy (Soccer), the Los Angeles Kings (Ice Hockey), the Los Angeles Lakers (Basketball), Los Angeles Sparks (Basketball), the Los Angeles Rams (American football), and Angel City FC (Soccer).
The best things to do in Los Angeles
While Los Angeles is a city that has something for everyone, it can be overwhelming to decide which attractions and sightseeing opportunities to prioritize. That's why we've curated a list of our top 3 favorite activities, each offering its own unique experience. However, if you're looking for more inspiration for once-in-a-lifetime things to do in Los Angeles, be sure to check out our comprehensive guide here.
Wander from Venice beach to the Santa Monica Pier
The Venice Beach Boardwalk only stretches over two miles but has a ton of attractions and sightseeing opportunities: Muscle Beach, Graffiti Art Walls, the legendary Skate Park, Street Performers and artists, the lifeguard towers,…
It's actually one of these spots where you keep seeing new things, no matter how many times you've wandered it. That's why I recommend taking this road with a longboard or renting a bike at Venice Beach Rentals and wandering to the Santa Monica Pier!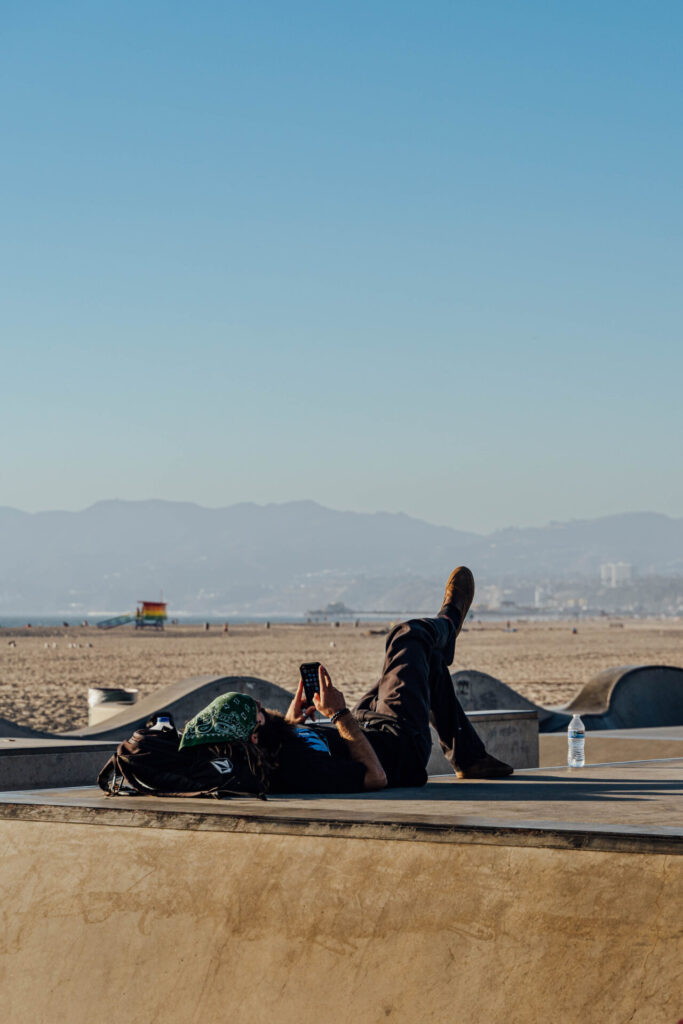 Visit museums 
Los Angeles is considered an international hub for artists and their arts, so it shouldn't be surprising that LA houses some of the best museums. 
They have a wide range of free museums, such as The Broad, Getty Center, Getty Villa, Hammer Museum, and MOCA.
We decided to visit LACMA, The La Brea Tar Pits, and The Petersen Automotive Museum during our latest visit.
Experience the sunset at Burton Chace Park
This beautiful Burton Chace Park is the crown jewel of Marina Del Ray; it offers one of the best viewpoints over the harbor and is an amazing location for a morning jog, a leisurely picnic, or a BBQ. 
During one of our last days in LA, we watched the sunset over the marina during a cozy picnic – unforgettable!
Other attractions to look out for … 
As we couldn't visit every city attraction in the two weeks we were there, we thought we'd include some other attractions we liked. We also added some other attractions that other reputable sources and blogs mentioned. Keep in mind that most of these other sites included the same recommendations that I have given above.
Griffith Observatory; an observatory on the south-facing slope of Mount Hollywood, with views over the Los Angeles Basin, including Downtown Los Angeles to the southeast, Hollywood to the south, and the Pacific Ocean to the southwest.
UCLA Campus; a ​​legendary research university where the internet was born, and various TV series such as Gilmore Girls and Legally Blonde were recorded.
The Skyslide at OUE Skyspace LA; An open-air observation deck providing a 360-degree view of the city. 
Grand Central Market; a downtown market that has been marked as a landmark since 1917, bringing together the cuisines and cultures of Los Angeles through our various vendors and events.
"California Dreaming"-Wall; One of the most instagrammable walls in LA
Most instagrammable places around Los Angeles
Los Angeles is the perfect location for Instagram pictures; it has beautiful beaches, iconic landmarks, and vibrant culture, and LA offers a diverse range of photo-worthy experiences – so make sure to bring your Sony A7III. 
There are countless Instagram-worthy spots throughout the city, from the Hollywood sign and the Santa Monica Pier to the Venice Canals and Rodeo Drive. In addition, LA is home to a thriving arts and culture scene, with numerous museums, galleries, and performance venues offering beautiful and unique settings for photos. 
Hollywood Boulevard (Walk of Fame)
Hollywood Boulevard is a famous street located in the heart of Los Angeles, known for its iconic attractions and vibrant atmosphere. One of the most popular destinations on Hollywood Boulevard is the Walk of Fame, which features more than 2,600 stars embedded in the sidewalk, honoring some of the biggest names in entertainment.
The Walk of Fame is an Instagram-worthy place for several reasons. 
First, it offers a unique and visually-striking backdrop for photos, with the colorful stars and the historic buildings of Hollywood Boulevard providing a picturesque setting.

Second, the Walk of Fame is a popular spot for celebrity sightings, with many stars honored with a star on the Walk of Fame appearing at the ceremonies or visiting their star.

Finally, the Walk of Fame is a fun and interactive experience, with visitors often taking photos with their favorite stars or trying to find all of the stars in a particular category, such as music or film.
Don't forget: while it's one of the most Instagrammable places in LA, it's also one of the busiest streets in the city and gets very crowded with traffic, tourists, and LA locals. This makes it hard to take the perfect picture.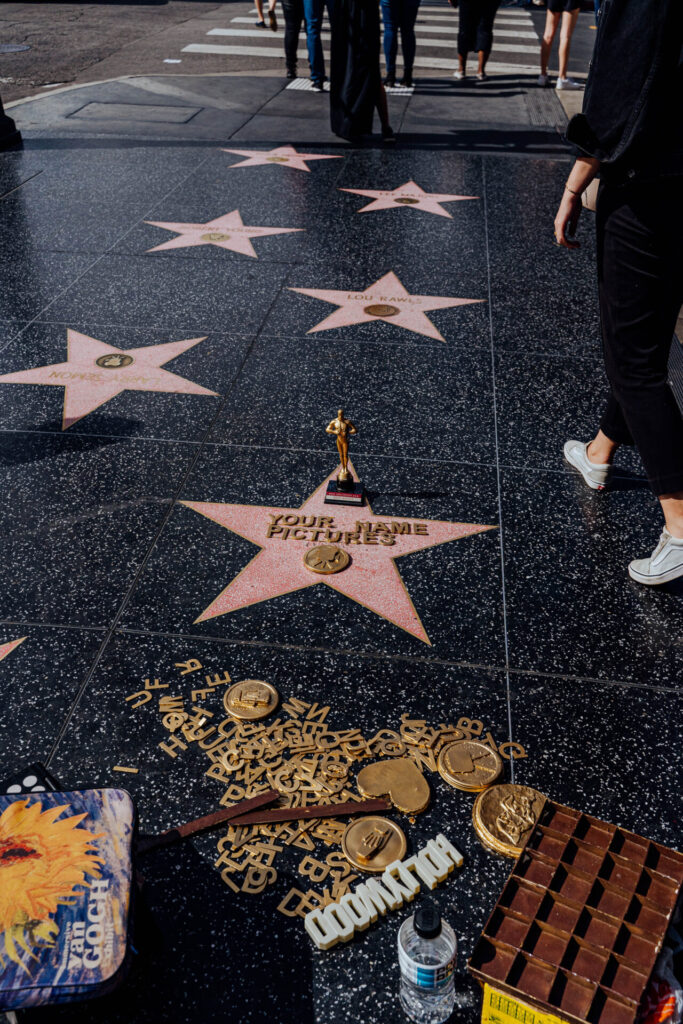 Venice Canals
The Venice Canals are a series of man-made canals located in the Venice neighborhood of Los Angeles. Originally built in the early 1900s, the canals were inspired by the canals of Venice, Italy, and were designed to create a residential waterfront community.
The Venice Canals are Instagram-worthy because they offer a picturesque and peaceful setting, with the canal waterways surrounded by charming houses and lush greenery. 
The canals are a popular spot for photographers for their unique architecture and scenic views providing a beautiful backdrop for photos. 
Rodeo Drive
Rodeo Drive is a famous shopping district located in the heart of Beverly Hills, Los Angeles. Known for its high-end boutiques and luxury stores, Rodeo Drive is a popular destination for fashion enthusiasts and those looking to taste the glamorous LA lifestyle.
This is also why Rodeo Drive is such an Instagram-worthy place; it offers a beautiful and elegant setting, with the tree-lined streets and upscale storefronts providing a picturesque backdrop for photos … and it's also a shopper's paradise, with some of the world's most famous and exclusive brands represented on the street, making it a fun and fashionable destination for fashion lovers. 
This makes Rodeo Drive a popular spot for celebrity and supercar sightings, as many of Hollywood's biggest stars are known to shop and dine on the street. 
Day trips from Los Angeles
California has so much more to offer than LA, so I decided to list a few day trips in the area for when you're looking to discover California some more!
Joshua Tree National Park
Palm Springs
San Diego
Legoland
Disneyland
Six Flags Magic Mountain
Famous events in Los Angeles in 2023
There's never a shortage of events to attend or things to do in Los Angeles. There is always something to do in the city, from major music festivals to big sports events. We've listed some of the biggest and most impressive things below – you don't want to miss these when you're in the area at that time!
Golden Dragon Parade
For more than 100 years long, the Chinese Lunar New Year has been celebrated in Los Angeles as the Golden Dragon Parade. This makes it the longest-running Lunar New Year parade outside China!
The parade initially kicked off in the late 1800s as a tool for the government to welcome Chinese immigrants who came to Los Angeles. The parade grew into a tradition, attracting over 80,000 attendees with their colorful costumes, lion dances, and martial arts performances.
4th of July holiday Fireworks
The Fourth of July, also known as Independence day, is a celebration of the United States' declaration of independence which was signed in 1776 and established the USA. This is – by far – the biggest national holiday in America and is hugely celebrated by every American. 
As you can imagine, this is accompanied by spectacular fireworks in all the major cities in the states, such as LA. You can expect a lot of festivities throughout Los Angeles, such as parades, fireworks, outdoor movies, concerts, neighborhood events, and family-friendly entertainment!
Halloween Parade Los Angeles
Every year around Halloween, Los Angeles hosts one of the most epic Halloween celebrations in the world. Over the past few years, a free Halloween Carnaval parade took place, which departed in West Hollywood and ended on Santa Monica Boulevard. This cavalcade was accompanied by thousands of incredible costumes, live entertainment, and various dancers and performers along the way. 
This parade attracted over 500,000 attendees before covid but hasn't taken place for three consecutive years since the covid outbreak. Officials have kept promoting LA as "the place to be for Halloween", and the city is swamped with Halloween parties nevertheless. 
We actually visited LA during Halloween and bought our costumes at Ursula's Costumes in Santa Monica.
Save for later …