Visiting the Dolomites with a Campervan in 2023 (Itinerary)
The Italian Dolomites are known to every landscape photographer as one of the most spectacular places on earth, covered with gigantic mountains, colorful lakes, and crooked roads. 
We've taken it upon ourselves to discover the Dolomites with a campervan, which turned into an unforgettable adventure, making us appreciate the spectacular mountain ranges even more.
In less than a week, we've driven over 3000 kilometers with a campervan around the Dolomites, discovering incredible places at every turn. We've listed all our stops in an itinerary, which you can find below!
The Campervan
The main reason why we wanted to discover the Dolomites in a campervan was the COVID situation in Europe. Traveling with a campervan allowed us to discover new places while complying with every COVID Measurement and taking extra precautions such as staying in our own bubble.
For this road trip, we partnered up with Indie Campers – a Portuguese company specializing in RV rental and has a fleet of more than 2000 campervans spread over 40 locations in 15 different European countries. 
Nomad vs Atlas 5
During our search for the perfect covid camper, Indie Campers allowed us to pick a campervan model that we would drive from Brussels to the Dolomites and back. After weighing the different benefits of their NOMAD-model against their ATLAS-5-model, we opted for the NOMAD. 
This is because the NOMAD-camper is custom manufactured by Knaus and Indie Campers and specifically adapted to the comments they received from their past clients. This custom-built campervan was a bit smaller than the ATLAS-5, making it more powerful and responsive (smaller turning circles), which is easier to navigate through the small, steep, and snowy slopes in the Dolomites.
Their ATLAS-5 model is custom-made but leans more towards a motorhome, offering a bit more space and comfort than the NOMAD-model. And although the ATLAS 5 would certainly be a good choice for a road trip, we preferred the ease of driving through the mountains over the space, as we wanted to cover 3000 km in 4 days.
In retrospect, we realized that this converted campervan had some extra benefits: It was easier to park in a regular parking lot, and it heated up fairly quickly due to its size. 
Visiting the Dolomites with a campervan in winter
Driving a campervan through the crooked roads that will eventually lead you to the mountain tops high above the clouds has always been high on our bucket list. But seeing them covered in a blanket of snow was still absolutely incredible.
Dolomites' winter weather conditions
Next to these astonishing views, visiting the Dolomites in winter brings along a few other aspects you might want to take into account:
Essentials for a road trip in a campervan
Throughout our road trip, we discovered a few tricks which made our vanlife a bit easier!
Would we road trip the Dolomites in a campervan again?
YES. 
If you like the pictures that accompany this article, you should know that visiting the Dolomites in real life is even more spectacular than you can ever imagine. Having a campervan with you ensures unforgettable moments: From waking up to travel at your own pace. 
The most important benefit for us was that we could decide when and where we wanted to sleep whenever we felt like it and didn't have to rush to check into a hotel. Additionally, traveling in a campervan is super cozy and definitely more cost-effective than hotels' prices in the Dolomites.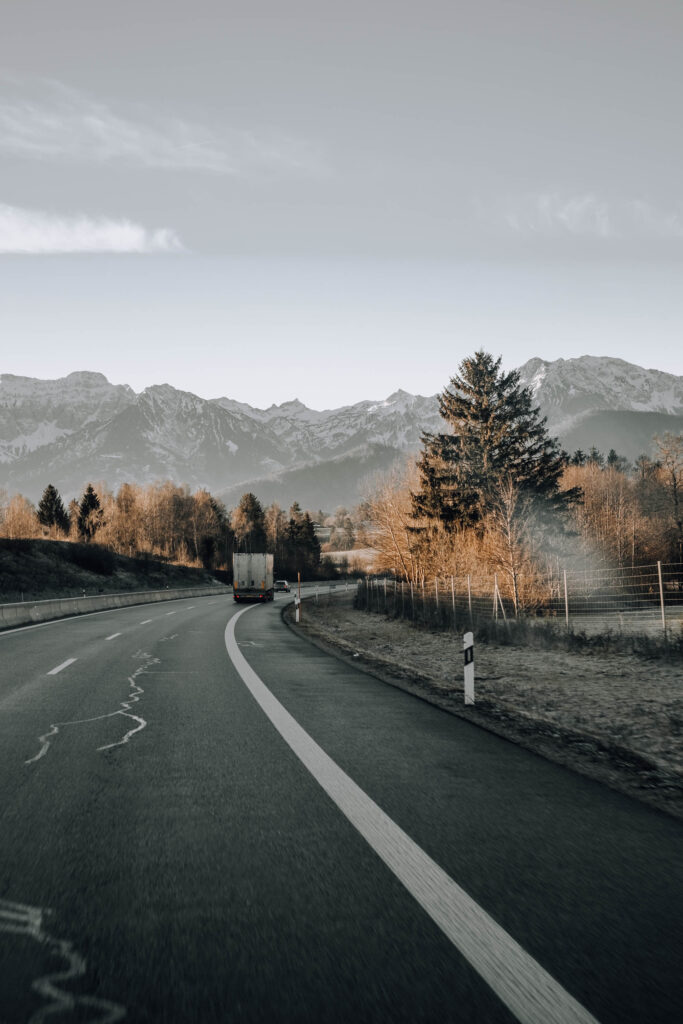 Our Dolomites Itinerary
We didn't plan a specific route. Instead, we made a guideline that listed the places we wanted to see. This way, we could adjust our planning depending on the traffic, the crowds, and the weather, and we still had enough time for sudden stops when we saw beautiful locations.
When we plotted all the destinations we wanted to visit into Google Maps that we realized they made a perfect loop, which kept the distances to each point to a minimum, allowing us to make the most of it.
On average, we took 1 or 2 hours to discover the places we visited, making our itinerary fit into 2 days. However: almost every destination had its own accommodation for tourists, so you could easily bridge two weeks with the same itinerary if you had the time to do so.
Throughout our trip – which lasted 4 nights – we've driven over 3000 kilometers, hunting for memorable moments and unique experiences. We've listed them below! 
Day 0 – picking up the campervan
We started our trip by picking up the campervan at Indie Camper's depot in Brussels in the afternoon, where we received an extensive explanation of how the NOMAD campervan functions.
After unpacking our bags and filling the drawers, we started driving towards our adventure! We drove for 8 hours straight – from 16h until midnight – and parked our van in Kempten (llerdamm Stellplatz), so we would be freshly rested for when we visited the Dolomites. 
Day 1 – experiencing serendipity from the start
After a good night's rest in Kempten, we were set to continue our adventure to the Dolomites. But before we could continue our journey to Italy, we had to buy a Highway Vignette to enter Austria. This toll sticker is required to travel on Austrian motorways and expressways. 
FKK Liegeplatz – Innsbruck
Even before we entered Italy, we stumbled upon crazy mountain views. After driving parallel to the Inn-river for a while, we decided to park our campervan next to the road – just before we entered Innsbruck. This way, we could capture the Inn-river picture, with the Stubai Alps in the background.
Afterward, we realized we stopped at FKK Liegeplatz, which apparently is a popular spot for nudists to visit.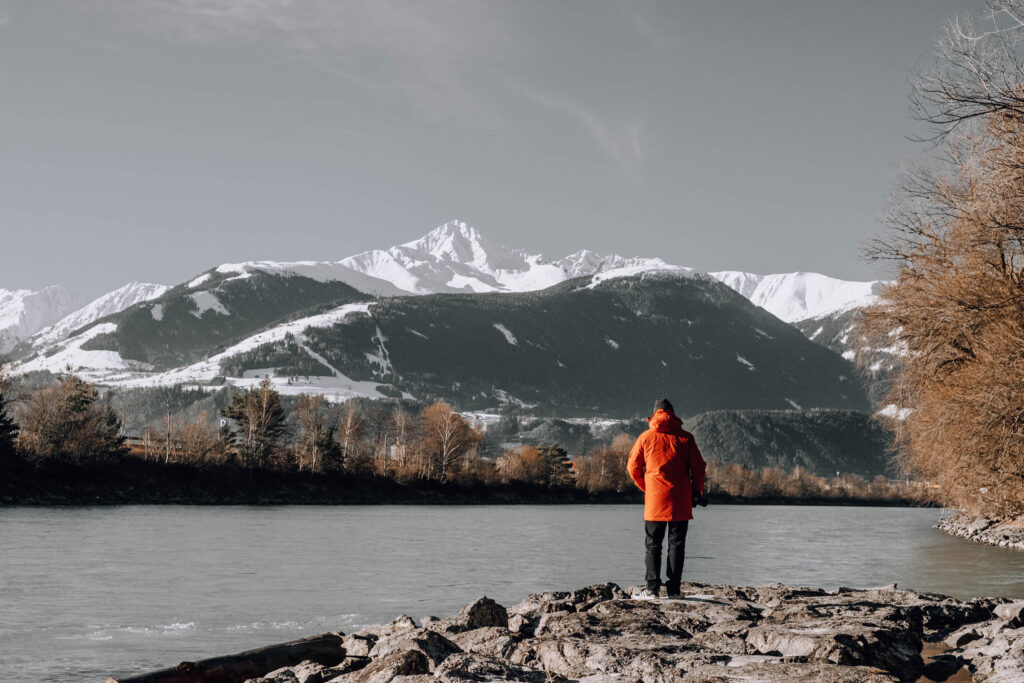 Passo Campolongo
The Dolomites are known for their amazing mountain views and the sights along with their mountain passes. This is why we decided to drive to the Passo Campolongo as our first destination, which is actually also a very known destination for ski sport enthusiasts. 
We drove up to the top of the Passo Campolongo and parked our campervan in Strada Planac, which allowed us to capture and enjoy its panoramic view, including a line of sight of the Pizes de Cir mountain range.
Here we realized that Italy's ski resorts are closed due to the COVID situation, resulting in a lack of tourists – a phenomenon we noticed throughout the trip: most ski slopes, campsites, restaurants, and all other tourist attractions were closed. One thing is for sure: missing out on snow sports will be a heavy blow to the locals.
Passo Pordoi
After crossing the Passo Campolongo, we continued our route to the top of the Passo Pordoi, a nine-kilometer-long climb with 33 different hairpin bends!
Next to being known for its stunning panoramic view, the Pordoi also has an important role in Italy's history: they fought crucial battles during World War I. The mountain top also acted as an important stage of the Giro d'Italia and displayed a monument to honor Fausto Coppi, which stands at the top of the pass.
Canazei
After the descent of the Pordoi, we entered a small municipality called Canazei. Here we noticed fog rolling over the fields, after which we realized we wouldn't reach Lago di Carezza before sunset, which is why we decided to park our campervan to witness the sunset from here. 
Marion's Grillstube
On the road to Lago di Carezza, we scouted google maps to look for our next stopover when we found out about Marion's Grillstube – a must-visit restaurant in Lago di Carezza's neighborhood. We decided to order takeout (which we actually picked up ourselves) and continued our road to the parking in front of Lago di Carezza, where we spent the night.
Day 2 – Dolomites' most instagrammable places
On our second day in the Dolomites, we scheduled some of the most instagrammable places in the area: Alpe di Siusi, St Johann in Ranui, Lago di Braies and many more.
Lago di Carezza
We spent the night in our campervan on the parking lot just in front of Lake Carezza, which is a small lake in the Dolomites known for its wonderful colors and its view of the Latemar mountain range.
It was only at dawn that we realized that the lake was frozen over, leaving behind nothing to be seen but a white field of snow. Hoping to work through our disappointment, we decided to walk over the suspension bridge instead, located next to the parking lot.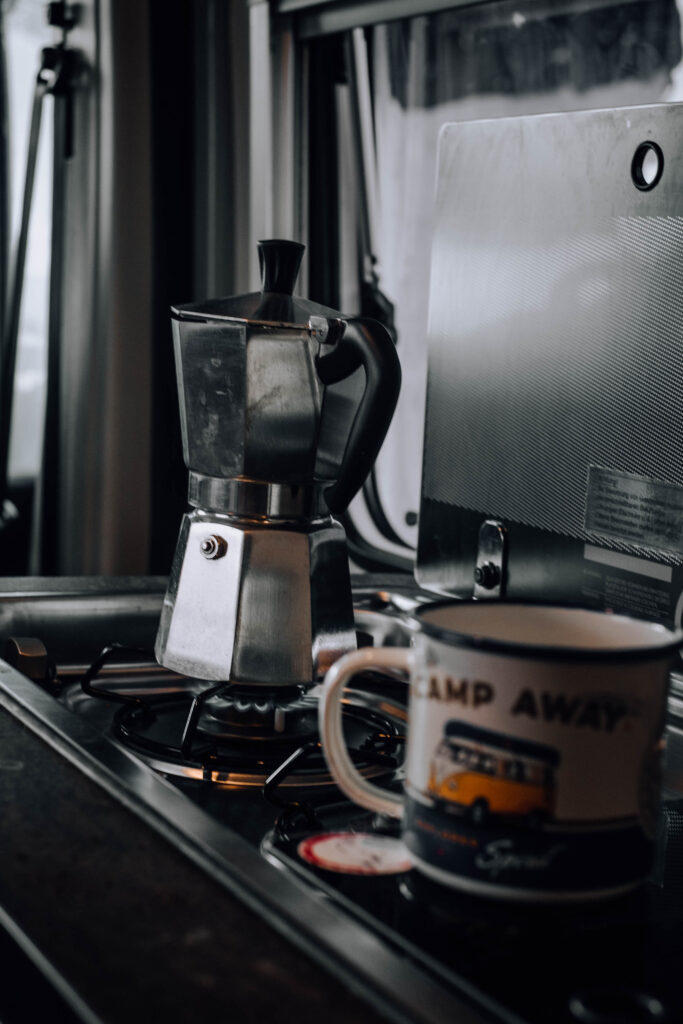 Alpe di Siusi
Next on our schedule was the famous meadowland of the Alpe Di Siusi – also known as Seiser Alm – a meadowland most known for its idyllic views of cabins spread over its green fields, with the peaks of the Langkofel mountain group in the background.
Unfortunately, the road to Alpe Di Siusi closes for traffic from 9 am to 5 pm – a timing which we missed. Shame! We could have gone for a hike, but we decided to continue our route through the Dolomites, with St Johann in Ranui church as our next destination! 
St Johann in Ranui church
St Johann in Ranui church is a small white baroque church built in 1744 and – while it is housed in an attractive building – it's most known for its beautiful scenic location: The Funes Valley in the Dolomites, just in front of the Geisler Peaks. The view makes St Johann in Ranui Church picture-perfect!
It's something most photographers would agree with because it was clearly a frequently visited place by photographers: it's surrounded by fences, and platforms from which photographers can take pictures, and the area is marked as a no-fly zone for drones.
When we visited the church, locals were sledding on the slopes next to the church.
MMM Corones
After reading Italian architectural photographer Davide Adamo's experience of MMM Corones, we highlighted it in our itinerary – mostly because the Corones museum has a mind-blowing architectural value (being designed by Zaha Hadid) and offers an astonishing panoramic view.
However – due to the lack of tourists – the lifts were closed, forcing us to drive up the steep, narrow, and winding roads with our campervan. Unfortunately, the snow was frozen to ice, making the route a bit too sketchy for us. This is why we decided to postpone a visit to the MMM Corones to the summer.
Lago Di Valdaora
We turned around and continued our trip towards Lago di Braies until we stumbled upon a wonderful artificial lake: Lago Di Valdaora. 
The lake is 44 hectares large created by a dam built in 1958 and is open to visitors: you can walk across the dam only at your own risk.
Please note that the dam was dangerously slippery!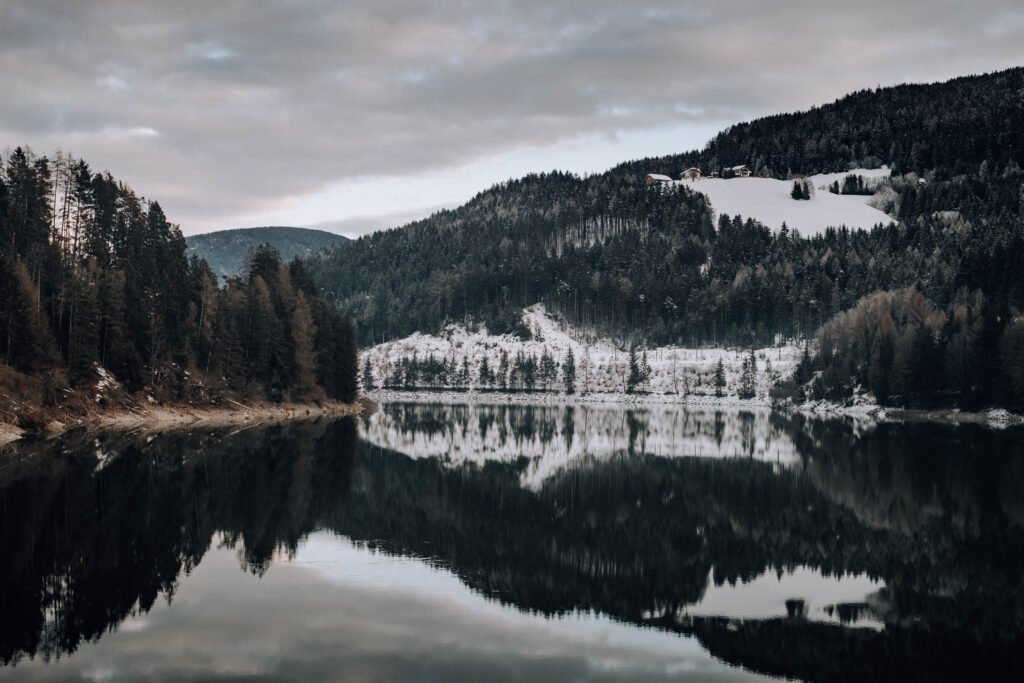 Lago di Braies
The last destination of the day was Lago Di Braies: the biggest lake in the Dolomites, known as the most beautiful lake of the Alps due to its photogenic emerald-color, unique boathouse.
Locals sometimes joked that Lago Di Braies should actually be renamed "Lago di Instagram" as it attracts thousands of visitors every day. We were prepared to see a huge number of tourists during our visit there, but to our surprise, we could only see only a handful of visitors.
During summer, Lago di Braies is known for its incredible views, but during winter, the lake freezes – partly due to its high altitude – creating a surreal sight.
Camping Olympia
After a well-filled day, we parked our campervan at Camping Olympia – a 4-star campsite near Lago di Braies. The camping provided electric power connections for campers, hot showers, and an amazing pizzeria.
The camping was the only place during our entire road trip where we were asked to show our COVID test results.
Day 3 – The most beautiful finds on earth
By now, we were already halfway through our trip – our last chance to discover the Dolomites and their hidden gems.
Lago di Dobbiaco
The first destination we visited was a recommendation we got along the way from one of our Instagram followers. At first, we weren't sure what to expect. But honestly? It might have been one of the most beautiful finds of our trip … and it makes a perfect place for breakfast!
During our visit to the Lago di Dobbiaco, we noticed the lake was only partly frozen. This was because the lake's small height difference formed a waterfall that created a small current, which ensured the lake wouldn't freeze. And to make it even better: white swans came to swim in the middle of the lake, making it picture perfect!
The hotel, the campsite, and the boat rental at Lago di Dobbiaco were closed due to the COVID situation, but the 2.5 km long nature trail was still frequented by cross-country skiers.
Lago Di Misurina
The next landmark we wanted to discover was the lake of Misurina, the largest natural lake in the Cadore area and located at the bottom of the Cadini di Misurina mountain group. 
This lake is where the last Olympic speed skating events on natural ice were held during the 1956 Winter Olympics games. It's a trendy destination for people with respiratory diseases since it claims to have the world's purest air.
Cortina d'Ampezzo
From Lago Di Misurina we continued our adventure to Cortina d'Ampezzo , which is a village known for its skiing trails, scenery, and après-ski scene, and for its jet-set and Italian aristocratic crowd – often referred to as "the Monaco in the Dolomites" – which we felt when refueling our campervan.
Falzarego Pass
From Cortina d'ampezzo we traveled towards Lago di Resia, causing us to cross the Falzarego pass – a pass nestled between the mountains Lagazuoi and Col Gallina. 
If you have the chance, make sure you drive through the Falzarego pass as well, because the view is truly unforgettable.
Lago di Resia
Our trip's last location – which was not located in the Dolomites but wasn't such a big detour on our way to Brussels – was Lago di Resia.
The lake is best known for its 14th-century submerged church, which rises above the lake's water. The submerged church tower was a deafening reminder of the city's history when officials decided to merge two pre-existing lakes into one large human-made lake.
The lake recently played a central role in the Netflix series Curon.
Day 4 – The road back home
After visiting Lago di Resia we drove back to Brussels in one go, giving us more time to clean and empty the campervan.
Be prepared for the perfect shot
Capturing an amazing picture might seem like black magic for some of our adventurous readers and aspiring photographers. That's why we decided to break down the technical details behind the pictures of our road trip. 
The most crucial tip we can give everyone who's planning to visit the Dolomites: it's surrounded by amazing views, both in the mountains as on the road – be prepared! 
When you're traveling as a passenger through the mountain passes, you won't always have the opportunity for a quick stopover to capture these moments. That's why we brought our Huawei P30 Pro smartphone (containing a Leica Quad Camera) along: because having a great smartphone camera gives you the advantage of capturing these moments.
Camera gear
As an experienced content creator, my camera bag grew throughout the years. It currently contains various cameras and lenses, each with its function and use – I've listed all of them below.
Gear
Details
Fujifilm X-E2 
The Fujifilm X-E2 has been my go-to camera for years and is the camera I used for shooting the photos of Lago di Resia.
Fujifilm X-T30
The Fujifilm X-T30 is my favorite camera for making video content, which I mainly used at Lago di Resia for B-roll footage and background videos.
Fujifilm X100F
Whenever I walk around a city, I use my X100F. The reason is that the camera is so compact this it forces me to be more creative because of its fixed lens.
Fujifilm 35mm F1.4 lens
My all-time favorite lens. I always have it mounted on my X-E2 camera. I have a polarizing filter screwed on as standard, which captures the sky more beautifully.

If you're a fan of Fujifilm lenses and looking for recommendations for your next trip, this guide on Fujifilm lenses for traveling is a great resource, as it also reviews this 35mm lens.
Fujifilm 18-55mm F2.8-4 lens
The 18-55m is the regular FujiFilm kit lens, perfect for creating video content.
Huawei P30 Pro Smartphone 
When there is no time to open my camera bag, I use my P30 Pro. It can save RAW photos, making it easy to edit photos instantly in the Lightroom app.
Yuneec Mantis G
Whenever I am allowed to fly, I send my Yuneec Mantis G drone into the sky. The drone has a 30-minute battery, which makes it perfect for road trips!
Post-production Software
Another way to drastically improve your pictures is by editing them in Lightroom. To show you how powerful Lightroom Mobile is, we edited a picture taken at St. Johann in Ranui Church in Val di Funes with our Huawei P30 Pro Smartphone via the Lightroom mobile app. Enjoy!
What we didn't realize before our road trip …
Throughout our road trip, we learned a few things we might not have realized before.
Top 5 landmarks in the Dolomites
If we're looking back on our road trip through the Dolomites, we will rank these landmarks as our favorite discoveries: 
What disappointed us during our visit to the Dolomites
We had to remove MMM Corones, Alpe Di Siusi, and Seceda from our schedule during our trip because they were not accessible by car or ski lifts, which gives us the perfect excuse to return during the summer. 
Should you visit the Dolomites in winter?
It's safe to say: the Dolomites is a region you can visit all year round. Visiting during winter means some of the places may look like a fairytale winter landscape. Simultaneously, others may be completely covered in snow, which won't allow you to fully see why the region is registered as a UNESCO World Heritage site.
Save it for later …