What you need to know about visiting Iceland
Iceland is known as being a beautiful country with striking landscapes, astonishing waterfalls and erupting volcanoes. However, to plan a flawless trip through Iceland you'll need to know more than just the year when the Eyjafjallajökull erupted, or which TV Shows were shot on its coasts.
That is why we've dug into the most important tips for tourists: from rental car tips and money exchange tricks, to food suggestions to insights for photographers – here is what you need to take in account!
Where is Iceland located on the map?
Iceland is an isolated island located in the northern Europe, and is – together with Denmark, Norway, Faroe Islands, Finland and Sweden – part of the Scandinavian union.
The country is bordered by the Greenland See and the Athlantic Ocean, and in the meanwhile situated between the Greenland, The Faroe Islands, Norway and the south of the Artic Circle.
Although Iceland is only located 300km from Greenland (North America), and over 1000km from Norway it is still considered to be part of Europe.
The best time to visit Iceland
What might surprise you the most about Iceland, is the fact that the weather is rather mild. Even though this beautiful country is very far north, it's also close to the gulf-stream which causes the temperatures in winter to hover around the freezing point, while they often reach 20 degrees Celsius in summer!
This makes Iceland a great place to visit any time of the year. The only thing you'll have to take in account are the seasonal activities. For example, during the winter you'll be able to witness the northern lights, while you'll have the opportunity to enjoy the midnight sun during the summer season. 
The purpose of your visit will most likely determine the best time to visit the country, since every season has its own advantage. To help you, we've listed the most unique advantages of every season.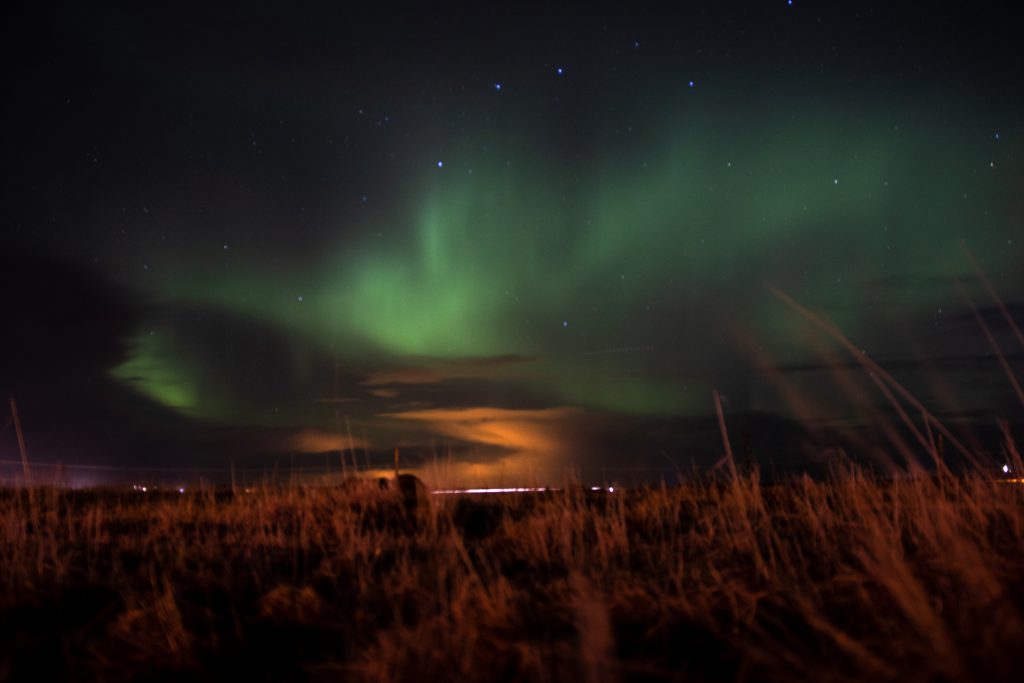 Summer in Iceland (June to August)
While you'll never be able to experience tropical temperatures in Iceland, you can expect it to be sunny during the summer months, with temperatures around 20 degrees celsius. We'd advise you to certainly bring sunscreen and sunglasses, since the glaciers will reflect the sunlight and sunshine around the arctic's is stronger than in other areas.  
If you are visiting Iceland in June, chances are you'll be able to witness the never resting midnight sun: 24 hours of sunlight. You'll be able to take advantage of this 'endless day' to travel at night and avoid crowds at some of the most touristic places in Iceland!
Another unique experience during the summer is watching the whales migrate along the coasts of Iceland. You can spot up to eleven different whale species in Reykjavik or make a roadtrip to Husavik – which sells itself as the "Whale watching capital of Europe".  
Winter in Iceland (November to March)
We've mentioned it before: The winters in iceland are actually pretty mild, meaning it's only a few degrees colder than in some of the cities in western europe. You'll still need your coat since the temperatures will drop to 0 or -5 degrees!
As Iceland is a more touristic destination in the summer, the winter season has many advantages: The flights and hotels are cheaper, the landscapes are more dramatic and chances are high you'll be able to witness the legendary Aurora Borealis – the northern lights! 
Tip: The Northern Lights are visible longer than just the winter. Chances are that you can see them from September to March – as long as it is dark enough. 
The downside for visiting Iceland during the winter? Because it's located way up North, the days during the winter will be extremely short. Depending on your location, the days between late December and early January might be limited to only four or five hours of daylight! 
Another thing you'd might want to take into account when planning your trips: It can be very dark, cloudy and stormy in the winter. So, it's not that unusual that roads are closed due to snow.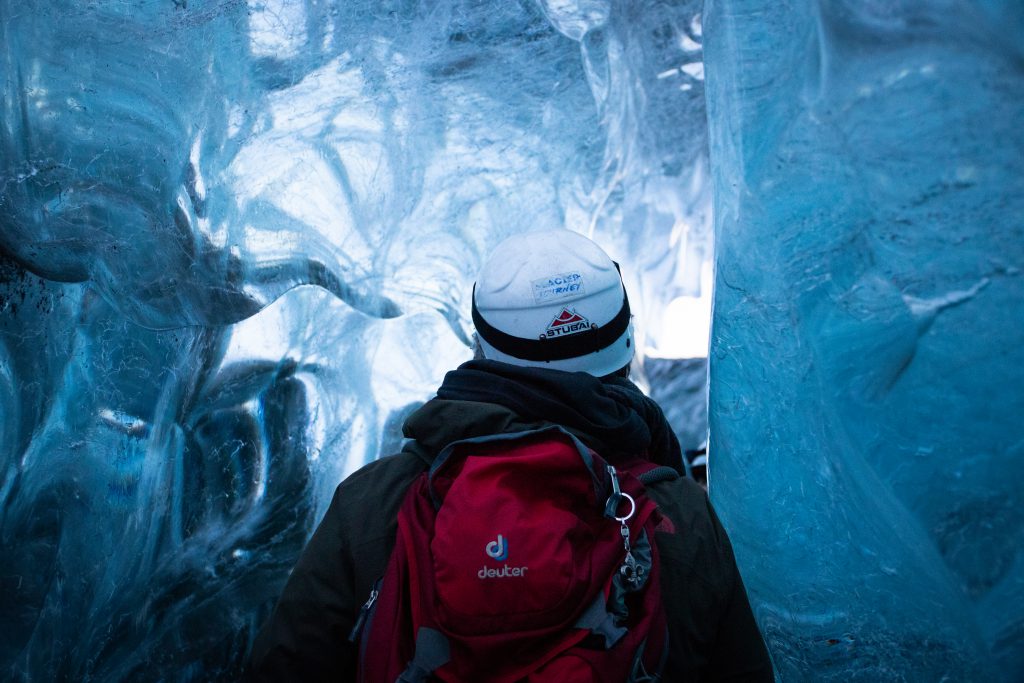 Flying to Iceland  
When you fly to Iceland, you'll probably be flying to Keflavik,  the island's largest airport and the country's main hub for international transportation. It's the main airport for the two Icelandic airlines Icelandair and Air Iceland, but it's also served by airlines like EasyJet and Wizz Air. 
As always, we advise you to compare prices in order to get the best and cheapest flights. Just make sure you don't get ripped off by budget airlines that don't include check-in bags into their standard rates, meaning you'll need to pay extra for checked luggage.
After flying to Iceland, most people choose to travel on to Reykjavik to stay the night. It's the capital of the country and it's a 40 minute drive from the airport. If you decided not to rent a car, you can make the trip by bus as well since most bus companies will stop at the main hotels in Reykjavik. 
Travel tip: It's easier to book the airport bus shuttle online, so make sure to do so before you arrive in Keflavik.
Rental cars and road conditions
The most important tip we can give when you're picking a rental car: make sure it's big enough! Just because the car can contain four people doesn't necessarily mean all your suitcases fit in the trunk!
A few other aspects that might influence the choice of the car:
Go for a car which has all wheel drive.
Make sure to have enough antifreeze with you – regardless of the season – so you can always clean your windshield.
Ask for an ice scraper in the winter
Opt for an insurance which covers damage to the front window; it's not uncommon for tiny stones on the road to hit the windshield.
Tip: Always check the windows for damages when you are picking up your car from the rental company.
As far as road conditions go, the main Icelandic roads are well maintained in both summer and winter! We would advise you to be careful when driving past bridges and summits when it's cold, windy or rainy.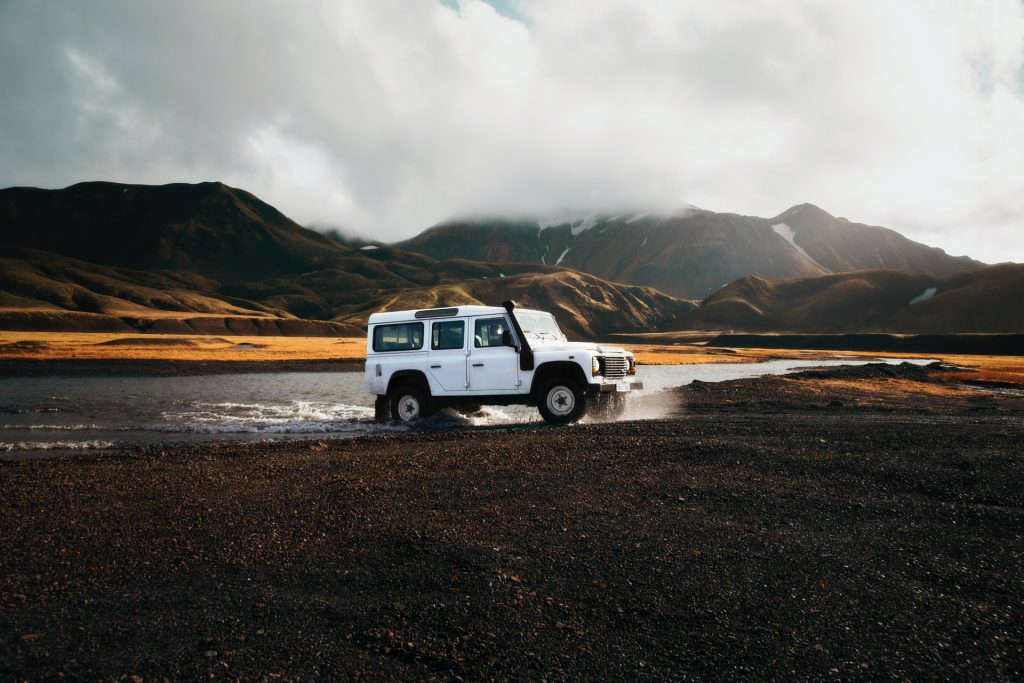 Money in Iceland
The currency in Iceland is the Icelandic Krona (ISK) and although it depends on many factors, we advise you to exchange your money after you arrive in Iceland. This is because it will provide you with a more favourable exchange rate.
The rule is simple: The more common the currency is, the cheaper it will be. So, for example, if you are travelling from mainland Europe to Iceland and want to buy some Icelandic króna here, you will pay less for it in Iceland, as this is the currency that you will find everywhere. At the same time your Euros will be more rare and valuable, which means that you will get more money for them. 
We even advise you to exchange your money at the airport, since the bands are not that spread around the country. However – like in most Scandinavian countries – you can pay almost everywhere and everything with your credit card.
Food & Drinks in Iceland
Experiencing the local culture is a huge part of travelling and trying traditional food is largely connected with that cultural experience. So, please make sure you taste both Hákarl (fermented shark) and Þorramatur ("Thorramatur" – a buffet of meat and fish products cured in a traditional manner), which are the country's national dishes! 
What to pack when visiting Iceland
After years of traveling, we've learned the advantages of only bringing the essentials. To help you out, we've listed them below!
Useful Clothes
Packing the right clothing for your trip is essential, and Iceland is known as a country where weather conditions can change rapidly! So, the best thing you could do is to pack the right clothes so you can tackle every activity and discover Iceland while being safe and comfortable.
We'd advise you to take the season into account since you'll need warmer clothes in the winter while you'll need more rain and storm protective clothes in the summer. 
Here's a suggestion of clothes that are useful to pack for your trip to Iceland:
Thermal underwear
Sweaters / Sweat jacket
Pullovers / T-shirts
Warm pants (No jeans, since they stay wet for too long)
Shorts
Warm socks
(Winter) Jacket (against wind and rain)
Hat, scarf & gloves
Swim shorts/Bikini/Swimsuit + slippers
Hiking Boots + 2nd pair of boots
Warm pajamas
While you'll need different clothes depending on the season, it'll never get really warm in Iceland. That's why you should always bring warm pants, pullovers and a jacket to protect against wind and rain.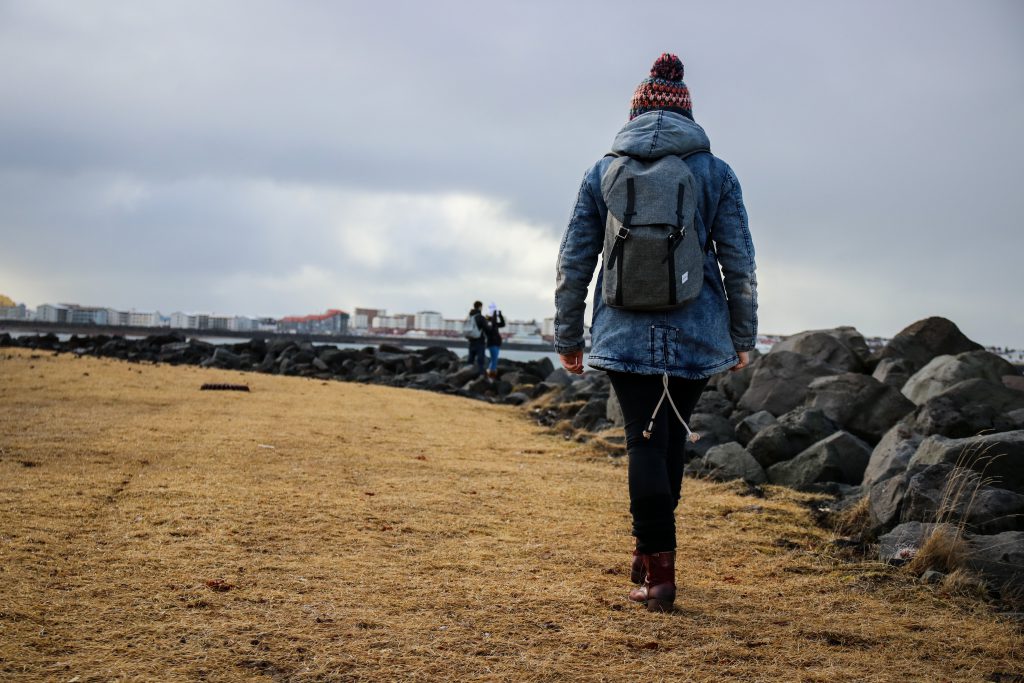 When the weather gets bad (or unstable), you can wear your clothes in layers: start with your underwear, add some thermal underwear or tights, pullovers and warm pants. Then top it off with warm woolen socks, a winter jacket, gauntlets and finally your hat, scarf and gloves. By layering your clothing, you'll stay warm longer, and when you get hot you can simply get rid of one layer. So, by wearing layers, you are prepared for when it starts to rain, gets windy, starts to snow and even when the sun comes out. 
Next to enough clothing for layering, medium ankle cut hiking boots are another essential for Iceland. This is because the landscape is rough and the weather changes quickly. With warm hiking boots, you'll be prepared for everything since it will give you enough support and flexibility to walk, hike and climb. Make sure to still bring a second pair of boots (winter) or shoes (summer) as your main hiking boots might get wet. 
A more atypical piece of clothing to bring to Iceland is your swimwear! This is because Iceland has a lot of wonderful thermal pools; from the super touristy blue lagoon, to less known natural pools.
Other necessities
Of course you need more than just clothes to make your trip to Iceland a success. There are some tools, paperwork or accessories that can make your vacation much easier and more comfortable. Here are some suggestions: 
Toiletry bag (Toothbrush, band-aids, ibuprofen,..)
Sunglasses
Reusable Water Bottles
Passport
Travel Documents (vouchers for tours, busses, etc.)
Nowadays, it is essential to think about eco-travel and living a zero waste lifestyle to reduce the waste in our environment. The tap water in Iceland has an outstanding quality, so it's best to bring your reusable water bottle to help the environment and reduce waste.
Camera Gear
Iceland is known as one of the most popular destinations for photographers because of its amazing views. Naturally, you'll want to have your camera close when you make the trip to visit these striking landscapes, astonishing waterfalls and erupting volcanoes. 
As far as camera gear goes, these are some of the essentials: 
Camera
Memory Cards
Charger & additional battery
Tele & Wide-Angle Lens
Tripod
UV & neutral-density filter
Tablet, phone & chargers
The worst thing that can happen is running out of space on your memory cards or battery without being close to a multimedia store! 
Concerning lenses, we'd advise you to bring a tele (more than 70mm) and a wide-angle (less than 18mm) lens so you're able to capture everything in the most stunning and unique way.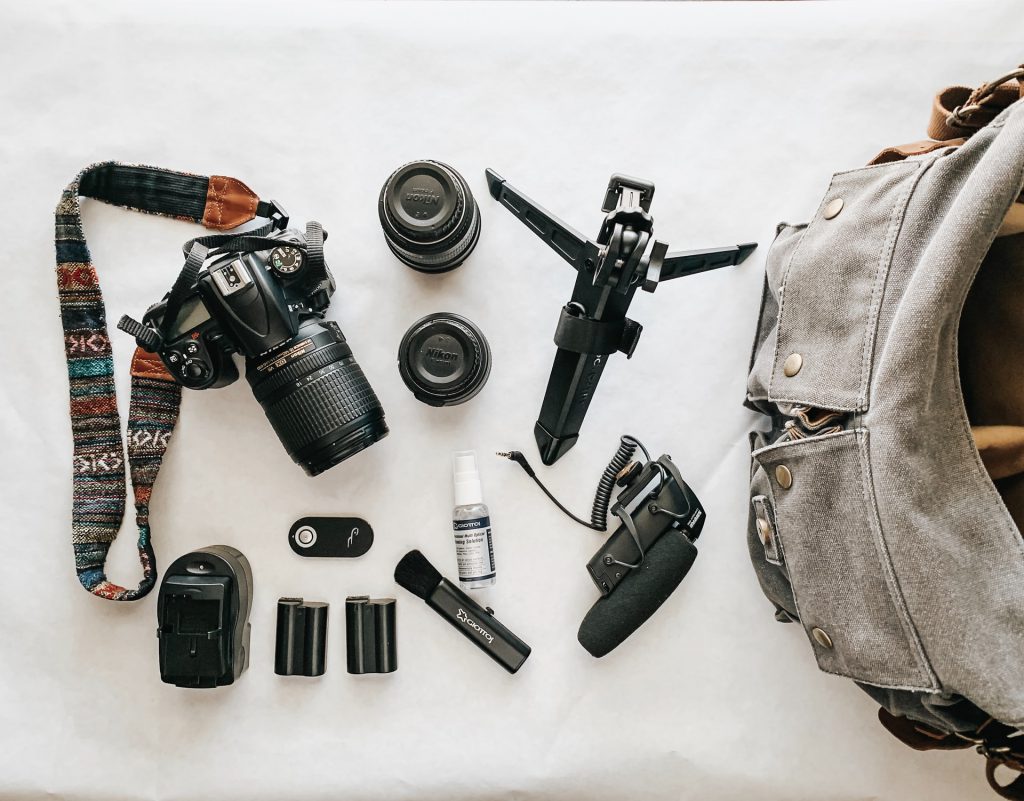 If you're planning to photograph the Northern Lights or practice some night photography, you need to bring a tripod. The main reason for this is because when you shoot with long exposure, every minimal movement will cause a blur on your picture! 
It might be handy to mount a neutral-density filter or a UV filter on your lens to protect it from Iceland's black sand, lava stones and rain. If you're not familiar with them: They are filters which you put on your lens and they'll protect your lens from scratches and stains if it gets hit by sand, rain or stones. Once the filter is full of scratches, you can just change them instead of buying a new and expensive lens. The neutral-density filter also allows longer exposures in bright sunlight – the perfect tool to take beautiful pictures of the many Icelandic waterfalls.
What places should you visit in Iceland?
There are so many awesome sights and instagrammable places in Iceland; from dog sledding to ice fishing, and from whale watching to the midnight sun. We created an Iceland Attractions Map to help you plan your trip and find your way around the country. It includes information on popular attractions, hidden gems, and practical information such as transportation, parking, and Airbnb options. Below our favorite spots!
Seljalandsfoss Waterfall: a 60 meters tall waterfall, part of Seljalands River.
Kerid Crater lake: a lake inside a volcanic crater, surrounded by colorful volcanic rock
Fjadrargljufur Canyon: a 100 meters deep and 2 kilometers long canyon, formed by erosion from the Fjadrárgljúfur River, known for its rock formations and colorful walls.
Hallgrimskirkja Church: an iconic church in Reykjavik known for its tall spire and beautiful interior. It was completed in 1986 and is open to the public.
Dyrholaey arch and lighthouse: a picturesque village that houses a prominent rock arch, a historic lighthouse, and glimpses into the area's Viking history. 
Start planning!
Iceland is a magical place for a short trip or long vacation – no matter when. Just like every trip, traveling to this wonderful country also requires some preparation: Pack the right clothes, bring the right essentials and don't forget your camera gear. This way, your stay in Iceland will be as magical as the country itself.
Save for later