Pros
Accurate autofocus
Fast burst mode
Great build quality
Large LCD touch screen
Compact and easy to travel with
Cons
Lack of in-body image stabilization (IBIS)
Only films 4K in 30fps
Clumsy Q-button and viewfinder
No 3.5mm mic jack
LCD Screen doesn't flip to the side
The Fujifilm X-T30 sparked our interest with its highly accurate autofocus and fast burst mode. At first glance, it looked like a great all-purpose mirrorless camera for less than $900 (€ 750), but we wanted to be sure, so we reviewed it! 
Our background
As a photographer who started his career with the Fujifilm X100F and later traded up to the X-E2, there was no better way to test the X-T30 than by taking it along during a road trip to the Dolomites.
Unique Features of the Fujifilm X-T30
The first thing we looked at when unboxing the Fujifilm  X-T30 is what made it unique. What's the biggest difference with its predecessors, and what surprised us the most?
Accurate autofocus
Some of the specs of the X-T30 are based on its predecessor, the X-T3, which includes a more advanced autofocus feature. The X-T30 now has 425 different detection points, making it more accurate and quite fast to a mirrorless camera's standards.
Fast burst mode
Another spec which Fujifilm greatly improved with this camera is the burst mode: it can buffer 20 FPS. Such a high shooting speed came in handy during our road trip, where the scene changed rapidly.
USB-C Port & HDMI Output
At first glance, it does not look that unique, but a combination of a USB-C port and an HDMI output is usually something that we only find with the more expensive cameras. Because they are both in the X-T30, the camera is certainly interesting for video recording.
The only connection we still miss is a 35mm microphone jack; We still have to use an adapter to plug our Rode VideoMic into the 25mm jack.
LCD Screen
The X-T30 has a touchscreen display that can be pulled away from the camera and tilted in various angles; however, it can't face the front, which is a missed opportunity to appeal to vloggers.
Compact Camera
Most Fujifilm cameras are known for their beautifully retro-styled designs, and so is the X-T30.
The X-T30 camera is so compact that it is convenient to take with you while traveling, but unfortunately, this also comes with a disadvantage: The Q-button and the viewfinder are placed quite clumsy.
Fujifilm X-T30 Video
While the Fujifilm X-T30 has a handy USB-C port and HDMI output, it can also film up to 10 minutes in 4K footage in 30 frames per second. These specs are certainly sufficient for content creators and amateur photographers, but more professional photographers would probably prefer a camera that films 4K in 60fps.
The camera also lacks in-body image stabilization (IBIS), meaning that every movement will be visible in the video footage. Fortunately, this can be minimized by using lenses that have optical image stabilization (OIS).
The Fujifilm X-T30 vs X-T3
The Fujifilm X-T30 has many similarities to the Fujifilm X-T3. However: Fujifilm toned down some crucial specs to make the X-T30 more affordable. The biggest differences between these two cameras are found in the fact that the X-T30 has a smaller Electronic viewfinder, has a smaller and less heavy body, and the fact that the X-T3 can film at 60fps.
X-T30 vs X-T3 – Key Differences
| | | |
| --- | --- | --- |
| | X-T30 | X-T3 |
| Target price | $ 899 (€ 740) | $ 1,780 (€ 1465) |
| Release date | 14 February 2019 | 20 September 2018 |
| Max video bit rate | 200mbps | 400mbps |
| Continuous shooting | 20fps | 30fps |
| Max shutter speed | 1/4000s | 1/8000s |
| EVF Resolution | 2360k | 3690k |
| Built-in Flash | Yes | No |
| Dual Card Slot | No | Yes |
| Battery Life | 380 | 390 |
| Weight | 383g | 540g |
| Dimensions | 118 x 83 x 47mm | 133 x 93 x 59mm |
Travel Photography with the Fujifilm X-T30
The Fujifilm X-T30 is a wonderful camera to travel with, mainly because of its low light capabilities and portability. The lack of in-body image stabilization (IBIS) shouldn't be a big issue; You can use optical image stabilization (OIS), or – if you understand exposure – play with your ISO, aperture, and shutter speed to nail your shot.
Fujinon Lenses to Travel With
When traveling, I select my lenses based on a few criteria: their weight, function, and flexibility. With these factors in mind, choosing the right lenses can make all the difference to your travel photography. This guide on Fujifilm lenses for traveling provides a comprehensive overview of some of the best options available, including wide-angle and zoom lenses, to help you capture stunning photos of your travels.
Fujinon XF 16mm f1.4 WR
The Fujinon XF 16mm f1.4 WR is one lens that I always bring with me when traveling because this wide-angle lens allows me to fit more into the picture than with a typical lens. The only disadvantage is that you cannot zoom and therefore have to move yourself to get your framing correct because it is a fixed lens.
The wide aperture (f1.4) makes the lens unique because it allows you to create a bokeh (blurry background) by getting close and permits you to capture pictures at night – great for stars and northern lights!
Fujinon XF 50-140mm f2.8 WR OIS 
This Fujinon XF 50-140mm f2.8 WR OIS lens is a bit of a beast; it has optical image stabilization, extremely helpful to avoid blurry photos since the camera doesn't have in-body image stabilization. You'll also have a powerful zoom, which helps greatly when capturing wildlife and nature.
The only disadvantage is the fact that it's pretty heavy: 995 grams.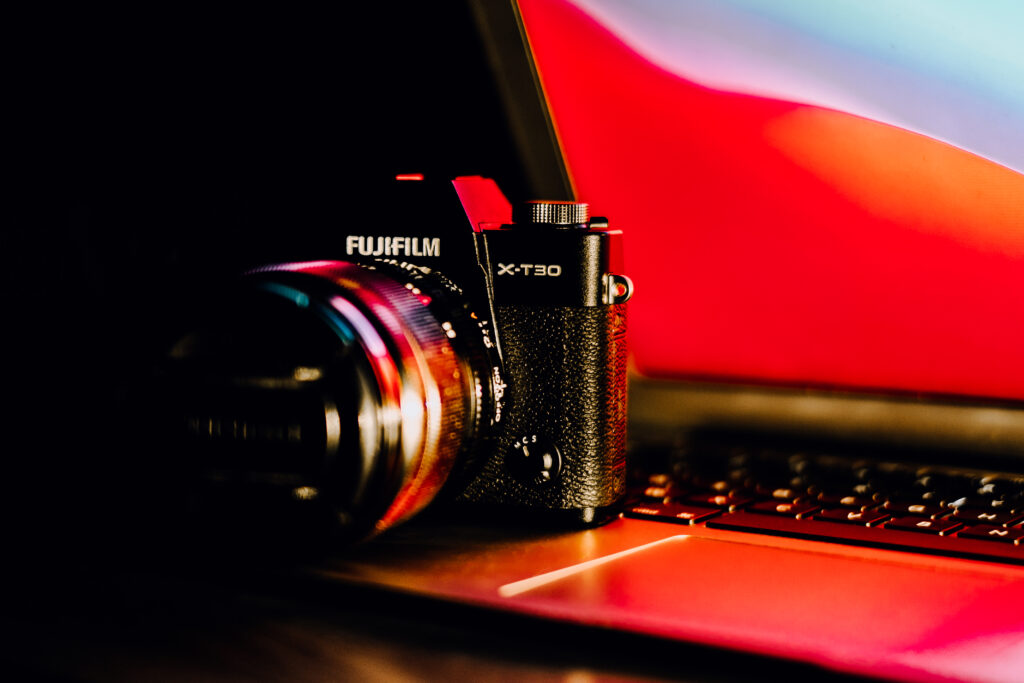 Should you buy the X-T30 in 2021?
Are you looking for a compact but powerful mirrorless camera? And have you already invested in various Fujifilm lenses with optical image stabilization? Then the Fujifilm X-T30 will certainly be a good upgrade, as it is one of the better all-purpose mirrorless cameras on the market for under $1000.
The only thing we really miss is the lack of in-body image stabilization (IBIS) and, to a lesser extent, the 4K in 60fps.
Pros
Accurate autofocus
Fast burst mode
Great build quality 
Fast auto-focus
Large LCD touch screen
Compact and easy to travel with
Cons
Lack of in-body image stabilization (IBIS)
Only films 4K in 30fps
Clumsy Q-button and the viewfinder
No 3.5mm mic jack
LCD Screen doesn't flip to the side