Kerid Crater, the Eye of the World
Kerid Crater, Kerið in Icelandic, is a volcanic crater lake in Iceland, also nicknamed The Eye of the world. We've visited the lake and listed when and why you should visit it.
About Kerid Crater
Kerid Crater, Kerið in Icelandic, is a volcanic crater lake in Iceland formed 3000 years ago when the magma chamber of a volcano collapsed. This event created a funnel-shaped crater with a depth of 55 meters.
The Kerid crater is part of the Tjarnarhólar crater complex located in the Grímsnes area in South Iceland. You can also find the Seyðishólar and Kerhóll craters in the same region.
The Kerid crater is a popular destination with tourists and tour guides. It is located in a volcano zone next to The Golden Circle – Iceland's most famous sightseeing route. It's also an interesting spot for photographers because the crater lake has a unique blue color. Its surroundings mainly consist of red and black volcanic rocks, making it an Instagrammable place.
These colors have given the Kerid crater the nickname The Eye of the world because when you look at the lake with a drone from above, you'll notice it has the shape of a human eye.
Basic facts about the Kerid Crater in Iceland
The Kerid crater is located on private property, so the Kerid crater entrance fee is 400 ISK (+- 2.5 euro). The reason why the landowners charge their visitors is to help preserve and protect the crater. This entrance fee allows you to walk around the rim of the volcanic crater. 
| Basic Facts about kerid crater | |
| --- | --- |
| Region | Grimsnes South Iceland |
| Age | 3000+ years |
| Depth | 55 meters deep |
| Type | Natural Lake; volcanic crater lake |
| Surface | Volcanic rock |
| Names | Kerid Crater, Crater Kerid, Kerið, Kerith |
| GPS coordinates | 64.0413° N, 20.8851° W |
| Entrance Fee | 400 ISK (+- 2,56 euro) |
The Legend around the Kerid Crater
Legend has it that the Kerid crater lake is connected to a lake that lies on the mountain Búrfell; As soon as the water of the kerid crater lake descends, the water level of the lake that lies 5 kilometers further on the mountain Búrfel rises, and vice versa.
How was the Kerid Crater formed?
The thing that makes the Kerid crater in Iceland unique is that it was formed by a collapsing volcano instead of an exploding volcano: most volcanic craters are formed because the volcano makes an outward explosion of rocks, magma, and debris.
Various studies in the Grímsnes region failed to find any evidence of such an explosion, which is why it's rumored that the Kerid crater is actually a caldera: a crater formed by the inward collapse of a volcano's magma chamber. The weight of the volcano's cone became too heavy for the empty magma chamber to carry, which would have been why the volcano collapsed.
According to these studies, the 3000-year-old Kerid volcanic crater lake is quite young: most calderas and craters in Iceland are twice as old, which also explains why the crater has such a unique color: the iron deposits and minerals are still relatively young, which creates such a vivid red color.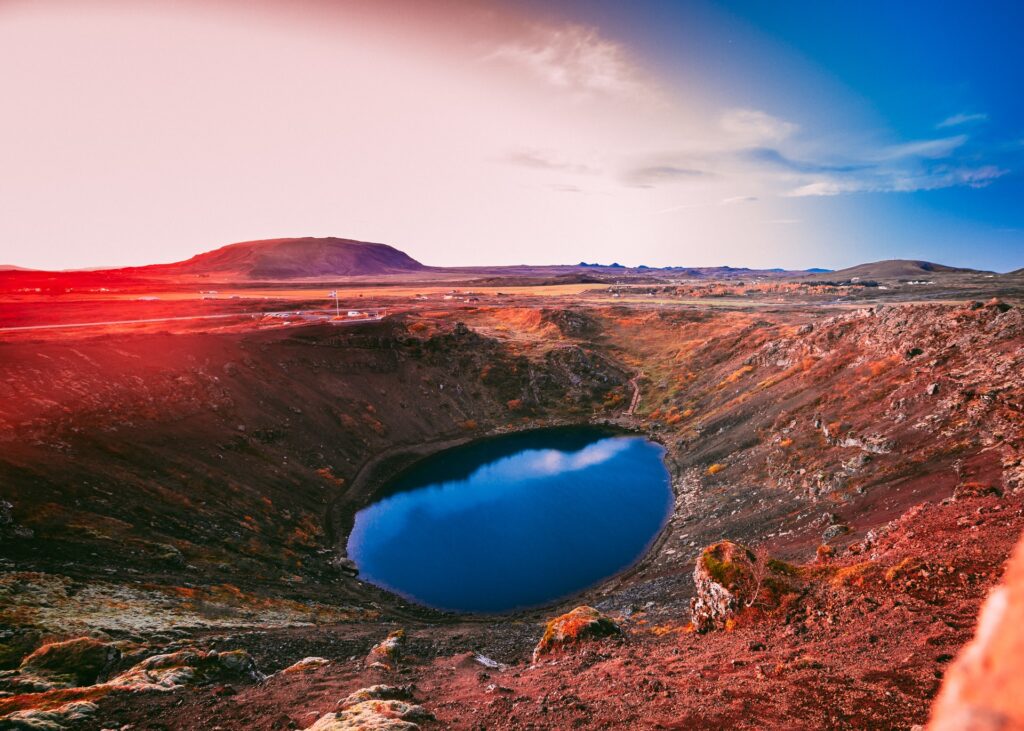 The Golden Circle & the Kerid Crater
Kerið is located relatively close to Iceland's world-famous Golden Circle sightseeing route, making it an increasingly common stop in tourists' and tour operators' planning.
The Golden Circle starts in Reykjavik and passes through Iceland's three most popular locations: the "Golden Waterfall" Gullfoss, the geysers in the Haukadalur Geothermal Valley, and the Þingvellir National Park – which is recognized as a UNESCO World Heritage site.
How to reach Kerid Crater in Iceland (map)
Since the Kerid crater is located close to the Golden Circle, it is easily accessible by car: from Reykjavik, you should follow Iceland's Ring Road (Road 1) for 47.5 kilometers, then make a left turn to Road 35.
Kerið is located about 50 meters from the road and has a parking lot.
When to visit the Kerid Crater
What might surprise you the most about Iceland is the fact that the weather is rather mild. Even though this beautiful country is very far north, it's also close to the gulf stream which causes the temperatures in winter to hover around the freezing point, while they often reach 20 degrees Celsius in summer!
Kerid Crater during summer
The main reason the Kerid crater's view is so astonishing is the aqua-blue water and red volcanic rocks. The crater is magnificent at sunset.
Kerid Crater during winter
During winter, the lake freezes over, and snow covers the landscape. This still makes the crater admirable; however, the ice makes the path quite slippery and dangerous.
What to do at Kerid Crater
While the Kerid crater is a stunning and scenic location, there isn't much to do other than walking around the crater's rim and going down to the water.
In general, Iceland's rules state that you can swim in any lake, which doesn't explicitly forbid the activity. However, because Kerid Crater lake is private property, the landowners marked it with a sign that explicitly forbids swimming.
Other attractions near Kerid Crater
The region around the Kerid crater is known as a Volcanic zone, which means many craters and many crater lakes can be found nearby. Since Iceland's Golden Circle is only 230 kilometers long, most tourist spots are nearby.
We created an Iceland Attractions Map to help you plan your trip and find your way around the country. It includes information on popular attractions, hidden gems, and practical information such as transportation, parking, and Airbnb options. Below our favorite spots!
Seyðishólar crater. A volcanic crater with the most striking colors is located only a few kilometers from Kerid.
Selfosskirkja church. An impressive church was built between 1952 and 1956 and later expanded between 1978 and 1984.
Reykjadalur hot spring. A natural hot spring originates from a warm water river.
Urrioafoss Waterfall. The second-highest waterfall in Europe is expected to disappear since an underground energy powerhouse is planning to be built. 
Skalholt cathedral. A historic church in the South of Iceland, which found its origins in 1056. 
Seljalandsfoss Waterfall: a 60 meters tall waterfall, part of Seljalands River.
Fjadrargljufur Canyon: a 100 meters deep and 2 kilometers long canyon, formed by erosion from the Fjadrárgljúfur River, known for its rock formations and colorful walls.
What to pack when visiting Kerid Crater
Packing the right clothing for your trip to Iceland is essential since it is known that the weather conditions can change rapidly! So, the best thing you can do is pack the right clothes to tackle every activity and discover Iceland while being safe and comfortable.
| | |
| --- | --- |
| Waterproof and wind jacket | The jacket's base layer keeps you warm, and the top layer is waterproof and windproof for maximum coverage. |
| Hiking shoes | You will most likely hike several kilometers, making good footwear necessary. |
| LARQ Bottle | We personally have invested in a LARQ water bottle, which we bring to all our hikes. It contains a UV-C Light technology that neutralizes many harmful bacteria and contributes to our zero-waste lifestyle. |
Photographing Kerid Crater
The most important part of photographing the Kerid volcanic crater lake is to bring your polarizing filter, especially because the sun appears – or disappears – so beautifully over the edge of the crater, making it easy to create unique content.
Drone rules
It is allowed to fly drones over the Kerid Crater; as long as you respect the new 2021 European drone regulations, you can fly here.
Camera gear
When visiting the Kerid Crater in Iceland, our camera backpack contained several cameras and lenses, each with its function and use – I've listed all of them below.
| Our Camera backpack | |
| --- | --- |
| Canon EOS 60D | A Canon DSLR camera with a fast autofocus and a mid-range price, released in August 2010. |
| EF-S 18-55mm IS | A wide-angle to a mid-telephoto zoom lens for digital single-lens reflex cameras with an EF-S lens mount.  |
| EF-S 55-250mm IS | An inexpensive, light, entry-level telephoto zoom lens that has image stabilization and delivers quality images. |
This guide on Canon lenses for traveling provides a comprehensive overview of some of the best options available, including wide-angle and zoom lenses, to help you capture stunning photos of your travels.
Camera settings
Aspiring photographers sometimes struggle to capture landscape photos, so we decided to share our picture's technical details. The key to understanding these details and taking better photos is knowing the basics of exposure and understanding how it impacts your photography.
| | |
| --- | --- |
| ISO | 100 |
| Aperture | f/4,5 |
| Shutter Speed | 10 sec |
Save for later …