Is the DJI Mavic 2 Pro still the best compact drone in 2023?
We've all heard the adage that a workman always blames his tools. The thing is, as a digital creative, it might just be right. Without the right gear, it doesn't matter how good you are; there will always be things out of your reach.
If you're serious about your travel photography, there's one tool that's almost essential in 2023. A drone, and when it comes to drones built around a travel photographer's needs, one always springs instantly to mind.
About the DJI Mavic 2 Pro
Despite being an ancient design in drone terms, coming out back in the halcyon days of 2018, the Mavic 2 Pro is still one of the best commercial drones on the market due to its specific combination of features.
Sporting a huge sensor and fantastic optical performance; equivalent to professional-level drones that are significantly more expensive, and packing a whole lot of tech into a tiny little chassis, there's a reason the Mavic 2 Pro consistently hits lists of the best drones on the market, this long after its release. 
| DJI MaviC 2 PRO – Specifications | |
| --- | --- |
| Weight | 907g |
| Imaging sensor | 1 inch |
| Resolution | 20 megapixel |
| Video bit rate | 100Mbps |
| Max flight time | 31 minutes stationary |
| ISO range | 100-12800 |
| Color profile | Over 1 billion |
| Max speed | 45mph (72km/h) |
| Transmission range | 5 miles (8 kilometers) |
What makes the DJI Mavic 2 Pro Special?
Even this long after its release, there's still a lot about the Mavic 2 Pro that's hard to match. Here are the key features and why they still matter.
The camera quality
The real standout feature of the Mavic 2 Pro is the camera. Basically, this is the best camera you're going to find on a drone of this size.
It does this by mounting a huge 1-inch sensor around 4 times the size of the normal, smartphone-style sensors used in drones of this size. It's a similar sensor to the Mavic Phantom 4 and Advanced, which are aimed at the professional market, which definitely says something about the quality.
The camera itself is gimbal-mounted on the drone's chin, which gives it a clean shooting angle. The footage is shot in 4k UHD at 100Mbps, so it's crisp and sharp, even when moving or at a distance. There's also a choice of three color profiles and a solid list of FPS options:
4K footage at 24, 25 and 30fps
2.7K footage at 25, 25, 30, 48, 50 and 60fps
HD 1920×1080 footage at 25, 25, 30, 48, 50, 60 and 120p
The camera has a variable aperture, from f/2.8 to f/11, and ISO 100 to 12800 settings. There is some noise on higher ISO levels, but that's honestly expected on a camera this size, and performance is generally good as long as you're not trying to capture great detail in pitch darkness. Even mid-ISO settings are solid with twilight and shooting around sunsets, cities, and other low light areas.
One minor gripe we do have is that the camera is locked in landscape, but that's relatively standard on smaller drones and not something many users would ever really worry about.
All of this comes together to make an impressive package. Despite the Mavic 2 Pro's age, it's still the smallest drone you can buy with a 1-inch sensor, which is why, even two years later, there's a distinct lack of competition on the market.
Size and design
First things first, the Mavic 2 Pro is absolutely still a portable design. Folded up, it takes up about the same amount of space as a 200mm zoom lens so that it can slip almost anywhere. You're going to need a little extra room for the controller, charger, and any extras you've brought along, but it's still a tiny little drone that's not going to need a huge bag to carry around.
Unfolded, it's around a square foot in size (277mm x 283mm,) and light at just over 2lbs (907g.) It's still large enough that you need to license it though, more information on that here. The folding design lets everything compress down to almost half that size, with all four prop arms folding against the compact, rectangular body.
The drone is switched on using a button on the battery, which clips right into the drone's top for easy replacement. The controller power is a double-tap and hold, and it automatically activates the DJI Go 4 app on any connected device, but more on that later.
The camera is gimbal-mounted at the lower front of the drone, giving it a decent field of view. It's worth noting the low ground clearance, so we recommend picking up a landing mat if you regularly see yourself having to land on wet grass or sand. Otherwise, you might find the lens smearing as it runs through starting checks.
Internal storage is 8GB. In our opinion, this is a little low because the camera shoots in 4K ultra HD, so you only get around 15 minutes of recording, which is half the maximum flight time. There is an onboard micro SD card slot, though, and memory cards are cheap, so you can easily up your storage.
How easy it is to fly
There's a lot to be said about making a drone as easy to fly as possible, and if you've ever flown a little too close to something and clipped a blade, you know exactly what we mean.
From one battery, the Mavic 2 Pro offers around 31 minutes of flight time. It's worth pointing out that this is at a hover, so expect to cut a few minutes from that. According to other users, you can expect around 27 minutes of flight time from a fresh battery. This is decent, perfectly comparable with other options, and better than its predecessor, the Mavic Pro drone, which averaged around 4 minutes less in the air per battery.
The max speed is 44.7mph (72km/h,) with a general flight speed of 32mph (51.5km/h.) The transmission range is an excellent 5 mile (8km) range, and it uses dual transmission frequencies to minimize drops.
Your drone is kept safe with the built-in obstacle avoidance system. There's a full suite of omnidirectional sensors covering every direction. The forward, rear, upwards, and downward sensors are always on, and flying with ActiveTrack also enables the side sensors. Obstacle warnings are delivered through both sound and visual alerts, which makes it much harder to miss them, and this also has GPS stabilization that locks the drone in the air, which can help when you're flying your drone in bad weather.
Other flight modes include Tapfly, which lets you fly the drone by tapping on your phone screen. APAS, or Advanced Pilot Awareness System, which slows the drone down but automatically moves to dodge any obstacles, perfect for newer drone flyers.
DJI Intelligent Flight Modes
QuickShot
Active Track
Point of Interest
Waypoint
Cinematic
The drone also reads GPS to automatically stay out of registered no-fly zones, for example, airports and some geographic sites (like the White House.)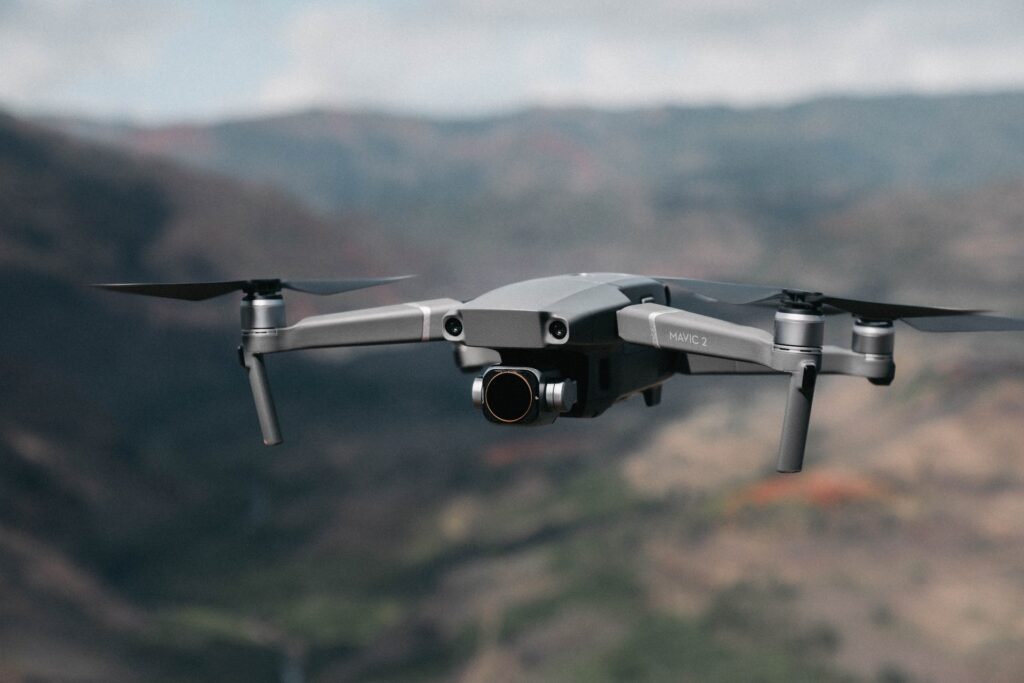 The controller
The controller is similar to other Mavic models, and that's perfectly fine by us. DJI drone controllers all follow a standard pattern that works.
The body is light, gray, and utilitarian, with a twin aerial and a monochrome display that gives you battery status, telemetry, and other flight.
Your phone is held in place with two large clips, with an indent in the left clip for home button access. The clips are large enough to hand bigger phones, up to 160mm long and 8mm deep, but you might need to remove your phone case before inserting it. The controller links to your phone with a short cable and the box comes with Lightning, micro USB, and USB-C options included.
It's completely possible to fly without a phone, but you have to have an iOS or Android device to download the DJI Go 4 app and activate your drone at least once before you fly it. Also, we're not really sure why you'd want to do this, as you need your phone to see through the camera. Still, if it comes up, you know you can.
The flight sticks are good, feeling reflexive, and twist off and stow in the controller body for travel. There's a pair of control wheels for camera tilt and expose and shoulder buttons for video and picture modes. You also have a drone pause button that stops the drone dead and a dedicated return to the home button.
Finally, there's a small, four-way camera orientation pad and two programmable buttons tucked away at the back.
Extra functions
In addition to all of the above features, the Mavic 2 Pro comes with:
Hyperlapse
Hyperlapse lets you create impressive time-lapse videos at a single press, with no post-processing at all.
When activated, the Pro will keep itself stable or follow a predetermined path, then automatically compress and process the footage into a time-lapse video. There's also an option to save GPS programmed routes, so you can record the same route on different days or get some night shots.
Irritatingly, it does click from the controller every time a frame is added, which can get annoying and seems unnecessary, but it's a relatively minor thing to deal with.
Tripod mode
This setting keeps the drone stable and lets you use it as a photography platform.
Sports settings
The sport setting is designed for drone racing and tricking and boosts the flight speed from 32mph (515km/h) to the maximum of 45mph (72km/h,) but disables all the obstacle sensors, so be careful when you're flying and only use this when you need to.
Active track 2.0
Active Track lock onto a moving object, and the drone will automatically follow it. Perfect for biking expeditions, snowboarding, tracking shots for cars and people, and more.
The updated 2.0 also has a smart prediction that tracks movements even if the object goes out of sight and tracks in both the visual and infrared sensors.
DJI goggles
If you want a more direct, live view of your drone, DJI goggles give you full visual camera footage with inbuilt camera head tracking and link effortlessly to the Mavic 2 Pro.
Are there any downsides to the DJI Mavic 2 Pro?
The downsides of the Mavic 2 Pro are surprisingly minimal. The internal memory is only 8GB, which fills up fast, but micro SD expansion cards are cheap and ubiquitous, so that's a minor niggle.
There's also no DCI image format, used as a standard in many professional studios, on the camera, which some people might miss, especially if you've got some post-production skills.
Finally, there's no denying that the Mavic 2 Pro drone price is reasonably high. It is pretty expensive for a small drone. The performance is there, and it's definitely worth the purchase, but it can be a hefty outlay.
Travel Photography with the DJI Mavic 2 Pro
Because of its size and power, the DJI Mavic 2 Pro might just be one of the best travel photography drones out there right now.
Landscape photography
The Mavic 2 Pro seems like it's built for landscape photography. Its long range lets you get some serious distance or verticality, and that big sensor and huge color profile will make everything pop and rival photos seen in glossy publications.
City photography
If you're more of a city maven, the Mavic 2 Pro is just as good. Obviously, the performance is still there, but the real reason you want this drone for city photos? Size and weight. It's tiny enough to slip into a day bag with all its gear and sets up in literal seconds, so you'll never miss the shot. Just remember to get all the correct certifications first and follow all US or EU drone regulations.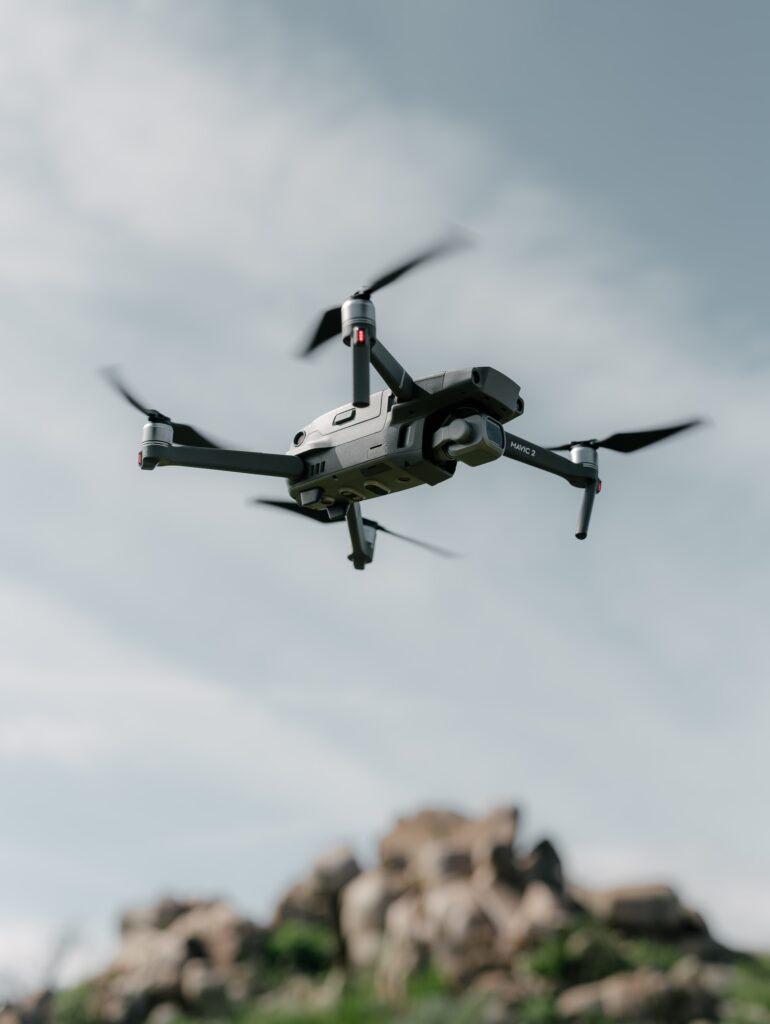 The DJI Mavic 2 Pro vs the DJI Mavic Pro
Compared to the Mavic Pro, the Mavic 2 Pro is basically a straight upgrade.
Built around a slightly bigger chassis, the Mavic 2 Pro outperforms in every single sphere, including:
Longer flight time
Bigger image sensor
Higher top speed
Increased transmission distance
Plus there's a whole bunch of tech advancements built-in, which you'd expect from the two-year production gap. All of this adds up to a much better drone overall. If you're running a Mavic Pro, it's definitely a worthy upgrade.
DJI Mavic 2 Pro vs DJI Mavic Air 2
The Mavic Air 2 is one of DJI's latest models. Released in early 2020, it brings a lot to the table but still manages to lose out to the Mavic 2 Pro in a few key places.
Aggressively priced, the Air 2 is lighter and smaller than the 2 Pro, with increased flight time and almost double the signal range. The controller is larger and much better designed, and there are a few other tricks that make the Air 2 a joy to fly.
But in terms of camera quality, the 2 Pro is still significantly better, with a much larger sensor that's almost double the pixels.
The Air 2 does have some smart features, including a 240fps slow-motion function, and the overall performance is exceptional, which is why we rated it so highly in our review, so it's a great drone overall. But if you're buying just for camera performance, stick to the Mavic 2 Pro.
| DJI | Mavic 2 Pro | DJI Mavic air 2 |
| --- | --- | --- |
| Price | $1,559 | $799 |
| Max flight time | 31 minutes | 34 minutes |
| Camera Sensor | 1″ CMOS | 1/2″ CMOS |
| Photo modes | 20 MP | 12MP & 48 MP |
| Top video modes | 4K 30 fps 2.7K 60 fps 1080p 120 fps | 4K 60 fps 1080p 240 fps 1080p HDR 30 fps |
| Video bitrate | 100 Mbps | 120 Mbps |
| Video format | MP4/MOV (MPEG-4 AVC/H.264,H.265/HVEC) | MP4 (MPEG-4 AVC/H.264, H.265/HVEC) |
| Dimensions (unfolded) | 322×242×84 mm (12.7×9.5×3.3 inches) | 183×253×77 mm (7.2x10x3 inches) |
| Weight | 907 g (2 lb.) | 570 g (1.3 lb.) |
| Max range (w/ controller) | 8 km (5 miles) | 10 km (6.2 miles) |
| Battery | 3850 mAh | 3500 mAh |
| ADS-B (AirSense) | N/A | Yes |
DJI Mavic 2 Pro vs Mavic 2 Zoom
The Pro and the Zoom are both built around the same chassis, so they offer the same flight performance.
The difference is the camera. Compared to the Pro, the Zoom has a much smaller image sensor but does offer a 2x optical zoom lens. In terms of camera performance, the Pro outperforms the Zoom in almost every metric, and it's a much better drone overall.
The last difference is the price. The Zoom can generally be picked up for a couple of hundred bucks cheaper than the Pro, but given the choice, we'd always spring for the Pro.
| DJI | Mavic 2 pro | mavic 2 zoom |
| --- | --- | --- |
| Price | $1,559 | $1,349 |
| Weight | 907g | 905g |
| Camera Sensor | 1″ CMOS | 1/2.3″ CMOS |
| Image resolution | 20 MP | 12MP |
| Optical Zoom | No | 2 times |
| Color profile | 1 billion colors | 16 million colors |
| ISO Range | 100 – 12800 | 100 – 3200 |
| Dolly Zoom | No | Yes |
| Enhanced HDR Photo | 14 EV | 13 EV |
| SuperRes | No | Yes |
| HDR Videos | 3850 mAh | No |
The Best DJI Mavic 2 Pro accessories to travel with
One advantage of the Mavic 2 Pro being on the market for a couple of years is that the market for accessories, both first-party and aftermarket, is massive.
There's a whole bunch of accessory kits out there, for example the Mavic 2 Pro fly more combo and we'd definitely recommend picking up some extras with your drone because they make the whole process so much more pleasurable.
Essentials:
More batteries: Batteries are almost essential if you want to spend any serious time with the drone because of that 31 minute flight time. Do yourself a favor and buy another one or two, at least.
A dedicated carrying case: Protects your investment and puts everything where you need it.
A remote control bracket and lanyard: The controller is small, and it's got your smartphone attached. Having the extra security of a lanyard is always recommended.  
Pros
Incredible camera quality
20 megapixel still shots
Full 4K video
Lightweight and compact
Simple to fly
Cons
Internal memory isn't high
Some noise on higher ISO settings
No DCI format
Final thoughts
Despite approaching its third birthday, the Mavic 2 Pro is still one of the best drones on the market.
Turns out when you make a drone that offers great performance, incredible ease of use, and a beast of a camera that's good enough for professional filming, it tends to last.If you're interested in learning how to take a better photo with your new drone, you can find out how here.