Lac des Corbeaux, the The Black Eye of the Vosges
In the heart of the Vosges mountains, you'll find a mountain lake called Lac des Corbeaux, surrounded by beautiful pine trees. We've visited it and listed when and why you should see it.
About Lac des Corbeaux
Nestled in the mountains of the Vosges and surrounded by greenery and pine trees is Lac des Corbeaux. It's one of the most popular spots in the Vosges for holidaymakers and tourists, which is why the lake is surrounded by various benches, picnic tables, and even a magnificent lookout: La Roche du Lac.
The lake, just like all neighboring lakes, is primarily a popular spot during the summer, when the locals come to fish, and the tourists come to swim or even scuba dive.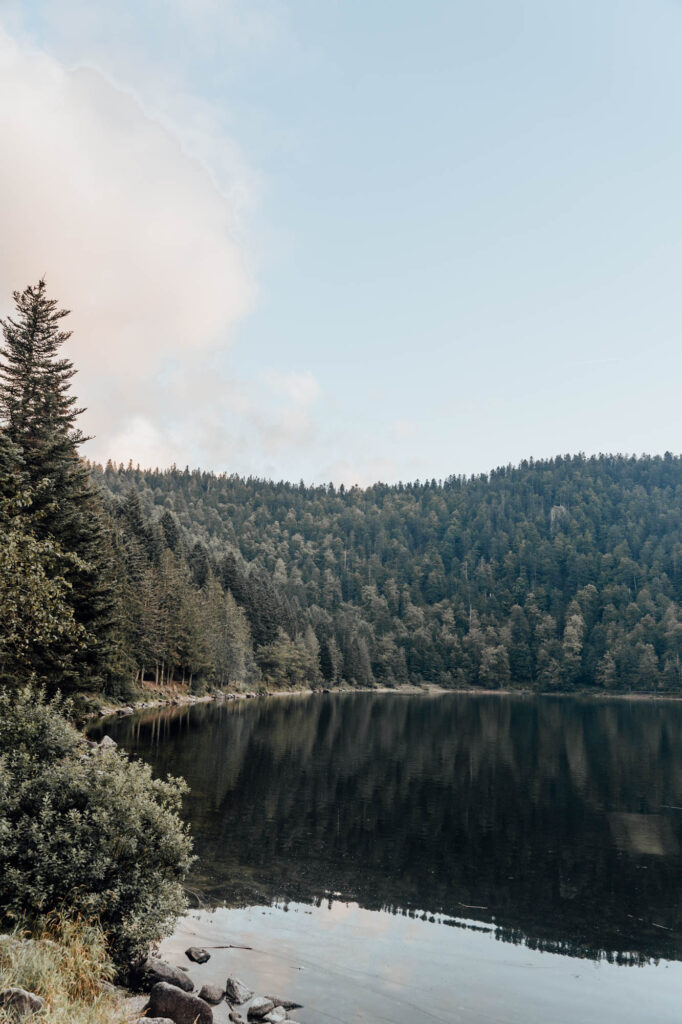 How Lac des Corbeaux found its name
Most tourists expect the lake to be surrounded by crows since that's the literal French translation of "Corbeaux," however, the lake's name is not linked to the presence of these birds. 
Legend says it's derived from the fact that most of the lake is mainly located in the shade, giving the water a black gleam … which caused people to nickname it "The Black Eye" and link it to black crows.
While the name's actual origin is much simpler, the lake is surrounded by a steep relief, which locals referred to as a curved area ("Courbées"). Throughout the centuries, the name "Lac des Courbées" transformed to "Lac des Corbeaux". 
La Roche du Lac, a bird's view over Lac des Corbeaux
La Roche du Lac is a lookout over Lac des Corbeaux and is located at an altitude of 1,050 meters. Despite being surrounded by tall pine trees, the watchpoint offers a bird's eye view of the region and the lake.
It is accessible by a (relatively dangerous and slippery in wet weather) path, which winds among the rocks and through the forest. To reach the lookout point, it is best to follow the path marked with a yellow circle (signs "Club Vosgien").
Lac des Corbeaux' hydroelectric power station
Next to being one of the region's biggest tourist attractions, Lac des Corbeaux has a critical function for the neighboring city: it contains a dam that leads to a hydraulic power station built in 1901. The power station is part of the Municipal Electricity board of La Bresse and supplies the city of la Bresse with electricity.
Basic facts about Lac des Corbeaux
| | |
| --- | --- |
| Lac des Corbeaux Key Facts | |
| Region | Grand Est, Vosges |
| Type | Mountain Lake |
| Depth | 27 meters |
| Altitude | 887 meters |
| Trail around the lake | +- 5 Kilometers |
| Names | Lac des Corbeaux, "The Black Eye" |
| GPS Coordinates | 47° 59′ 35″ N, 6° 54′ 21″ E |
| Entrance Fee | Free entrance |
| Parking Fee | Free parking |
Lac des Corbeaux Key Facts
How to reach Lac des Corbeaux
Lac des Corbeaux is easily accessible by car and has a dedicated parking spot less than 50 meters away.
When to visit Lac des Corbeaux
During the winter, Lac des Corbeaux is quite dangerous because of slippery roads, which means most hiking trails are closed anyway.
We would advise you to visit the lake during the summer months because the area around the lake is a real experience; the fresh flora then creates breathtakingly beautiful views.
What to do at Lac des Corbeaux
We already mentioned it briefly; during the summer, Lac des Corbeaux is a beautiful vacation destination known for its fishing opportunities, bathing, hiking, and even scuba diving practices! 
Fishing. Please note a fishing license is needed.
Bathing. Swimming in the lake is not prohibited. However: it's not supervised either. 
Hiking. The lake is surrounded by easy and idyllic paths, including the simple path surrounding the lake. There is a variant via La Roche du lac which includes more challenging hikes meant for seasoned hikers. 
Mountain Biking. There is a 16-kilometer mountain biking track that passes next to the Lac des Corbeaux.  
Restaurant / Chalet du Lac des Corbeaux. The restaurant is located directly next to the lake and offers a traditional French kitchen.  
Scuba diving. 
What to pack when visiting Lac des Corbeaux
Going for a hike when you visit Lac des Corbeaux is a delightful way to explore the Vosges. Just remember: the longer and the more remote your walk is, the more you'll need to prepare. That's why we listed some of the essentials to pack before you head out to Lac des Corbeaux.
| | |
| --- | --- |
| Hiking shoes | You will most likely hike several kilometers, which makes suitable footwear a necessity. |
| LARQ Bottle | We personally have invested in a LARQ water bottle, which we bring to all our hikes. It contains a UV-C Light technology that neutralizes many harmful bacteria and contributes to our zero-waste lifestyle. |
| Sun protection | Don't forget to bring your sunscreen and sunglasses because it can get quite warm in the summer.  |
The essentials to pack before you head out to hike
Photographing Lac des Corbeaux
The most tricky part of photographing the Corbeaux lake is to show up at the best time, mainly because good weather gives you an even better backdrop to create unique content quickly.
Drone rules
The lake is not marked as a no-fly zone, so as long as you respect the new 2021 European drone regulations, you can fly here.
Camera gear
As an experienced and published photographer, my camera bag grew throughout the years. It currently contains various cameras and lenses, each with its function and use – I've listed them below.
| | |
| --- | --- |
| GEAR | DETAILS |
| Sony A7III DSLR Camera (review) | The Sony A7III DSLR Camera is a couple of years old now and is still one of the best options for travel photography. |
| Tamron 28-75mm Lens | My default Sony camera lens. I have a 67mm HOYA polarizing filter screwed on it as standard, which captures the sky more beautifully.  |
| Instax Mini 40 (review) | The power of this Instax camera lies in the nostalgic feeling it creates, which is why I use it to capture the vibe while staying in the moment. |
Camera gear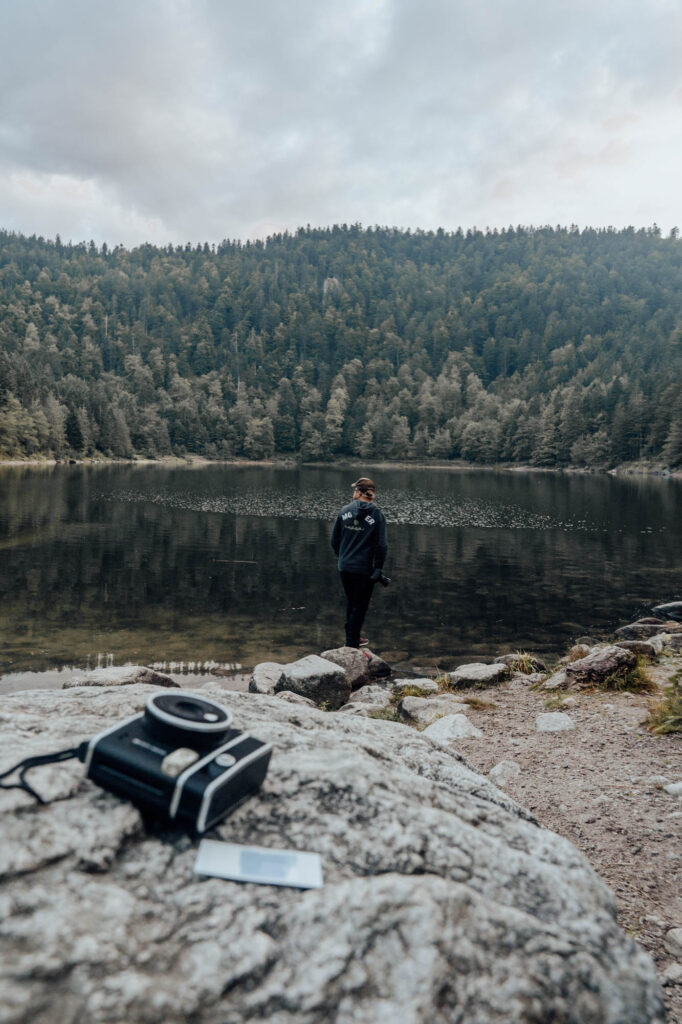 Camera settings
For aspiring photographers, landscape photography might seem like black magic. This is why we decided to break down the technical details behind this shot.
| | |
| --- | --- |
| Settings | Value |
| ISO | 100 |
| Aperture | f/6,3 |
| Shutter Speed | 1/50 |
Camera settings
Post-production Software
Post-production is the process of editing your picture in software such as Lightroom and Photoshop. This process helps you to improve the quality of your photos drastically.