What to Wear in Japan? A Comprehensive Guide for Stylish and Culturally Respectful Travel
Dressing appropriately is an essential part of immersing yourself in Japan's rich culture. This article will guide you on what to wear in Japan, covering various aspects such as seasonal fashion, local customs, and Japanese dress codes. 
Let's explore how to be both stylish and respectful while navigating this unique and diverse country.
A Seasonal Fashion Guide for Japan
When traveling to Japan, it's important to pack the right clothing for each season. The country's climate and culture can greatly impact your wardrobe choices, from embracing the cherry blossom season in spring to staying warm and stylish during winter. Here's a seasonal fashion guide to help you navigate the different climates and dress codes in Japan.
What to wear in Japan during Spring?
Spring in Japan is a magical time, as the country transforms into a wonderland of cherry blossoms. The mild temperatures make it an ideal season for sightseeing and outdoor activities, and your wardrobe should reflect this enchanting atmosphere. 
Embrace the cherry blossom season by incorporating light layers, such as cardigans, light jackets, or blazers, into your outfits. These versatile pieces allow you to adapt to the fluctuating spring temperatures while staying stylish and comfortable.
In addition to practical layers, consider incorporating floral prints and pastel colors into your spring wardrobe to complement Japan's picturesque landscapes. Soft pinks, lilacs, and blues are particularly fitting for this time of year, as they evoke the delicate hues of the blossoming sakura trees. 
Accessories like scarves, hats, and umbrellas are also useful for unpredictable spring weather. 
Ultimately, your spring wardrobe should be a harmonious blend of comfort, functionality, and style, allowing you to fully appreciate the beauty of Japan's cherry blossom season.
What to wear in Japan during Summer?
Summer in Japan can be quite hot and humid, making it essential to choose the right clothing to stay cool and comfortable while exploring the country. Opt for lightweight and breathable fabrics such as linen, cotton, and moisture-wicking materials to help regulate your body temperature. Loose-fitting dresses, shorts, and t-shirts in light colors are popular choices, as they allow for better air circulation and reflect sunlight rather than absorb it.
When selecting your summer wardrobe for Japan, consider the balance between comfort and modesty. While crop tops and sleeveless shirts are generally acceptable in urban areas, it's a good idea to carry a light scarf, shawl, or cardigan to cover up when visiting more conservative locations or religious sites. 
Don't forget to pack essential summer accessories like hats, sunglasses, and sunscreen to protect yourself from the sun's strong rays. 
By prioritizing comfort, breathability, and cultural sensitivity in your clothing choices, you'll be well-prepared to enjoy Japan's summer season to the fullest.
What to wear in Japan during Autumn?
Autumn in Japan is a breathtaking season, as the country is blanketed in vibrant hues of orange, red, and yellow. The cooler temperatures make it a great time for hiking, exploring, and enjoying the changing leaves. When planning your autumn wardrobe for Japan, consider layering pieces such as light jackets, sweaters, and scarves to keep warm in the brisk weather.
Deep jewel tones like burgundy, emerald, and navy are popular choices for autumn, as they complement the rich colors of the foliage. Plaids, checks, and tartan prints are also common in Japan during this season, adding a touch of coziness to any outfit.
Comfortable footwear like sneakers or ankle boots is ideal for walking on uneven terrain or hiking trails, while also adding a stylish edge to your look.
Accessories like hats, gloves, and beanies can help keep you warm while adding a touch of style to your outfit. 
Don't forget to layer up with thermals, leggings, or long-sleeved tops to stay comfortable when exploring the outdoors.
With a well-curated autumn wardrobe, you'll be able to fully appreciate the beauty of Japan's colorful leaves while staying warm and comfortable.
What to wear in Japan during Winter?
Winter in Japan can be chilly, with temperatures dropping to freezing levels in some areas. However, with the right clothing, you can still enjoy your trip to Japan and stay warm and stylish at the same time. When planning your winter wardrobe for Japan, focus on layering and insulation.
A warm and cozy jacket is a must-have item for any winter trip to Japan. Look for down-filled or wool jackets that will provide both insulation and protection against the cold. In addition to a jacket, consider layering with sweaters, long-sleeved tops, and thermal wear to keep your body temperature regulated. Thermal wear, in particular, is popular in Japan and can be found in a range of colors and styles.
Accessories are also important for staying warm in the winter months; A warm hat, gloves, and scarf can provide extra insulation and add a touch of style to your outfit. Beanies, berets, and bucket hats are all popular choices in Japan, while gloves and mittens come in a range of styles, from wool to leather. As for footwear, opt for comfortable and waterproof boots or sneakers to protect your feet from the cold and wet.
Winter in Japan is also a great time to experiment with layering and textures. Consider adding statement pieces like faux fur coats, puffer jackets, or wool capes to add dimension and interest to your outfits. Darker colors like black, navy, and burgundy are popular during the winter months and can be paired with brighter colors and patterns for a pop of color. 
With a little planning and attention to detail, you can stay warm and stylish on your winter trip to Japan.
What to Wear in Japan for Events and Festivals
Japan is a country rich in culture and tradition, and attending events and festivals is a great way to immerse yourself in this vibrant culture. However, with different events and occasions comes the question of what to wear. In this guide, we'll explore traditional and modern clothing options for Japanese events and festivals.
Traditional Clothing Options
Festivals and events in Japan often call for traditional attire. Both men and women can wear yukatas, a lightweight cotton kimonos, to summer festivals. For formal occasions, such as tea ceremonies or weddings, a silk kimono is appropriate. Accessories, such as obi belts and geta sandals, complete the look.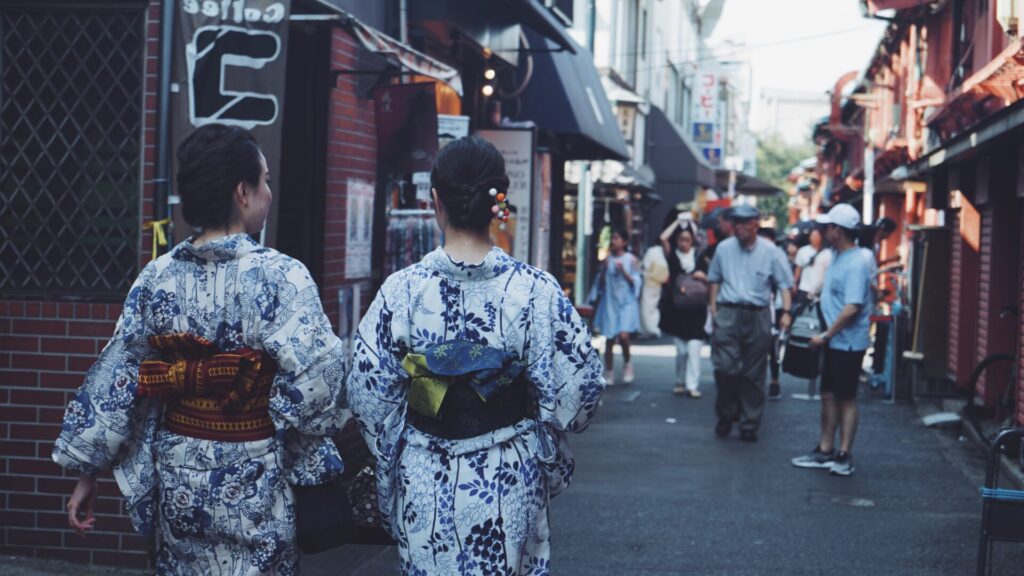 Modern Clothing Options
For modern events, smart casual attire is usually suitable. Slacks or skirts paired with a blouse or button-up shirt will suffice. However, avoid overly revealing clothing or ripped jeans, as they may not be considered appropriate.
Tips for Blending Style and Cultural Respect in Japan
Japan is a country rich in culture and tradition, and dressing appropriately is an important aspect of showing respect for the local customs. However, this doesn't mean that you can't still express your personal style while visiting Japan. Here are some tips for blending style and cultural respect.
Research Local Customs
Before your trip to Japan, take the time to research local customs and dress codes. This will help you avoid any potential cultural faux pas and ensure that you're dressed appropriately for each situation. For example, when visiting a temple or shrine, it's important to dress modestly and remove your shoes. At more formal events like weddings or business meetings, conservative attire is expected.
Consider the Occasion
When planning your outfits for Japan, consider the occasion you'll be attending. Casual sightseeing calls for comfortable and practical clothing, while more formal events may require dressier attire. It's also important to keep in mind the location and climate, as different regions of Japan have varying temperatures and dress codes.
Pay Attention to Accessories
Accessories can be a great way to express your personal style while respecting local customs. However, it's important to be mindful of the appropriateness of your accessories. When visiting religious sites or attending formal events, avoid wearing flashy or distracting jewelry. Opt for simpler pieces that complement your outfit.
Choose Modest Clothing
In Japan, modest clothing is generally preferred, particularly for women. Avoid wearing revealing clothing, such as shorts or crop tops, in more conservative areas. Instead, opt for clothing that covers your shoulders and knees. Light layers like cardigans, scarves, or shawls can also provide additional coverage while adding a stylish touch to your outfit.
Embrace Traditional Japanese Clothing
Embracing traditional Japanese clothing, such as kimonos or yukatas, can be a fun and respectful way to engage with the local culture. However, it's important to wear these garments correctly and with the appropriate level of formality. Attending a workshop or seeking guidance from locals can help you ensure that you're wearing traditional clothing in a respectful manner.
Navigating Japan's Dress Codes
Japan is a country with a strong emphasis on tradition and cultural respect, which is reflected in its dress codes. From visiting temples and shrines to dining at fine restaurants, it's important to be aware of the specific dress codes for each occasion. In this guide, we'll explore the dress codes for temples and shrines, onsens, and fine dining restaurants in Japan.
Dress Codes at Temples and Shrines
When visiting a temple or shrine in Japan, it's important to dress modestly and respectfully. This means covering your shoulders, knees, and avoiding revealing clothing like shorts or tank tops. In some cases, you may also be asked to remove your shoes before entering the temple or shrine. It's a good idea to bring a light scarf or shawl to cover up if necessary.
Dress Codes at Onsens
Onsens, or hot springs, are a popular attraction in Japan, and proper attire is essential to respect the cultural and hygiene norms. It's important to follow the specific dress code rules of each Onsen, which usually involves wearing only a towel or a yukata robe provided by the establishment. In some onsens, tattoos are also prohibited, so be sure to check beforehand.
Dress Codes at Fine Dining Restaurants
Japan has a rich culinary culture, and dining at fine restaurants can be an incredible experience. Dress codes vary depending on the establishment, but generally, it's expected to dress smartly and conservatively. Business attire or formal wear is typically the norm, and athletic wear or casual clothes should be avoided. Dress codes are particularly strict in high-end establishments in larger cities such as Tokyo or Osaka.
Shopping for Clothes in Japan
Japan is a fashion-forward country with a reputation for high-quality and unique clothing. From international brands to local designers, there are plenty of options to explore when shopping for clothes in Japan. 
In this guide, we'll take a look at some popular shopping districts, boutiques, and department stores, as well as tips for finding fashionable and functional clothing.
Popular Shopping Districts
Shopping in Japan is an exciting experience, with bustling districts such as Shibuya and Ginza in Tokyo, Shinsaibashi in Osaka, and Kawaramachi in Kyoto offering a wide range of clothing options. These areas are great for finding both international and local brands to add to your wardrobe.
Boutiques and Department Stores
Japan is home to numerous boutiques and department stores, where you can find both high-end and affordable clothing. Stores like Uniqlo and GU offer affordable yet fashionable options, while luxury department stores like Isetan and Mitsukoshi cater to more upscale tastes.
Tips for Finding Fashionable and Functional Clothing
When shopping for clothes in Japan, keep an eye out for unique and functional items that can enhance your travel wardrobe. Look for clothing that is not only stylish but also offers practical features, such as quick-drying fabrics, built-in UV protection, or wrinkle resistance.