A complete guide to Singapore
Singapore, the Island city-state in Southern Malaysia, is super popular with tourists due to its tropical climate, astonishing architecture, and award-winning hawker food scene. Exactly why I wanted to visit it!
I'll go over everything you need to know about visiting this beautiful city-state in this city guide. What are the must-sees in the city, what food do you have to try, and where you should stay in Singapore.
A Singapore Guide; everything you need to know
Although it is the smallest country in Southeast Asia, Singapore has quite a few unique and entertaining habits and facts you'll want to know before you make your trip – we've listed the most important ones below!
What to know before visiting Singapore
You might not know this yet, but Singapore includes as many as 64 offshore islands surrounding the main island.

Singapore only recently (1965) gained independence from the British. As a result, most residents understand English. Be aware that their slang is Singlish, as Singapore's multiculturalism influences their lingo.
Singapore is, in fact, the most densely populated country in Asia and is a global economic hub; this causes Singapore to be twice as expensive as its neighboring countries. It even ranks as one of the most expensive cities in the world!
Singapore is situated near the equator circle, meaning the island has a year-round tropical climate, making it a generally warm tourist destination. The daily temperature range has a minimum of 23-25ºC at night, and a maximum is not rising above 31-33ºC during the day. 
Most tourists visit the city-state from December to June, with a massive spike during the Chinese New Year. Be aware tho: December is usually the rainiest month, as monsoons occur between December and March!
Key facts about Singapore
Singapore is a city-state, which means the whole city is an independent country by itself.
| | |
| --- | --- |
| Country | Singapore |
| Names | Singapore, Singapura, and Singapur |
| Languages | English, Malay, Mandarin, and Tamil.  |
| Currency | Singapore dollar (SGD, SG$) |
| 1 SGD to euro | Roughly 0.66 euro |
| 1 euro to SGD | Roughly 1,40 Singapore Dollar |
| Population | 5.686 million |
| Airport | Changi Airport |
| Travel adaptors | 230V, 50Hz frequency. Type G plugs and sockets. |
Singapore Travel Costs
While Singapore is one of the most expensive Asian countries, it also has a Goods and Services Tax (GST) which tourists can get refunded. As soon as you spend 100 SGD in a participating store, you'll get back the 7% GST if you ask the shop staff for a Refund Cheque.
To find participating stores, look for a Global Blue Tax-Free Shopping logo or Tax Refund logo on the store windows before entering.
| Expense | Singapore Dollar (SGD) | Euro |
| --- | --- | --- |
| Hostel | 25-48 SGD | 25 – 35 euro  |
| Budget Hotel | 60-100 SGD | 42 to 72 euro |
| Regular Hotel | 80-110 SGD | 58 to 78 euro |
| Decent Meal | 8-9 SGD | 6.5 euro |
| Beer | 8-10 SGD | 7 euro |
| Cola | 1.5 SGD | 1 euro |
| Coffee | 5.5 SGD | 4 euro |
| Singapore Tourist Pass | 10 SGD for a 1-day pass16 SGD for a 2-day pass20 SGD for a 3-day pass | 7 to 14 euro |
| Singapore Zoo | 44 SGD | 31.5 euro |
| National Museum | 5 SGD | 3.5 euro |
| Botanic Gardens | 5 SGD | 3.5 euro |
How do you get to Singapore
Singapore is, in essence, a global transport and tourism hub, as it has the Johor–Singapore Causeway, a direct railway bridge to Malaysia. The city of Batam, located in Indonesia, is also just one hour's ferry ride away. And ultimately, its airport, Changi Airport, connects Singapore to almost every major city all over the globe.
Getting to Singapore by plane
Singapore's Changi Airport is one of the most well-connected airports in the world and is even mentioned to be the best – and most instagrammable – airport in the world. You can take direct flights from here to every major city in Asia, Europe, or North America.
Getting from Singapore airport to the city center
As Changi Airport is one of the busiest airports in Asia, it has a well-equipped and well-oiled transport infrastructure.
By Subway
The subway (SMRT) is the fastest and cheapest way to get to downtown Singapore from the airport. Depending on your destination, it can take up to 45 minutes to get there.
By Bus
Another relatively cheap option is taking the bus, which brings you to the city in a little over an hour for 2.50 SGD. 
Bus 36 from the basement bays of Changi Airport Terminals 2 and 4 brings you to the city into the city. 
By Shuttle
There are shuttle buses available at the airport, used mainly by tourists that arrive in big groups or at odd hours. 
The benefit of these shuttles is that they'll take you directly to the hotel. 
Transport in Singapore: How to get around in Singapore
You'll be unable to visit everything on foot, as Singapore is a relatively big city. The best mode of transport is the subway, which serves the entire city. Singapore Tourist passes are available, allowing you to use the buses for free.
Taxis in Singapore
While it's the easiest way of transport, it's also the most expensive. I wouldn't recommend taking a taxi unless you are traveling in big groups and are willing to split the costs.
Unfortunately, rideshare options like Uber or Lyft aren't available, however, there are some local alternatives like Grab and Gojek.
Public transport in Singapore
As briefly mentioned: Singapore has various formulas for tourists using public transport, such as an Ez-link card or a Singapore Tourist Pass.
The Ez-link card is a card that allows you to pay transport fares on buses, MRT (metro), taxis, and other private transport means. It even allows you to buy food and drinks from stores and vending machines.
The Singapore Tourist Pass will be the most cost-effective option for tourists planning to travel a lot. Especially since Singapore's rail network is quite extensive, meaning that there is an MRT station close to every main attraction.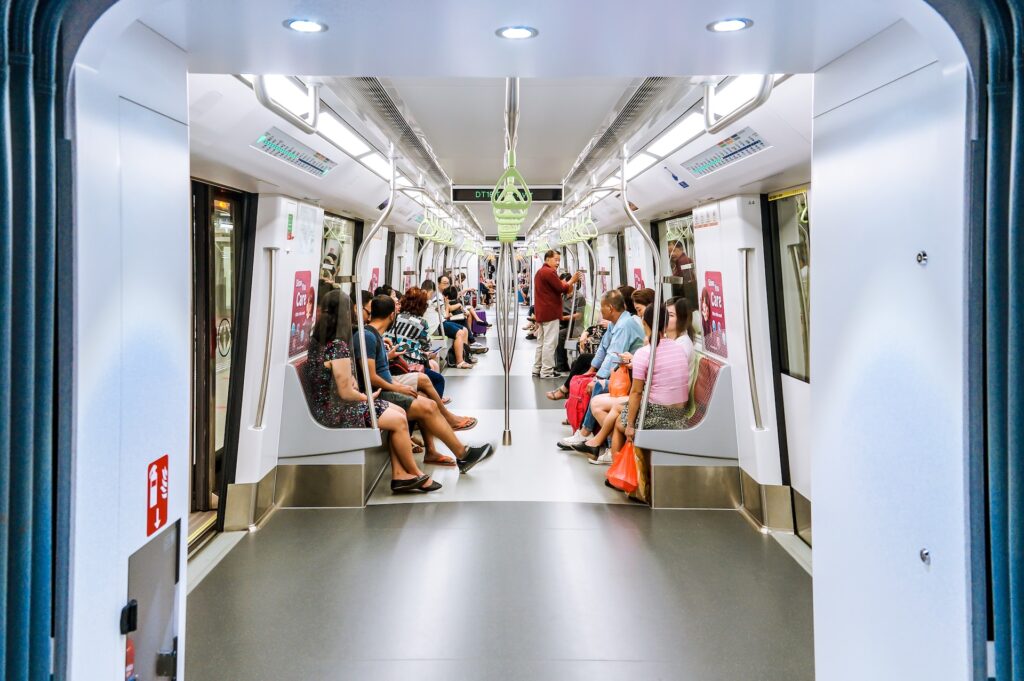 Singapore by bike
Singapore is a cycle-friendly city and is often referred to as Asia's most bicycle-friendly city. They received this title because their bike paths cover the entire island, but also because it has some of the most beautiful scenic roads. 
Anywheel and SG Bikes are two bike-sharing companies that allow you to rent cheap public bikes all across the city. 
Where's the best place to stay in Singapore
Did you know? Singapore is the most densely populated country in Asia and second in the world. This makes accommodations in Singapore very expensive, as there is a scarcity of space and decent hotel rooms. For this reason, small hostels, budget hotels, and capsule hotels are trendy in Singapore. 
Most backpackers look for hostels in Chinatown, Little India, Clark Quay, Bugis, or the Geylang area as most of the hostels there offer dorm beds and double rooms. If you are looking for budget hotels, you'll mostly end up in Geylang, Little India, and Balestier.
Our biggest tip for booking a place to stay in Singapore is to look for an MRT Station in the area, as it will get you more accessible to Singapore's main attractions. 
As I couldn't test out every hostel or hotel in the area, I thought I'd include some of the accommodations locals have recommended or are referred to by other reputable blogs.
Luxury: Wanderlust and The St Regis Singapore.
Midrange: Citadines Rochor, The Unlimited Collection by Oakwood, and YOTEL Singapore Orchard Road.
Budget: Snooze Inn Dickson Road, Beary Best Chinatown, and Hotel Supreme
The best places to eat and drink in Singapore
Singaporeans are known as passionate foodies who enjoy a wide variety of good food at affordable prices. The best proof of this is the Hawker food scene which are basically large food courts that offers numerous cuisines and serve everything from full meals to snacks and drinks.  
The Singaporean Hawker scene was even granted the Cultural Heritage status.
I personally visited – and loved – both Makansutra Gluttons Bay hawker and the Chinatown Food Complex. A few of the other reputable food hawkers in Singapore are:
Newton Food Center
Amoy Street Food Centre
Old Airport Hawker 
Tiong Bahru Market
Maxwell Food Centre
Lau Pa Sat
The Bedok Marketplace
What is Singapore known for?  
After being known as a global financial center and a tourist hub, Singapore is also famous for having a beautiful airport with a waterfall and for its award-winning hawker food scene. 
The financial market
The city-state is famous for being a global financial center, dating back to 1819 when it was still a colony. Back then, Sir Stamford Raffles established the island's first trading post of the British East India Company.
This explains why Singapore is a well-established country in the financial industry, especially in banking services (especially investment banking, wealth management, and treasury activities), insurance, and capital market (securities, futures, and derivatives).
The Singaporean Financial Industry employs about 200.000 jobs and accounts for more than 10% of the country's Gross Domestic Product.
Tourist destination
Singapore's humid climate, immaculate clean streets, and astonishing buildings make it the perfect tourist destination. Most tourists are overwhelmed by its beauty as soon as they leave their plane, thanks to the airport's famous waterfall, and keep getting overwhelmed after visiting the Botanic Garden, their first and only World Heritage Site.
Singapore's hawker food scene
In 2016 Michelin awarded Singapore's hawker food scene with the world's first street food star, and in 2020 UNESCO awarded it with the Cultural Heritage status. 
Today, over 110 hawker centers (also known as food courts) are located across the island of Singapore, and there are the city is still planning to construct more in order to serve the local population even better. 
The best things to do in Singapore
While Singapore might come across as a tiny city-state, it has a lot of fun activities, fantastic architecture, and delicious food to try out. I listed the must-visit activities for every tourist. 
Gardens by the Bay
The Gardens by the Bay is a nature park that might even be Asia's most popular tourist destination. The reason Gardens by the Bay is Singapore's most famous attraction on TripAdvisor is quite simple: the park is mind-blowing as it's the home to their iconic Supertrees and two impressive conservatories.
The Cloud Forest conservatory is best known for featuring the tallest indoor waterfall in the world, while the Flower Dome holds the Guinness World Record for the largest glass greenhouse.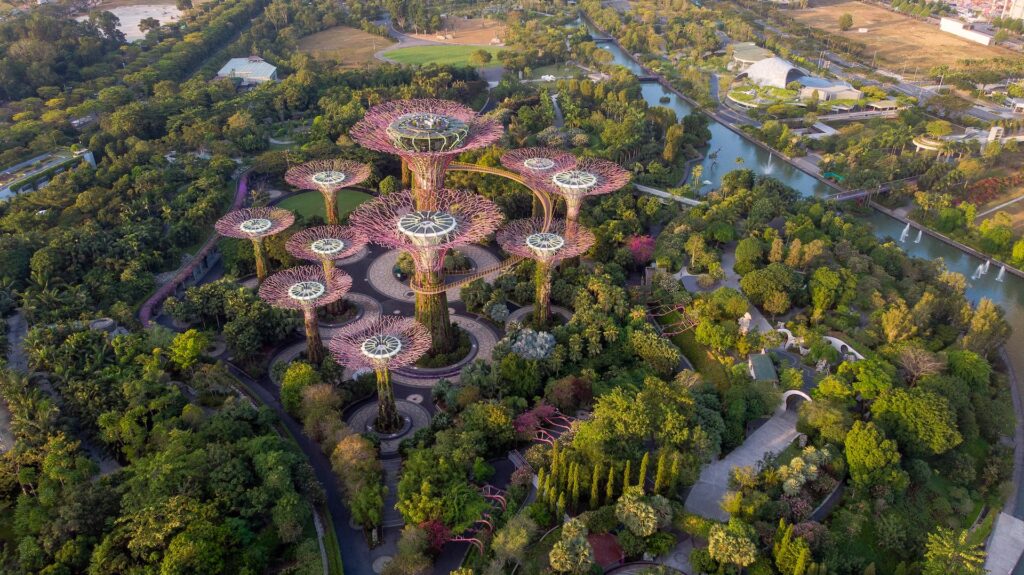 Singapore Zoo
The Singapore Zoo is known and renowned for its open zoo concept, giving its animals very specious and landscaped environments, stimulating their natural habitat.
What makes the zoo special is that Singapore Zoo has a rainforest environment and focuses on helping threatened animals – it's even one of the country's designated centers for rescued wildlife.
The zoo houses over 2.800 animals from 300 species, such as Asian elephants, white tigers, free-ranging orangutans, chimpanzees, pygmy hippos, Malayan tapirs, and many more.
Universal Studios
You'll find the famous theme park Universal Studios on Sentosa Island. The park houses 24 exciting attractions divided over seven zones, each with its own theme based on a popular TV show or a blockbuster film such as Jurassic Park.
You'll probably spend your entire day at Universal Studios. Still, exploring Sentosa Island on another day might be interesting as it houses various other attractions such as 4D theaters, the S.E.A. Aquarium, watersport facilities, golf courses, and much more.
Singapore River Walk
Singapore is covered with beautiful hikes, and the Singapore River Walk is one of the most sightseeing opportunities. The route is about three kilometers long, from Kim Seng Bridge to the Marina Reservoir.
I advise starting the walk in the late afternoon, so you can witness how the area transforms as the sun sets. Doing this, you'll come across these attractions:
Raffles Place
Fullerton Hotel
One Fullerton
Merlion Park
Asian Civilisations Museum
Esplanade
Makansutra Gluttons Bay
Helix Bridge
Art Science Museum
Marina Bay Sands
Gardens by the Bay
Singapore Cable Car
The Singapore Cable Car is the most scenic way to discover Sentosa as it flies 100 meters above the ground, creating an incredible 360° aerial view of the region, including Universal Studios, Resorts World, and Mt. Faber.
The cable car linked Sentosa Island with Mount Faber and was opened in 1974. 
Hidden gems in Singapore
While Singapore is a relatively tiny city-state, it is very densely populated and spread with iconic architecture that attracts a lot of tourists. But what if you are looking to avoid those crowds? Well, you could go and discover some of Singapore's hidden gems! 
The Projector (indie cinema, DJ gigs, comedy nights, bar etc…)
Kayaking around Singapore archipelago (Kayak Asia)
Visit the Marsiling WWII Tunnel 
Butik Batok cemetery, which serves as a burial ground for nearly 1000 Japanese civilians and soldiers.
Visit Bollywood Veggies farm and accompanied farm-to-table bistro, Poison Ivy.
Wander around Pearl's Hill Terrace, and discover various relics from the colonial era.
Most instagrammable places around Singapore
Whether you are a passionate photographer or just want some great pictures to remember your trip to Singapore, a great and unique location is essential to taking incredible pictures.
Jewel Changi Airport
While Jewel Changi Airport might be one the most beautiful buildings in the world, its Rain Vortex – also known as the world's tallest indoor waterfall – blew our minds the most. 
The Rain Vortex is a real piece of art, especially from dusk to dawn, when the sky outside darkens. The water then becomes a screen on which a light-and-sound show is projected and becomes the most beautiful photo background.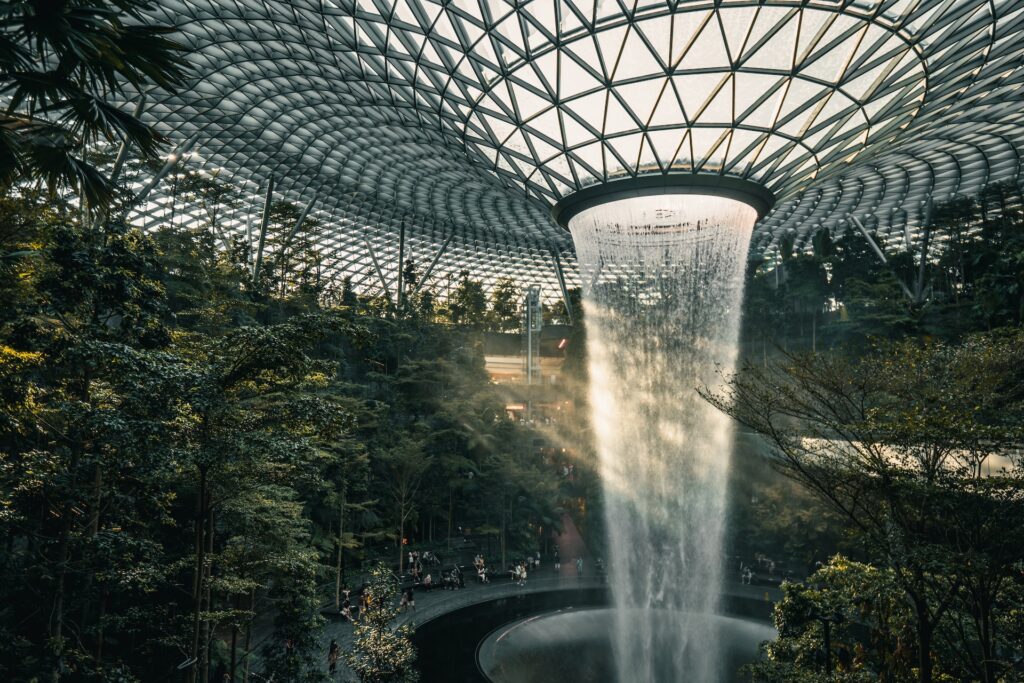 Orchard Road – The Fashion Street of Singapore
In the heart of downtown Singapore, you'll find Orchard Road. It's a 2-kilometer shopping street named after fruit orchards and filled with over 300 luxury shopping malls, restaurants, and hotels.
Wandering around Orchard road will show you how is a chance to know how glamorous Singapore is, especially with all the efforts put into the stores' decorations and lighting.
Marina Bay Sands Skypark
Marina Bay Sands is the most instagrammable hotel in Singapore, most known for its view of Singapore's city skyline, luxurious hotel rooms, and suites with personal butler services.
The hotel has 56 stories, houses the world's largest rooftop infinity pool, and has its Skypark and Observation Deck has a fantastic unobstructed view of the city.
Fort Canning Park
One of Singapore's most historical landmarks is Fort Canning. The park and its landmarks tell the story from medieval times to the World War II era. Nowadays, the park is mostly used for relaxing and exercising. 
The park also contains a spiral staircase that has gained much popularity over the past few years. It's known as the "Fort Canning Tree Tunnel" thanks to its towering tree in the background and grey-tiled walls.
ArtScience Museum
The ArtScience Museum – a museum where art, science, culture, and technology are celebrated – is known to be an iconic cultural landmark in Singapore. The building looks like a lotus flower and is known as "The welcoming hand of Singapore."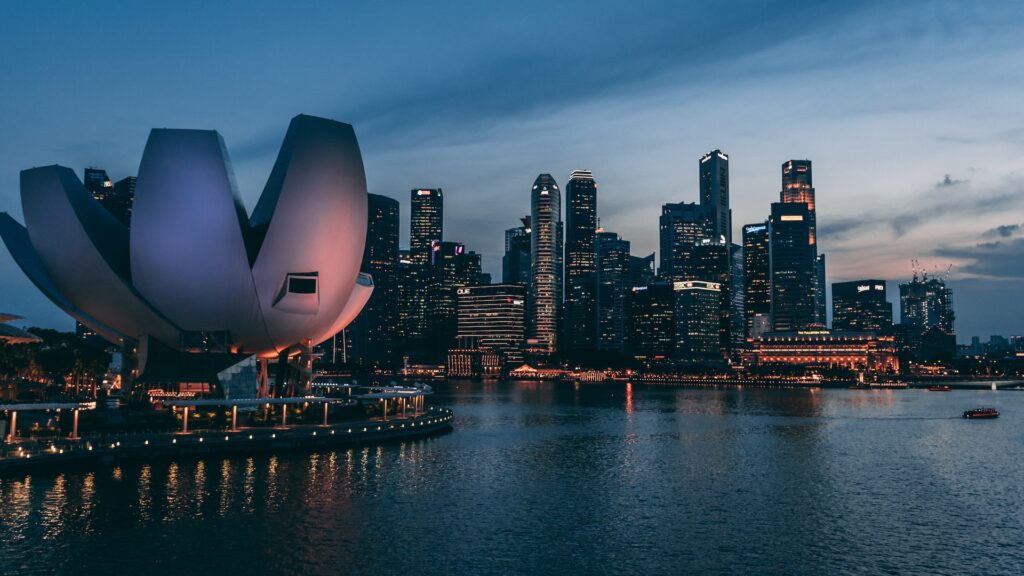 Singapore's best-kept secrets
Singapore is a very glamorous place to be, with a lot of luxurious buildings. Fortunately, there are also some photogenic places that are more urban, such as:
Joo Chiat Shophouses 
Haji Lane 
Mural circuit in Little India 
Day trips from Singapore
I briefly mentioned it in the intro: Singapore is a global transport and tourism hub, so it's super easy to travel and explore more of Asia! I listed a few fun day trips in Singapore, Malaysia, and Indonesia you could visit. 
Legoland Malaysia
Sanrio Hello Kitty Town
Sentosa Island
Pulau Ubin
Johor Bahru
Malacca
Adventure Cove Waterpark 
Bintan
Batam
Must visit events in Singapore
Adding local activities and events to your itinerary is always exciting, so here is a rundown of the most unforgettable events in Singapore that you won't want to miss.
Gastrobeats
Gastrobeats is a highly anticipated urban festival that features delicious food options and culinary art from local and international personalities and food vendors, supplemented with a lineup of live music performances and striking graffiti art.
iLight Singapore
First held in 2010, iLight Singapore is an annual sustainable light art festival held in Marina Bay, organized and presented by the Urban Redevelopment Authority.
The first festival attracted more than 433.000 visitors over the three-week duration, after which it became an established value in the Singaporean event calendar.
Singapore Grand Prix – F1 Race
The Singapore Grand Prix is a Formula One racing event that takes place on the Marina Bay Street Circuit and is actually known as the inaugural night race ànd the first street circuit in Asia designed for Formula One races.
The Singapore Grand Prix is considered to be one of the most challenging and unique tracks on the Formula One calendar, which is why it attracts over 270.000 fans.
Chinese New Year
As 70 percent of the Singaporean population has some Chinese roots, the Chinese New Year is considered one of the year's most meaningful events. The celebrations always begin with the annual Chinatown light-up and street bazaar, which transforms the entire heritage district into a festive playground with lit decorations and New Year goods everywhere.