Lake Eibsee, hidden beauty in the German Alps
Next to Zugspitze, the highest mountain in Germany, the Bavarian Alps are also home to Lake Eibsee, which is known as one of the most beautiful lakes in Germany.
Local photographer Dennis Billstein visited the lake during winter, where he took these amazing photos.
About Lake Eibsee
Just on the edge of the border between Germany and Austria, we can find the Bavarian Alps. These Alps are a known mecca for skiers, hikers, and photographers because of its picturesque mountain villages, glittering lakes, and spectacular castles. 
A popular part of the Bavarian Alps is the Zugspitze. With its elevation of 2,962 metres it is the highest mountain in Germany. The mountain is home to three glaciers as well as Germany's highest ski resort. In addition to its popularity with winter sport enthusiasts, the Zugspitze is also an attractive destination for non-skiers; it contains various hiking paths and has a watchtower that offers an impressive 360 degree panorama view where you can see Germany, Austria, Italy, and even Switzerland. 
An excursion on itself is the Lake Eibsee, which is located at the base of the Zugspitze. The lake was created thousands of years ago when a mountain collapsed and formed the crater.
Lake Eibsee has clear, green-tinted water and is considered one of the most beautiful lakes in the Bavarian Alps. Its location at the foot of the Zugspitze makes the view even more impressive and ensures its popularity with hikers and photographers.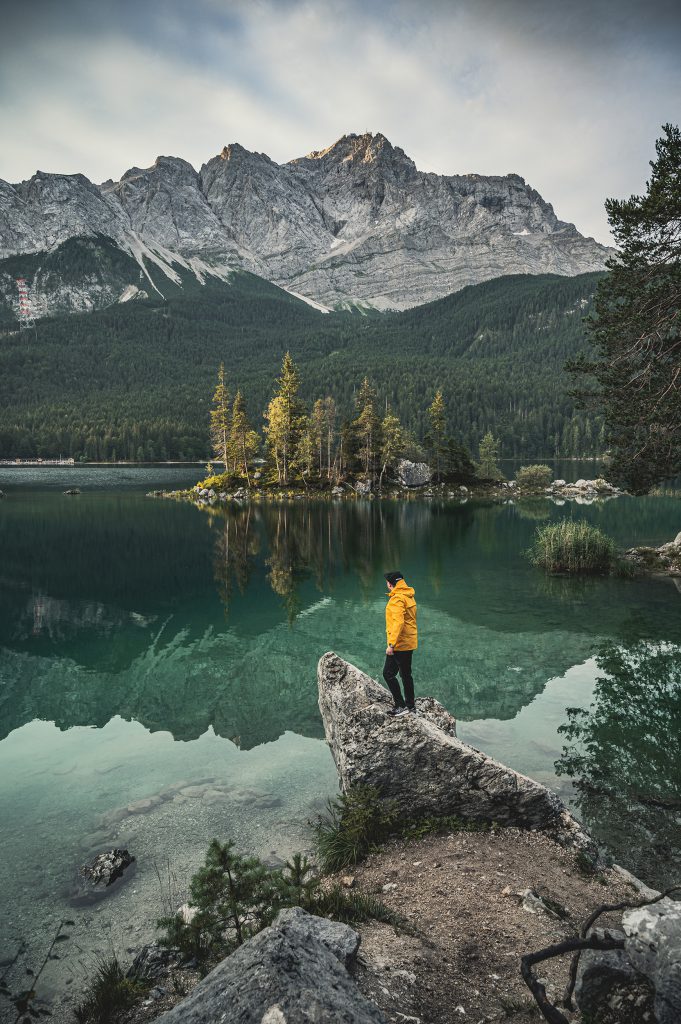 The lake is beautiful any time of the year. From May to September, it's a popular destination for locals and tourists who'd like to cool down and enjoy the unique setting. During the winter the lake is frozen but is still pleasant and accessible to walk around. 
It's safe to say that Lake Eibsee is a postcard destination throughout the entire year! 
Local photographer Dennis Billstein visited the lake during the winter, and even shared some travel tips with us: 
"If you are looking for accommodation, I can recommend  "Hotel Eibsee"! It has direct access to the lake itself. The hotel has a great spa, which is included with your stay. Nothing is more rewarding than a hot steam bath after a long hike in the mountains or around the lake!
The hotel has a good restaurant, with the best Kaiserschmarrn (a typical local dish) that I've ever eaten!"   
Tips for visiting Lake Eibsee in 2021
Next to travel tips, Dennis gave us some valuable information about Eibsee's most instagrammable spot, which is often referred to as "The Stone" or "The Menhir". 
The Eibsee Stone is a spot which will overwhelm you by its beauty and is located a 20 minute walk from "Hotel Eibsee". To find it, you'll need to walk towards the Steinringpriel (a small pond located a few meters next to Lake Eibsee), and follow the path that leads to the entrance of the forest. From this point it takes 10 minutes until you reach this photogenic location.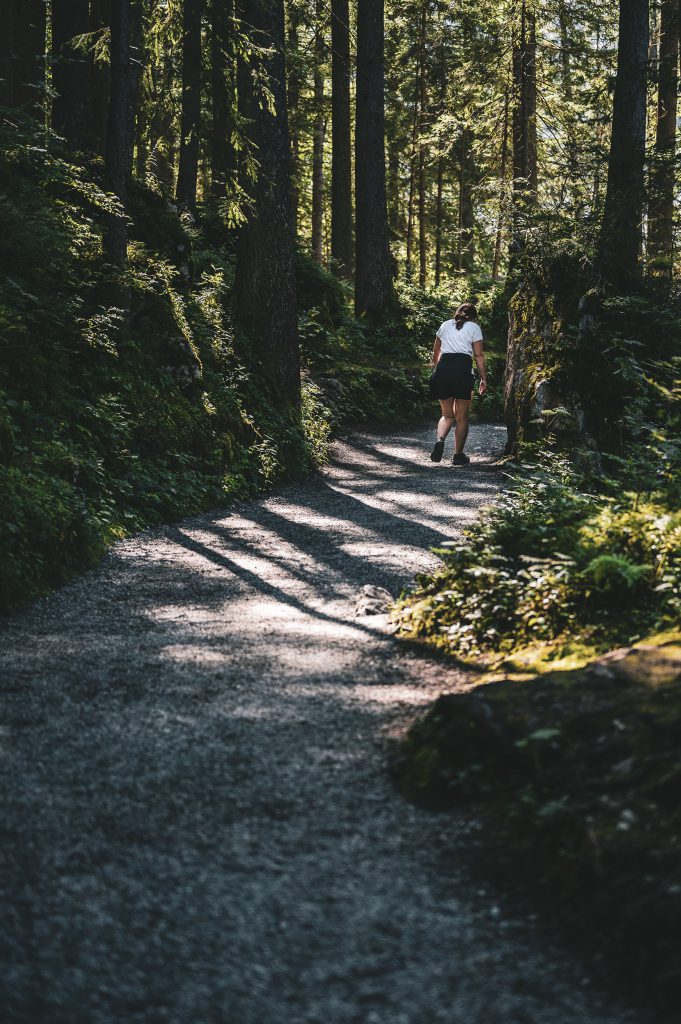 Another very photogenic location is the cabin on the lake, which is completely surrounded by water. Because of this unique setting, it's easy to create a dreamy adventure atmosphere, making it also very popular for drone pilots to shoot.  
When asking Dennis for some tips regarding drone flying and photography, he told us to focus on the basics. 
"Make sure to always bring your drone, remote, phone and fully charged spare batteries! The batteries are especially important; I always bring three of them for all my devices, because you're better safe than sorry.
When you are flying a drone, it's essential that you find a safe spot to start and to land your drone. You don't want a location with a lot of people, kids or animals (since it's a risky situation both for your drone as for them). Best is to check google maps beforehand and scout the spot where you want to fly, so you don't waste time flying and looking for a spot. 
When flying next to a lake or forest, you'd like to keep distance. Don't fly low, as you don't want your drone to drown or hit a tree. 
I recommend flying when it's cloudy or just after sunrise when the sun isn't high in the sky, because otherwise you'll get many reflections from the sunlight which might screw up your photos or make it harder to navigate your drone. 
Lastly, but definitely not least: Turn the brightness on your phone. You want to perfectly see what your drone is doing."
It's best to visit the lake either during the early morning hours or around sunset. This is when the warm sunlight will hit the water and create a beautiful glow over the water. This phenomenon is often referred to as the "Alpenglow".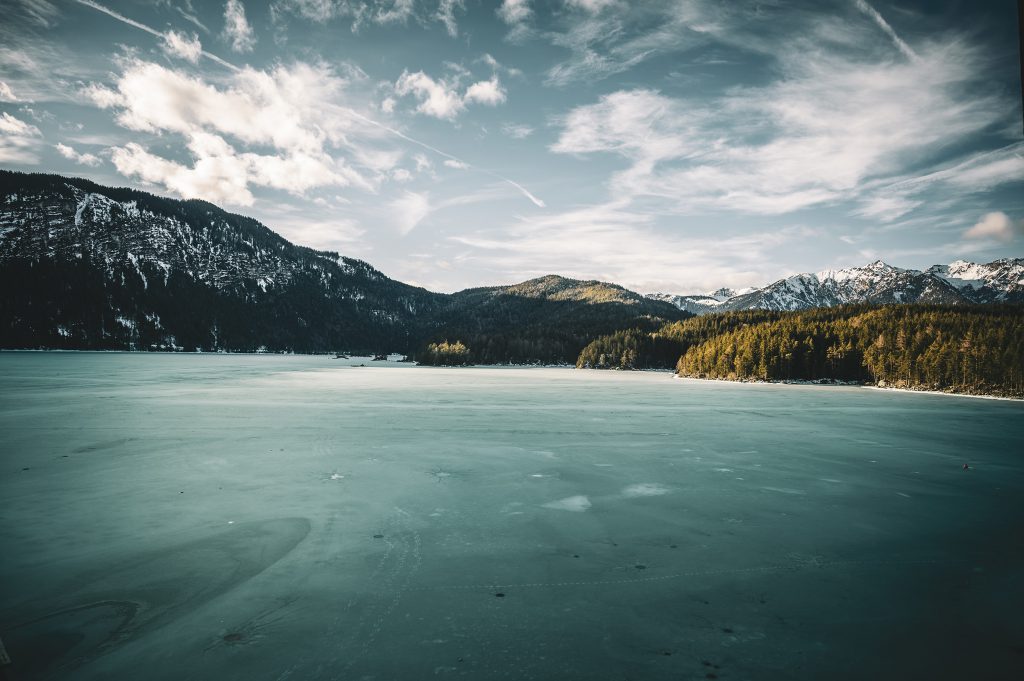 About the shot
Because landscape photography might seem like black magic for some of our adventurous readers and aspiring photographers, we decided to break down the technical details behind Dennis' shots. 
Gear
This guide on Nikon lenses for traveling provides a comprehensive overview of some of the best options available, including wide-angle and zoom lenses, to help you capture stunning photos of your travels.
Settings
Shutter speed: 1/500
ISO: 100
Aperture: f/4.5
Software
About Dennis Billstein
Dennis Billstein is a German photographer who is specialized in wildlife and landscape photography. He is known to experiment with different photographic styles and techniques.
Save for later …