Review: Is the DJI Mavic Air 2 the best drone for landscape photography?
Pros
Compact and portable
Follow targets with ActiveTrack
Easy to operate
FocusTrack technology
Cons
Motion blur on images in low light
You might need certificates to fly it
Not all video modes support 4K
As digital creatives, we're always looking for new ways to picture stunning landmarks and ancient cityscapes from original perspectives. If you really want to get creative, this is where a drone might come in handy.
We've tested DJI's Mavic Air 2, and review it through the eyes of landscape and cityscape photographers. So, if you are eyeing to buy the Mavic Air 2, read through this review first. 
The Mavic Air 2
While the Mavic Air 2 drone was only released 2 years after its predecessor, this new drone has a lot of new features. They include: extended flight time, obstacle-avoidance sensors, and intelligent shooting functions like QuickShots, Hyperlapse, and the FocusTrack modes. 
It's safe to say that the Mavic Air 2 became a tiny powerhouse with various high-tech functions which you won't find in any other high-end drone. 
What makes the DJI Mavic Air 2 Special?
Compared to its predecessor, the Mavic Air – which was released back in January 2018,  The Mavic Air 2 now features various new functions and improvements which any drone pilot would love to have. We've listed the most important new and improved features below!
An elegant Design
The Mavic Air 2 drone comes in a sleek and grey finish, similar to the other drones in the Mavic series. Compared to the original Mavic Air, this drone is a bit bigger but far more advanced which still has an easy-to-operate interface with simple controls. 
Fitted with low-noise efficient propellers, the Mavic Air 2 maintains a stable flight movement – even under strong gusts, it keeps shooting steady and smooth images. 
Great image quality
One of Mavic Air 2's biggest improvements compared to its predecessor is its new image sensor: the Quad Bayer. This sensor combines a few key technologies – as seen with the Sony cameras and Android smartphones – to improve the image quality: it has a 48 megapixel resolution and a 'Quad Bayer' color filter pattern. However, these 48 megapixel pictures can only be saved in a compressed jpeg format, making the gain of this new high-power megapixel sensor very marginal. 
Cinematic Ultra HD videos
The Mavic Air 2 can capture 4K megapixel video footage at 60 frames per second, which results in very sharp videos. For a drone this compact, a recording in this format is a big deal to many videographers since there aren't many drones which can shoot video in this format. 
Technically, it also has the option to film slow motion footage in 4K resolution videos, but this might turn out a bit blurry. You could decide to lower the resolution to 1080 HD, to have 240 frames per second.
Take your Mavic Air 2 anywhere
Being a lightweight drone (approximately 570 grams) and having compact dimensions, the Mavic Air 2 is very convenient to carry which makes it the ultimate grab-and-go drone-camera. 
The drone comes with a carrying case, which makes it even more comfortable transportation, however, in case you're planning to buy extra batteries, it might be interesting to look at the Fly More Package which includes extra batteries as well as a more spacious carrying case.
Intelligent shooting modes
DJI added a few intelligent shooting modules on the Mavic Air 2, such as the option to take a series of photos and time-lapse video's while the drone is flying (Hyperlapse function), automatic scene recognition which can be compared to a point-and-shoot function on a DSLR camera (SmartPhoto function), and self-piloted flight features (Quickshot function).
GPS and GLONASS functionality 
Next to the American navigation satellites (GPS), the Mavic Air 2 is able to connect with the Russian variant (GLONASS) as well, giving it a reliable navigational functionality that ensures smooth and precise performance when flying, hovering or returning to home.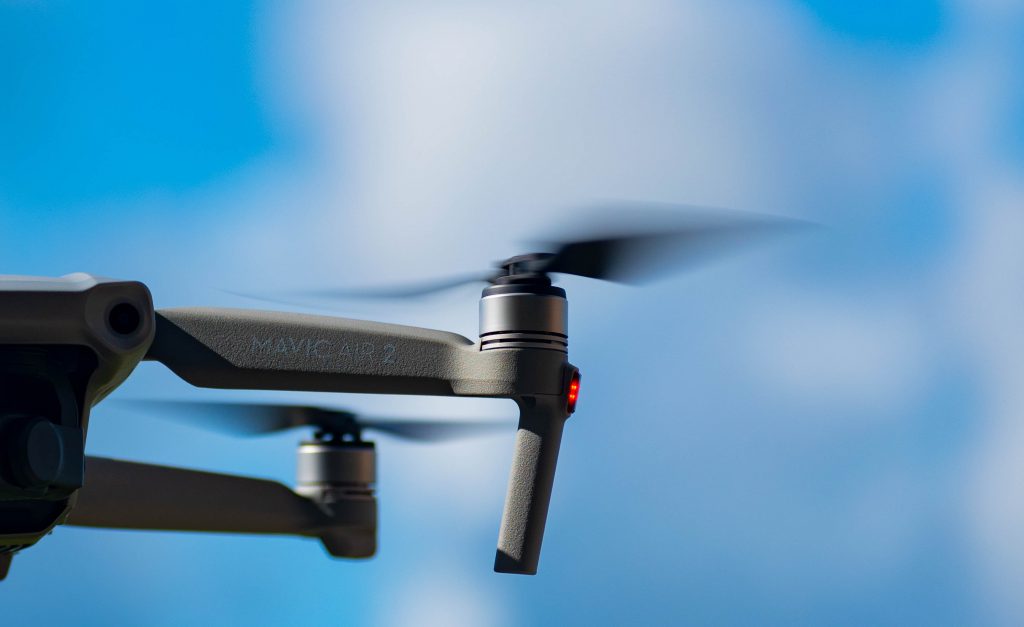 So much more new functions
The Mavic Air 2 has a ton of new and improved features that push it ahead of other drones, however, these are improvements and new functions which are worth mentioning as well:
30+ minutes of flight time. The Mavic Air 2 has an extended battery life, which outperforms its competitors by 10 to 15 minutes. For photographers that are looking for more action, DJI released a Fly Combo package which comes with extra batteries.

Extended signal transmission. An important spec when it comes to drones is the signal range. DJI realizes this, and has focussed on improving the Mavic Air 2's signal transmission. The current transmission allows the Mavic Air 2 to still keep connection after 18 kilometers distance, while its maximum altitude is set at 5 kilometer high.

FocusTrack technology.  With the FocusTrack mode, DJI allows you to select a specific target within the camera's view, which your drone will automatically lock onto. Additionally, you'll be able to instruct the drone to follow or circle around the object.

Obstacle Avoidance sensors. The drone is surrounded by intelligent sensors, giving it the capability to automatically avoid obstacles as it navigates through the air.

AirSense Technology: This is an alert system which gives you enhanced situational awareness which warns you when you fly your drone near other planes or drones to avoid head-on collisions.

A new remote controller. The new controller is double the size of any other DJI controller and has a more ergonomic design, which feels easy to use and comfortable to hold. 
Is the DJI Mavic Air 2 suited for landscape photography?
With the Quad Bayer sensor the DJI Mavic Air 2 is literally made for landscape photography (Seceda example), delivering pictures that are as good as some of the current DSLR on the market. This, in combinations with the new and intelligent shooting modules allows the drone to capture rock steady pictures.
Mavic Air 2 Pros
Low noise propellers
30 minute battery life
Easy to operate
Great connection between controller and drone
Follow targets with ActiveTrack
High video quality
Compact and portable
Affordable Price
Mavic Air 2 Cons
DJI's craftsmanship on this drone is remarkable, making it the best grab-and-go drone-camera. Still, we found a few options that could be improved: 
There is motion blur on images captured in low light conditions.
The Air 2 is slightly heavier than its predecessor, which means you'll need specific certificates and permits to fly this drone in some countries.
Not all of the video modes support the 4K video resolution.
Is the Mavic Air 2 worth buying? 
Considering everything we talked about, DJI's Mavic Air 2 offers an unique experience which gets it a 9/10 rating. It essentially delivers the same quality pictures as some recent DSLR cameras for half the price – 850 euro if you decide to go for the Fly More Combo kit.
Save for later …