Walzin Castle, the most beautiful castle in Belgium

11

min read
Hidden less than 10 kilometers from the center of Dinant lies the most beautiful castle in Belgium, overlooking its surroundings. We visited Walzin Castle, so here is its history and how to reach it.
Walzin Castle's history
Walzin Castle is a neo-gothic castle that is located just outside of the city of Dinant and stands at a unique location: on top of a cliff, just above the Lesse river.
The castle is a classic example of a castle built on a natural feature, giving it a strategic advantage because of its overview of the surrounding terrain – recreating an actual eagle's nest. This allowed the Walzin Castle, built in the 11th century – to be built as a residence and less as a pure fortress.
Over the years, Walzin Castle was destroyed four times from land, leaving only the 11th-century watchtowers towers preserved. It survived various military attacks, such as those of the Prince-Bishopric of Liège in 1489 and the French army in 1554.
The renovations started when Baron Alfred Brugmann bought the ruins in 1850. In 1881 these renovations were finished by the Spanish-Flemish architect Émile Janlet. Unfortunately, we have to consult paintings and drawings to know what the castle looked like at the time, because in 1930, Baron Frédéric Brugmann started a new round of renovations. These new renovations were led by architect Octave Flanneau, after which Walzin Castle got its current, well-known appearance in 1932.
Something also worth mentioning is that the gardens of the castle were designed by architect Louis Julien Breydel, who is known for his works at the Botanical Garden in Brussels.
Walzin Castle and its five viewpoints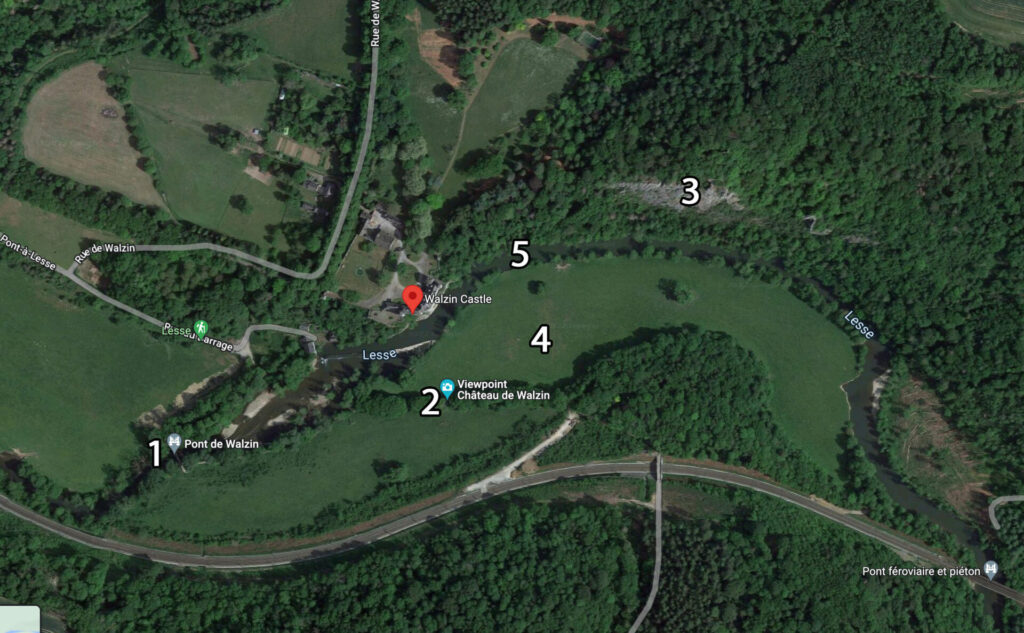 Walzin Castle's first viewpoint is fairly reachable if you park your car at the parking lot located at the end of Rue du Barrage. This parking lot is located a few meters from the Lesse river and allows you to follow a small road next to the water until you stumble upon a small bridge – marked as "Pont de Walzin" on google maps. From here, you'll have a unique view of the castle.
The second viewpoint is located straight in front of the castle, across the river. You can continue the road from our first viewpoint, but you might have to climb a fence to get there – marked as "Viewpoint Chateau de Walzin" on google maps.
The third viewpoint is the most spectacular view but also the most dangerous one. It involves a few adventurous moves, such as climbing over fences, scrambling through bushes, and climbing some rocks. We're deliberately keeping it a bit vague, as it's a bit risky to visit this one.
Our fourth viewpoint is via our DJI drone; the European Drone Regulations allow you to fly your drone in this region, but it might be tricky to put the cliff's height into perspective while flying over.
An attentive reader might have noticed, but our last viewpoint is actually our most sportive view: straight from the water! The area is known for its beautiful canoe routes on the Lesse river, which passes Walzin Castle.
Key facts about Walzin Castle
The road signs and the local population will refer to Château de Walzin because it is located in Dinant, the French-speaking part of Belgium.
| Key facts | Key facts |
| --- | --- |
| Region | Dinant, Namur |
| Built | 11th century |
| Height | 50 meter-high cliff |
| River | Lesse |
| Names | Château de Walzin, Kasteel van Walzin, and Walzin Castle |
| GPS coordinates | 50° 14′ NB, 4° 56′ OL |
Key facts about Walzin Castle
How to reach Walzin Castle in 2023
The castle is best accessible by car, although the castle is surrounded by agricultural fields, forests, and nature. Just make sure you don't park too close to the castle during the winter because it can get quite muddy, and you probably wouldn't want to get stuck there.
Château de Walzin is located outside the center of Dinant, which means a visit by public transport is possible, although it will require a firm hike.
| Public Transport | How to reach Walzin Castle |
| --- | --- |
| By car | The castle is relatively accessible by car and has a small parking lot next to the castle and the river, at the end of Rue du Barrage. |
| By Bus | From Dinant center, you can take TEC Bus 67/1, which will bring you to the neighborhood of the castle – make sure to get off at the Drehance Ferme Piret stop, which should be a 12-minute drive. From here, it is a 3.5 km hike to the castle. |
How to reach Walzin Castle
When to visit Walzin Castle
While The Walzin Castle is – unfortunately – not open to the public, it has been built on top of a cliff, which makes it a subject that can be admired from different points of view on the broader area.
Most photographers choose to capture the castle from a cliff located several hundred meters next to the castle. In contrast, other photographers prefer to cross the Lesse-river and photograph the castle from the field opposite the castle during the morning, which allows them to witness the fog and sunrise from a beautiful point of view.
We even witnessed photographers bringing their kayaks to get an idyllic photo from the river.
If you are looking for the best weather conditions to create a unique photograph, or if you want to participate in surrounding activities such as kayak or mountain biking, you should best visit Walzin Castle during spring or summer.
What to do at Walzin Castle
The region around Walzin Castle is known for its hiking paths, mountain bike trails, and kayak trips. That makes it easy to turn a visit to Walzin Castle into a full-day activity.
Kayak. You can kayak down the Lesse river passing Furfooz nature park, the Aiguilles de Chaleux limestone cliffs, and Walzin Castle.
Mountain bike. There is an intermediate mountain bike route that passes by the castle. Mountain bikers who plan to try out this route should come prepared. Having good physical fitness and advanced riding skills is advised.
Hike. There are various hiking trails in the area that pass by the castle. There is even a route that runs from Chateau Walzin to the nearby Castle of Vêves.
Rope courses. An outdoor adventure park is located a few kilometers from the castle, where you can follow a rope course high above the Meuse Valley.
Other attractions near Walzin Castle
You can find some of Belgium's most impressive castles and ruins around Dinant. This makes it easy to spend a full day visiting Walzin Castle and its neighboring attractions.
Castle of Vêves. The medieval Vêves Castle was built in the 12th century and is regularly compared by tourist magazines to a fairy-tale castle.
Furfooz. A nature reserve filled with forests, meadows, and ruins of Roman fortresses.
Station Royale d'Ardenne. A prestigious train station used by Royal Family, which has been abandoned since 1919. The Royale d'Ardenne station is now completely neglected.
Rocher Bayard. An iconic 40-meter-high rock that has been – according to the legends – split in half by a Bayard horse.
Castle of Freÿr. A Renaissance castle with stunning gardens, which is recognized as a protected architectural heritage in Wallonia.
Collégiale Notre Dame de Dinant. A 13th-century Gothic cathedral located in Dinant city center.
Citadelle de Dinant. A fortress located in the center of Dinant, which overlooks the city and its Meuse river.
Grotte la Merveilleuse. A cave was created by a small underground river, which was discovered in 1904.
If you are looking to visit other interesting places in Wallonia, you might want to read our article about Aulne Abbey or The Try-au-Chêne chapel.
What to pack when visiting Walzin Castle
A visit to Walzin Castle and its surroundings can quickly take up a full day, making it handy to bring some essentials with you.
What to pack when visiting Walzin Castle
Photographing Walzin Castle
To photograph the Walzin Castle, you'll want to take the weather and its seasonal conditions into account: A colorful forest or a snowy landscape is so much more helpful to create a unique photograph than when the leaves have already fallen.
The hardest part about photographing the castle is putting the height of the cliff into perspective. Make sure to bring the right lenses, your drone, and extra batteries if you have them!
The scenery is so extraordinary, you will most likely – and effortlessly – drain your battery to cover all the angles. Felix Van Lantschoot, a well-known Belgian landscape photographer, recently visited the castle and came back with the stunning photos which are spread around this article.
Drone rules
Droning around the castle is allowed, as long as you follow the new 2021 EU Regulations.
Camera gear
Having high-quality gear with you when you are discovering new places will increase the chances of getting beautiful shots – which is why we listed our gear for you to see.
| Gear | How we use it |
| --- | --- |
| DJI Mavic Air 2 | Whenever we're allowed to fly, we send our DJI Mavic Air 2 drone into the sky. The drone has a 30-minute battery and a few pre-programmed flight modes, making it perfect for capturing the Walzin Castle. |
| Sony A7III DSLR Camera (review) | The Sony A7III DSLR Camera is a couple of years old now and is still one of the best options for travel photography. |
| Tamron 28-75mm Lens | My default Sony camera lens. I have a 67mm HOYA polarizing filter screwed on it as standard, which captures the sky more beautifully. |
| Sony FE 24-105mm F4 G OSS lens | A 105mm lens is perfect to cover the distance which you'll need to photograph Walzin Castle. |
Photographing Walzin Castle
Save for later …