Sony A6100 review: Amazing Focus on a Budget
The Sony A6100 APS-C Mirrorless is the successor of the well-respected and widely popular Sony A6000. With its immense sales number, this camera could easily find itself in a lot of hands. It's a great multipurpose camera still sold to this day, and now we have the A6100 trying to beat its predecessor. This Sony A6100 review discusses the main differences between the A6000, A6100, and A6400 models and their appeal to the entry-level folks.
For those that have been using the A6000 for years, there might be some annoyances with it. There's good news, as the A6100 comes with a reap of improvements in quality-of-life, stills, autofocus, and video. And even if the camera body has a similar look, the A6100 is a noticeable upgrade that eliminates many complaints about the A6000 that owners had. Here we'll provide the necessary information needed to decide if the A6100 is the right camera for you.
Unique Features of the Sony A6100
The first and most important feature that the Sony A6100 brings is an impressive 425-points phase and contrast detection autofocus, which takes a nearly instantaneous 0.02 seconds to focus. The new auto-focusing system is phenomenal, with an exceptional eye and facial recognition both for humans and animals. It has specific settings for animals, helping capture perfect wildlife shots.
There are alternative focusing modes options to choose the precise focus point and have the system adjust as movement happens. Just focus on the subject of choice while holding down auto-focus and watch as the real-time tracking AF works on the focus.
Unlike its predecessor, the Sony A6100 has a recording capacity of 4k videos up to 30 fps and 100 Mbps with full pixel readout. If there's a need for higher fps for slow-mo video, switch to 1080p, which goes up to 120 fps. There are options to play it at 25%, 20% speed, or one fps. Just keep in mind this model does not have access to the picture profile, meaning there's no access to S-Log or HLG to expand the dynamic range.
Sony A6100 Video
This camera is capable of 4K video capture that'll be ideal for recording family memories, wildlife in their natural habitat, and moving objects with high fidelity. The most attractive feature of the A6100 also applies to video, the real-time autofocus tracking. It can quickly alter between tracking an object, tracking a face, and tracking an eye.
Meaning that a simple configuration to the A6100 eye-tracking system can do all of the auto-focus work by itself; the A6100 will not struggle to keep the focus on a bunny fleeing from a predator. These settings are off by default, however. So make sure to go into the menus and enable AF-C (Continuous AF), allowing the autofocus to track and continuously focus.
There are a few autofocusing area options to decide how the camera will choose the focus. By default, it uses the wide-area focus setting. It'll usually pick the subject closest to the focus point. If a person shows up, the focus will jump to their face, and about a second later, their eyes if eye-tracking is enabled and their eyes visible.
The internal microphone that comes with the A6100 has low quality, but thankfully it has an external microphone port. If there's a need for good quality and a compact microphone, look into the Rode VideoMicro and a cold shoe extension. In case there's any need to change the microphone on the camera to have access to the flip-up LCD screen for self video or photography.
Sony A6100 VS Sony A6400
When getting into Sony Alpha cameras and comparing them to find the best model for the job, one must ask themselves if the Sony A6400 is worth the extra $150 premium. First, we make some comparisons. They share the same 24MP, APS-C CMOS Sensor. That means that using high-quality lenses will produce a very similar image quality with both A6100 and A6400.
Both cameras share a quick and reliable auto-focus system. No cameras in the market in the same price range will provide such reliable autofocus, real-time tracking provided by Sony's incredible AI. Both cameras have integrated time-lapse, 11 fps continuous shooting, and customizable menus for quick access to functions.
These two models have some crucial differences, as the body on the A6400 is a solid magnesium alloy that's moisture-resistant, dust-resistant, and weather-sealed. The Sony A6100 body is 7g lighter, consisting of cheaper composite plastic, not moisture-resistant or dust-resistant.
If planning to shoot during bad weather such as rainy days, the Sony A6100 should be avoided. That's not a problem with the Sony A6400, of course, due to its weather-sealed body, making it the perfect choice for landscaping. The weather-resistant body would already be enough to recommend the A6400 since it's made of better materials and will protect the camera, making it last for much longer, but that's not all.
When it comes to visualizing the shots, the A6400 has a much better Viewfinder Resolution at an impressive 2,359k dots. The A6100 1,400k dots gives a much better idea of what they might look like when printed or on a larger screen. When compared side-to-side with both cameras, the quality difference can be quite hard to miss.
| settings | sONY A6100 | sONY A6400 |
| --- | --- | --- |
| Release Date | 28th August 2019 | 15th of January 2019 |
| Sensor | 24MP – APS-C CMOS Sensor | 24MP – APS-C CMOS Sensor |
| Dimensions | 120 x 67 x 59 mm | 120 x 67 x 50 mm |
| Weight | 396g | 403g |
| Viewfinder magnification | 0.71x | 0.7x |
| Battery Life | 420 shots | 410 shots |
| Weather sealed body | No | Yes |
| Viewfinder resolution | 1440K dot | 2359K dot |
| Eye Tracking focus | No | Yes |
Travel photography with the Sony A6100
The Sony A6100 is a solid camera choice to take on travels, as long as avoiding getting it wet. With its top of the line real-time tracking AF system, shooting stills is as simple as pointing to the subject, adjusting the focus point, and shooting. Shooting with the Sigma 16mm f/1.4 lenses will give a wide enough angle to allow a good view of the background. Combine it with the real-time tracking AF, and it turns into an excellent self-recording lens.
Even though the Sigma 16mm lens is wide, they are not wide enough to do environmental portraits. Being  f/1.4 means that it's possible to have beautiful out of focus backgrounds and keep the focus on the subject, for impressive shots of a blurry starry sky with subjects focused or big landscapes with wildlife in focus that only a sigma 16mm will do proper justice.
One awful flaw that the lens cannot fix in the Sony A6100 is the lack of in-body image stabilization. Combine this with a terrible rolling shutter that sways quite a bit in movement, and it's difficult to recommend it as a hand-held moving camera. But this can be reduced if shooting scenic stills or ultra-wide shots of landscapes.
City Photography
With the A6100, if shooting in bright conditions, it's guaranteed to do fantastic work, producing impressive ultra-wide or even cinematic shots of the city landscape in well-illuminated streets, the light of downtown, or for real estate photography, making the ambient look huge. It's going to get clear, sharp pictures of standing or fast-moving objects. But, if brought into low-light environments, such as the dusk of a cloudy day, a poorly lit room, or places with low light, the failure to set the minimum shutter speed will give it below average, out-of-focus shots.
Indoors the A6100 has incredible shutter speeds for holding the camera steady or in a tripod with a still subject. It has a difficult time capturing faster-moving subjects such as running pets, vehicles, or planes. The one way to mend this issue is to set the top dial to full manual and adjust the shutter speed to at least 250th of a second. It's far from perfect, and it'll need tweaking and additional work, but it's a step closer to the perfect shot.
The great focusing speed, small Sony A6100 body, and silent shutter make for a great camera to pull and shoot and capture the quick, blink-of-an-eye movements that are happening. When pulling it, the lenses take about half a second to expand fully before allowing it to shoot.
Landscape photography
The A6100 can produce beautiful stills with the correct lens, enough light, and the proper angle. The Laowa 9mm f/2.8 lens allows for several combinations, giving it a big field of view that'll capture nearly everything. Producing impressive super-wide landscape shots and in well-lit nights astrophotography stills.
When it comes to the Sony A6100 battery, like in its predecessor, it still carries the W-series Lithium battery that's good for about 400 shots (taken in 4K) or around 120 mins video. Meaning it may be able to go a full day of shooting before having to recharge. The USB charging allows the flexibility of charging with power banks, laptops, or personal computers.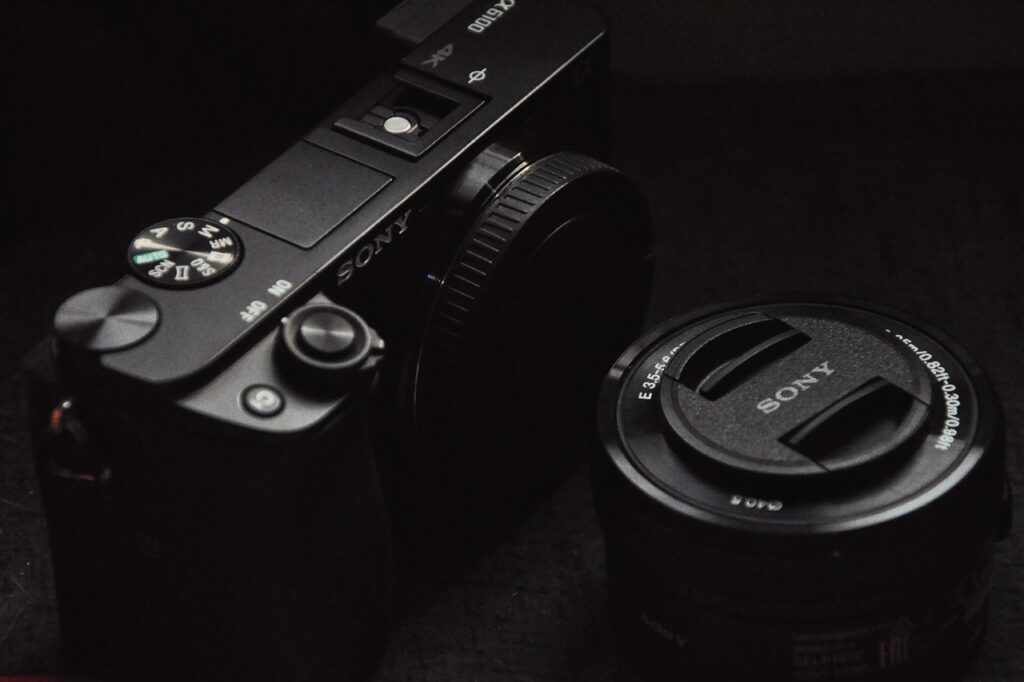 Best Sony A6100 lenses to travel with
The Sony A6100 comes with a 16-50mm lens, which is about the worst option possible even for entry-level people. Due to the low-quality zoom, slow expanding time, and low-quality glass, the one thing they have going for them is how small they are, but it does not make up for the downsides. If looking into better options both for city and landscape, try these options.
Some may be skeptical about such a wide lens for city photography, but the Sigma 16mm f/1.4 has beautiful, clean, and contrast-rich image quality. Capable of very cinematic shots due to its high aperture, the short minimum focusing distance opens up many attractive city shooting possibilities. With its $399 price, this lens will give a lot of value for the investment. Beware that this lens is sensitive to chromatic aberrations. But for stills, it can be dealt with in post-processing.
With a 9mm lens, it can get a wide-angle. As wide as it gets for APS-C. The Laowa 9mm can project lines correctly with little distortion, unlike the fisheye lens. With a maximum aperture of f/2.8, this lens is ideal for shooting even in darker conditions, as it does not get brighter than this. It's perfect for astrophotography, shooting in the dark, and capturing as much as possible of the environment during travel, be it sunny or dark. Priced at $499, this is a fantastic lens to take when traveling, shooting in the wilderness, or just trying to get as much information as possible in the frame.
Are you still looking for other alternatives? We tested many different Sony lenses, rated their performance, and reviewed their quality to help you pick the right lens so you can create a unique photograph during your next trip.
Best Sony A6100 accessories to travel with
Heading out for a day hike with your Sony A6100 is a delightful way to explore nature. Just remember: the longer and the more remote your hike is, the more you'll depend on the camera's batteries and memory. That's why we compiled a list of accessories which you'll need to take full advantage of your camera. 
In Summary
There's no doubt that the Sony A6100 is a considerable upgrade from the A6000 with its real-time tracking AF system, color profile, touch LCD screen (mainly used to pick the focus point). It's a capable camera that'll do most of the focusing work, a strong pick for those that want to get started, with decent and vivid shots from the outset while not overspending.
When getting serious about the hobby, it's crucial to have a high-quality camera that'll last for a good while. Some useful features to look into for the camera are picture profiles, white balance for video, and a weather-sealed body. This model also has a higher quality Viewfinder with almost double the resolution. If these features seem important, consider spending the extra $150 and pick up the more resilient Sony A6400.
Pros
An upgraded sensor that produces impressive colors
A new LCD screen mainly to help pick a focusing point
Customizable menus, keeping essential functions accessible
Tilting LCD screen allowing for selfies and self-video recording
Light-weight compact body, perfect for city shooting when on the move
Top of the line Alpha series 425-points autofocus, ideal for photography
Cons
Unintuitive menus that expect the user to remember a lot
Lack of in-body stabilization, necessary to have a tripod to shoot video
Fragile composite plastic body, lacking weather-sealing and moisture-resistance
New to photography?
If you are new at photography, you want to look into these free guides.
Sony A6100 Key Specs
Sony A6100 kEY sPECS
Model Name:
Sony Alpha ILCE-A6100 
Announcement Date:
28th August 2019
Model Number:
A6100
Weight:
18.1 oz (512 g) includes batteries, kit lens
Size:
4.7 x 2.6 x 2.3 in. (120 x 67 x 59 mm)
Sensor Type:
CMOS
Effective Megapixels:
24.2
Sensor Format:
APS-C
Max Image Resolution:
6000 x 4000 (24.0 MP, 3:2)
Image File Format:
JPEG (EXIF 2.31), RAW (14-bit compressed ARW 2.3), RAW+JPEG
Continuous-mode frames/second:
11.0 fps
Max Movie Resolution:
3840×2160 (30p/​25p/​24p)
Lens Mount:
Sony E
Viewfinder:
EVF / LCD (Tilting Screen)
Maximum ISO (native):
32000
Minimum ISO (native):
100
ISO Settings:
Auto, 100-32000; expandable to 51200