Étretat, the most beautiful cliffs of Normandy
When you're looking to discover the under-explored beaches of Normandy in France, you'll most definitely have to stop in Étretat to witness its world-famous white cliffs and rock formations.
About Étretat
Le Porte d'Aval arch and L'Aiguille are two world-famous rock formations located in the surroundings of the coast of Étretat, Normandy. ⁠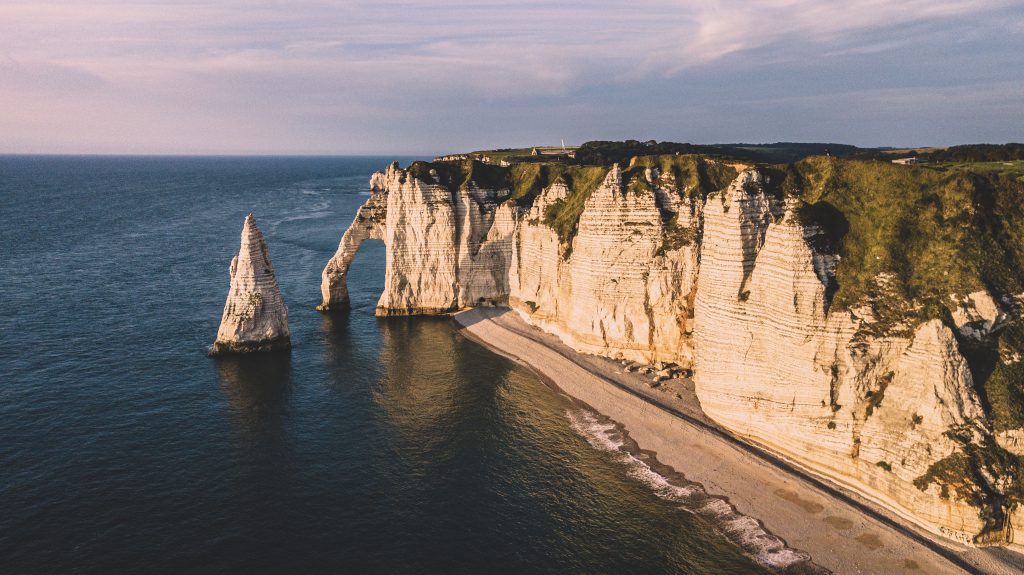 The formation of these geological wonders has a similar story to England's Durdle Door arch: nature has curved unusual shapes in the white cliffs, with the help of the pressure of the waves. With this erosion, the cliffs got smoothened and multiple spectacular rock formations were created, such as the popular Le Porte d'Aval (a limestone arch) and L'Aiguille (a rock formation in the shape of a needle which rises 70 meters above the sea).
The cliffs are known to be very stunning viewpoints to witness the sunset and sundown at. In the same area of Le Porte d'Aval arch and L'Aiguille, you'll be able to find two other – less-known – arches: the Manneporte and Porte d'Amont. 
You could also observe the stunning views over Étretat's beaches from its 18-hole golf course or Étretat's well known experimental garden, both located on top of the cliffs. 
Not only the views from the limestone cliffs are spectacular, but the caves and tunnels which you can find around the beach are fun to explore when the tides are low. Be sure to do the walks on both sides of the beach. We actually spent close to an entire day hiking and exploring.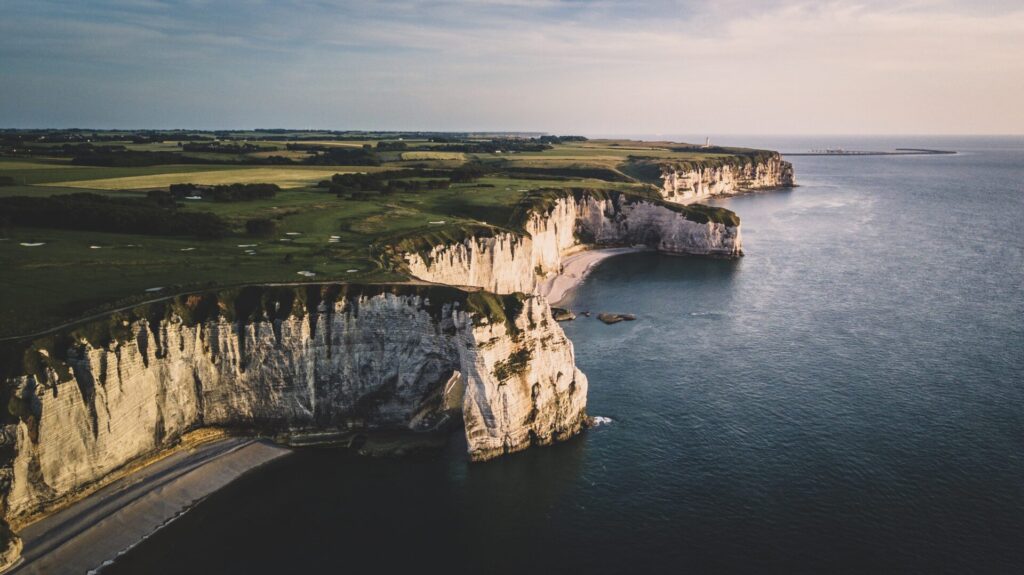 How to get to Le Porte d'Aval arch in Étretat
German photographer Martin Schmitz visited the Le Porte d'Aval arch in Étretat during the summer of 2020, explained to us how he reached the cliffs: 
"Back in July, when we visited Le Porte d'Aval, we hiked to the cliffs directly from the city of Etretat. This hike only took 10 minutes, which gave us a beautiful view over the channel and an even more magical sunset!
Seeing how the waves crash against the cliffs is just fascinating to see and might have been one of the most relaxing hikes I've done. My tip for first-time visitors would be to bring a blanket and some wine with you, to get the most out of your view!"
About the shot
Landscape photography might seem like black magic for some of our adventurous readers and aspiring photographers, that's why we asked Martin Schmitz to break down the technical details behind his shots. 
"When I go for a hike, I usually bring along my Sony A7III camera and my Leica Q. The A7III is my standard camera which I use for most of my pictures because I love the dynamic range of this camera and the possibility to set a high ISO which can even capture some stars.
For small road trips and city trips, I tend to use my Leica Q. This is because it's a very compact camera which is easy to carry. It has a built-in 28mm lens, which is best used to document trips like these.
For this specific trip, I decided to bring my DJI Mavic Pro 2 because I felt it would offer me some unique perspectives and possibilities when capturing these beautiful arches. Sometimes seeing such a landmark from a bird's view, creates shots that are impossible to take with a standard camera. 
The only thing you have to take into account when flying with drones is the "no-fly zones". Personally, I use the Map2Fly application on my smartphone to keep track of this."
Gear
Settings
Shutter speed: 1/800
ISO: 200
Aperture: f/2.2
Software
About Martin Schmitz
Over the past 5 years, Martin Schmitz evolved from capturing road-trips with a small Fuji-Cam to traveling through Europe with a professional camera setup with only one goal in mind: to preserve moments by taking landscape and portrait photos.
Save for later …