Review: How does Loupedeck Live impact your editing process?
Since its successful Indiegogo crowdfunding campaign in 2016, Loupedeck has been designing and building four different Lightroom editing consoles meant to improve your editing workflow. Their newest device? The Loupedeck Live. 
As someone who spends all his available time on hikes, photoshoots, and editing the results of these adventures, I wanted to see if the Loupedeck Live could considerably speed up my – and other travel-minded content creators' – post-production process.
Let's find out!
The Loupedeck Live
Where Loupedeck started building a keyboard dedicated to Lightroom's editing process, the Finnish company kept track of modern times by innovating their devices. This is why they introduced customizable LCD-buttons when they launched their Loupedeck Creative Tool in 2019, making it an interesting tool for videographers and other content creators. 
Since then they have kept track of their audience and listened to the findings of their fan base by addressing two crucial remarks: The price of their devices while welcoming a new target audience: the live streaming community.
What makes the Loupedeck Live so special?
Loupedeck launched the Loupedeck Live – its newest editing console – only a year after it released its Creative Tool and at first glance, it appears to be a smaller, more affordable version which is hugely influenced by its predecessor. 
When we dive deeper into the new Loupedeck Live keyboard, we're learning there is much more to it. We listed all its key functions below.
100% Customizable.
By working with an LCD touchscreen, the company made sure the Live console is 100% customizable, giving you the possibility to set-up quick shortcuts making your main keyboard obsolete during the editing process. 
However, one of the dangers of being able to customize everything is the fact that you'll actually try to customize it as much as possible. Our tip would be to 'keep it simple' and customize it so it fits with your workflow. As an example, for Lightroom, we added three extra screens: one to rate our pictures (flags and stars), one to apply our custom presets, and one for actually editing our pictures.
Collaboration with Adobe
Loupedeck recently unveiled a collaboration with Adobe on a new plugin for Photoshop. This plugin is one of the very first to be built on Adobe's Unified Extensibility Platform (UXP), which was integrated into photoshop in October 2020 and gave the Loupedeck Live new features and improvements.
Software integrations
The Loupedeck Live is fully compatible with 11 applications:
Adobe Lightroom Classic
Photoshop CC
Premiere Pro CC
After Effects CC
Audition CC
Illustrator CC
Final Cut Pro X
OBS Studio
Streamlabs OBS
Spotify
Twitch
Ready-made profiles
The Live console comes with ready-made profiles for the 11 applications listed above, which means you can start using it as soon as you've installed the Loupedeck framework, without having to set-up the shortcuts for these applications first. 
Our advice would be to start out with these ready-made profiles and organize your shortcuts along the way so it's perfectly adapted to your personal workflow. This way your Loupedeck stays optimized, without having the risk you created shortcuts that you'd never use. 
No Licenses. 
The Loupedeck Live was meant to work with a license-system from 2021 onwards, however: after feedback from their community they have decided to update their business model and include all plugins free of charge.
However, the Loupedeck Live works with a login system, which means you have to make sure you're logged into the application before you try to use the keyboard in a remote destination without any internet.
The same goes when you're switching from your desktop computer to your laptop: best to double-check and see if you're actually logged in or not. It could save you from some headaches by avoiding vague error messages.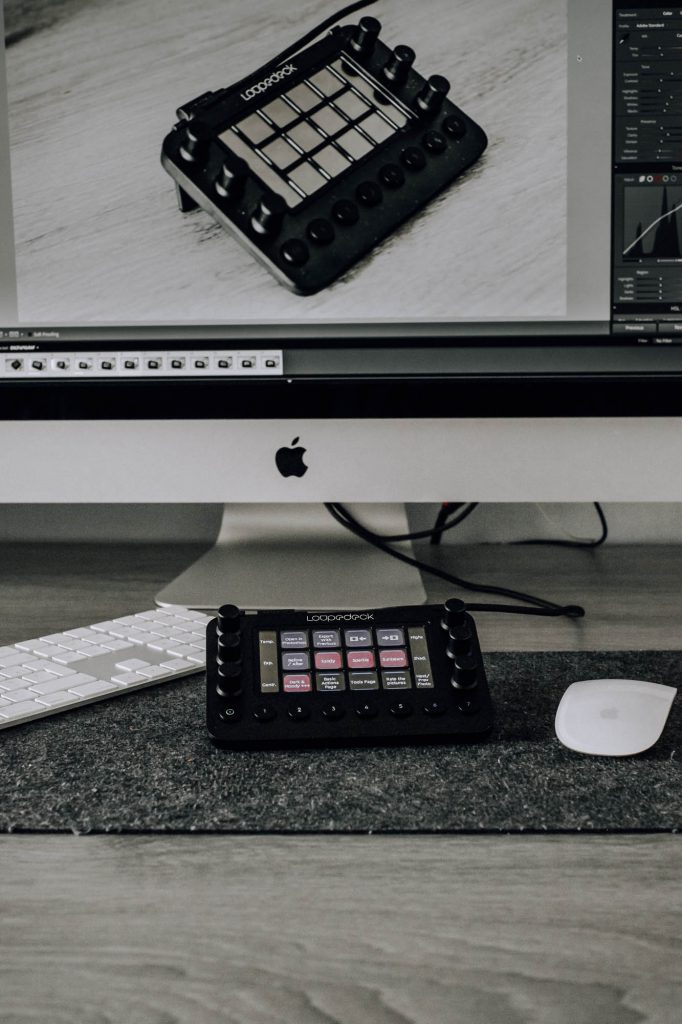 Is the Loupedeck Live suited for traveling?
In comparison with the more expensive Loupedeck CT model, the Loupedeck Live is a smaller version that has fewer buttons but still offers the same functionality. This makes the Live console the most compact keyboard Loupedeck has released so far, while it's still a premium build editing console.
The size makes it perfect to take along while going on an adventure… it's just missing a travel case. Other than that, you have to make sure your laptop is logged into the Loupedeck app before you go for a hike!
Loupedeck Live Pros
Compact
100% Customizable
Ready-made profiles
Flawless software integration
Loupedeck Live Cons
Doesn't come with a travel case
Internet connection needed to log-in and use the keyboard
Is the Loupedeck Live worth buying? 
Just like its previous keyboards, the Loupedeck Live is a customizable console with native support for creative and streaming software. As far as necessary goes: a correctly configured Loupedeck Live will help you speed up your work, which ensures that there is more time for editing the smaller details.
For us, it isn't about how crucial and important an improved editing process is, but rather how much this accelerated workflow is worth to us. Most professional photographers only have to save one hour of their time, to have a positive return on their investment. 
Save for later …