Highpointing, an unique way for hikers to explore the USA
Have you ever wondered what one of the craziest – but also most unique – bucket lists goals of experienced hikers might look like? Well, we're pretty sure highpointing every state in the USA would make a great adventure to start with!
What is highpointing?
Highpointing is literally ascending to the highest elevation point within a given area, in this case the highest point of every American state. 
Since Arthur Harmon Marshall completed this challenge in 1936 as the first human in the world, only around 300 people have achieved the same goal. According to the Highpointers Club, only 10 new people manage to climb their 50th state summit per year which makes it a very select group of hikers who achieve this goal.
The reason this list of achievers is so small? Because most hikers need over 20 years to cross every state of their list! 
Arthur Harmon Marshall, the first highpointer
Arthur Harmon Marshall, the first person to go to the highest point in every state, started his adventure in 1919 by climbing Mount Rainier in Seattle, Washington, and visited his 50th highpoint in 1936 by visiting the Hoosier Hill in Indiana.
During his many hikes, Marshall kept a journal which he named "A Mountain From Some Mole Hills, or the Wanderings of a Telegrapher on Vacation". This 2475-page handwritten chronicle contains stories of Marshall's entire life (1886-1951), including his fascinating highpointing adventures. The journal was donated to the Mazamas Club at a Highpointers Convention in June 2012 and is currently being digitized.
Pictures of the chronicles are available on the Highpointers Club website, together with Marshall's list of completions.
Why would you highpoint every American state?
Another hiker who managed to visit the 50 American State highpoints is Mark Birkett. Mark only needed 18 years to achieve the feat, from 1998 to 2016.
When asked why he accepted this challenge and started his quest to become a '50 highpoint completer', Mark said:
"Looking back at it, this challenge made me visit a lot of beautiful places that I wouldn't have visited otherwise. This project made me realize America has a lot of interesting places; from the natural beauty on long hikes, to quirky intersections that are just a geographical anomaly!
Another reason is the number of 50 highpoint completers! I forgot the exact numbers, but it's only a few hundred people who've done this before. It's more rare to visit all the 50 highest state points in America, than to climb Mount Everest! I'm not saying it is as difficult, but it is certainly unique and I'm definitely proud to be among the people who have finished it."
Mark even included a little anecdote: "Years ago, I read a tiny note which was stuck to a wall and said: "Time is not measured in minutes, it is measured in events". Since then it has been on my mind during these trips: I'm out here doing this, I'm out here living."
For most hikers the challenge is a physical exercise, but there are definitely many other aspects to the challenge: from educational to spiritual, from the social aspect to a dozen other reasons.
Before you go, think about… 
Mark Birket already mentioned it: While every state has the highest points, some of them contain massive mountains while other states are relatively flat with a cornfield in the middle of nowhere being the highest point. Take Britton Hill in Florida as an example, which has an elevation of just 105 meters (345 feet) above sea level.
However: some of these highpoints will need a lot of mountaineering skills, so don't forget about the basic hiking skills when you're trying to complete this list.
Be prepared. Do the basic research about the trail that's waiting for you: from trail conditions to equipment requirements and weather forecast.

As the old saying goes: "Getting to the top is optional; getting down is mandatory". Never hesitate to throw in the towel when there is danger; the mountain will still be there tomorrow so you can always retry the climb to a highpoint.

Do not rely on your mobile phone. Not all highpoints have cell phone coverage, so leave your itinerary with friends or family, and stick to your plans. Consider bringing a locator, satellite phone, or other tools which could help you communicate in worst case scenarios.

Leave no trace. Do everything in your power to minimize your impact on nature and leave no trace or trash during your adventure.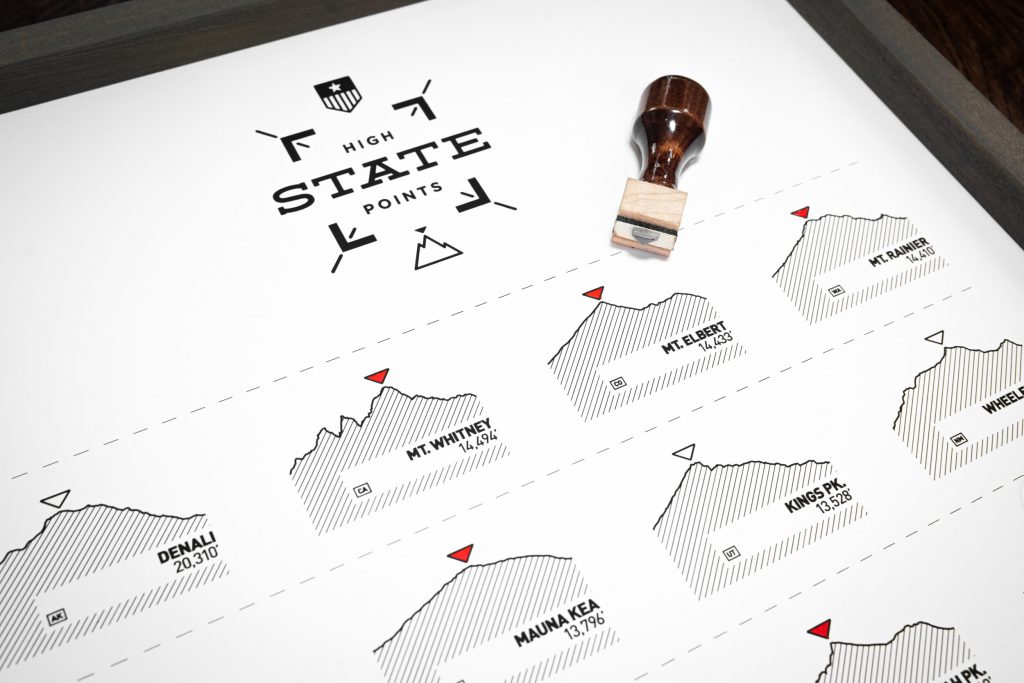 USA's 50 highest state points listed
We listed the highest point in every American state below, sorted from lowest highpoint to highest!
50. Florida — Britton Hill, 105 meters / 345 feet above sea level
---
49. Delaware — Ebright Azimuth, 136 meters / 447 feet above sea level
---
48. Louisiana — Driskill Mountain, 163 meters / 535 feet above sea level
---
47. Mississippi — Woodall Mountain, 245 meters / 807 feet above sea level
---
46. Rhode Island — Jerimoth Hill,  247 meters / 811 feet above sea level
---
45. Illinois — Charles Mound,  376 meters / 1,235 feet above sea level
---
44. Indiana — Hoosier Hill,  383 meters / 1,257 feet above sea level
---
43. Ohio — Campbell Hill, 472 meters / 1,549 feet above sea level
---
42. Iowa — Hawkeye Point, 509 meters / 1,671 feet above sea level
---
41. Missouri — Taum Sauk Mountain, 540 meters / 1,772 feet above sea level
---
40. New Jersey — High Point, 549 meters / 1,803 feet above sea level
---
39. Wisconsin — Timms Hill, 595 meters / 1,951 feet above sea level
---
38. Michigan — Mount Arvon, 603 meters / 1,979 feet above sea level
---
37. Minnesota — Eagle Mountain,  702 meters / 2,302 feet above sea level
---
36. Connecticut — Mount Frissell (southwest shoulder), 725 meters / 2,379 feet above sea level
---
35. Alabama — Cheaha Mountain, 735 meters / 2,413 feet above sea level
---
34. Arkansas — Mount Magazine, 839 meters / 2,753 feet above sea level
---
33. Pennsylvania — Mount Davis, 979 meters / 3,213 feet above sea level
---
32. Maryland – Hoye-Crest, 1024 meters / 3,360 feet above sea level
---
31. Massachusetts — Mount Greylock, 1 063 meters / 3,489 feet above sea level
---
30. North Dakota — White Butte, 1 069 meters / 3,508 feet above sea level
---
29. South Carolina — Sassafras Mountain, 1 085 meters / 3560 feet above sea level
---
28. Kansas — Mount Sunflower, 1,231 meters / 4,041 feet above sea level
---
27. Kentucky — Black Mountain, 1,263 meters / 4,145 feet above sea level
---
26. Vermont — Mount Mansfield, 1,339 meters / 4,395 feet above sea level
---
25. Georgia — Brasstown Bald, 1,458 meters / 4,784 feet above sea level
---
24. West Virginia — Spruce Knob, 1,482 meters / 4,863 feet above sea level
---
23. Oklahoma — Black Mesa, 1,516 meters / 4,975 feet above sea level
---
22. Maine — Mount Katahdin, 1,606 meters / 5,270 feet above sea level
---
21. New York — Mount Marcy, 1,628 meters / 5,343 feet above sea level
---
20. Nebraska — Panorama Point, 1,654 meters / 5,427 feet above sea level
---
19. Virginia — Mount Rogers, 1,746 meters / 5,729 feet above sea level
---
18. New Hampshire — Mount Washington, 1,916 meters / 6,288 feet above sea level
---
17. Tennessee — Clingmans Dome, 2,024 meters / 6,643 feet above sea level
---
16. North Carolina — Mount Mitchell, 2,037 meters / 6,684 feet above sea level
---
15. South Dakota — Black Elk Peak, 2,207 meters / 7,244 feet above sea level
---
14. Texas — Guadalupe Peak, 2,667 meters / 8,751 feet above sea level
---
13. Oregon — Mount Hood, 3,428 meters / 11,249 feet above sea level
---
12. Arizona — Humphreys Peak, 3,851 meters / 12,637 feet above sea level
---
11. Idaho — Borah Peak, 3,861 meters / 12,668 feet above sea level
---
10. Montana — Granite Peak, 3,903 meters / 12,807 feet above sea level
---
9. Nevada — Boundary Peak, 4,007 meters / 13,147 feet above sea level
---
8. New Mexico — Wheeler Peak, 4,013 meters / 13,167 feet above sea level
---
7. Utah — Kings Peak, 4,125 meters / 13,534 feet above sea level
---
6. Hawaii — Mauna Kea, 4,207 meters / 13,803 feet above sea level
---
5. Wyoming — Gannett Peak, 4,208 meters / 13,809 feet above sea level
---
4. Washington — Mount Rainier, 4,394 meters / 14,417 feet above sea level
---
3. Colorado — Mount Elbert, 4,401 meters / 14,440 feet above sea level
---
2. California — Mount Whitney, 4,421 meters / 14,505 feet above sea level
---
1. Alaska — Denali, 6,190 meters / 20,310 feet above sea level
Save for later …