Exploring the ancient Mayan ruins of Chichén Itzá
During one of his adventures, Mexican landscape photographer Edgar Canales traveled to the ancient Mayan city Chichén Itzá. During his visit to the archaeological site, he photographed the Temple of Kukulcan ("El Castillo de Kukulcán").
About Chichén Itzá
Chichén Itzá is an impressive archeological site located in Mexico's Yucatan Peninsula region, a full-day drive from Mexico City. The ruins have received the UNESCO world heritage status, and are named as one of the seven new world wonders of the world. 
Back when the city was inhabited, between 400 AD and 1200 AD, Chichén Itzá was the largest Mayan city. At that time, architecture was the way they expressed their importance and power. Because of this, when you're walking through the ruins you'll find some unique and well-preserved structures. 
The Mayans incorporated their love and knowledge for astrology and mathematics in their buildings, making them real pieces of art. Proof of this is The Kukulcan Temple ("Elcastillo Pyramid"), which is known as the most famous structure on the archaeological site. 
The massive pyramid stands right in the middle of the courtyard, and isn't easy to ignore since it's 24 meters (almost 79 feet) tall. The structure is an example of the Mayan's architectural skills and contains different references to their astrological beliefs.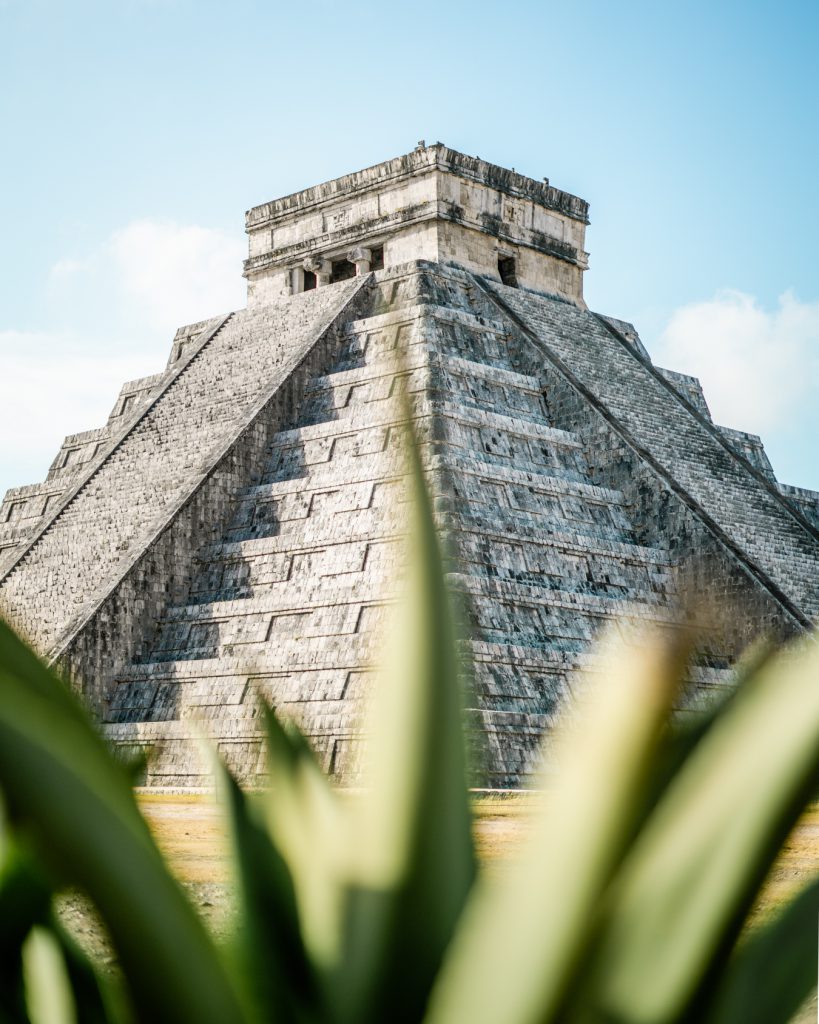 Visiting Chichén Itzá in 2021
The singularity of Chichén Itzá's entire archeological site makes it one of the most visited places in Mexico. It's open to the public for the entire year, which might cause some complications when you want to get a clean shot without tourist crowds. That's why we suggest you go during the off season, which is between during spring (February to May, excluding spring break and Easter) and during autumn (September to November).
The Chichén Itzá site is open from 8:00 to 17:00, but it's best to get there early before the crowds.
Drones aren't permitted onsite due to safety concerns for bystanders, so you won't be able to take any aerial photos of Chichén Itzá.
Landscape photographer Edgar Canales wanted to portray the roots of his country and shot these pictures of the ruins of Chichén Itzá. Hegave some of them a more unique touch by adding one of the most representative plants of Mexico's culture and heritage in the foreground: The Agave.
About the shot
Landscape photography might seem as black magic for some of our adventurous readers and aspiring photographers, that's why we decided to break down the technical details behind this shot. 
Gear
Settings
Shutter speed: 1/3200
ISO: 100
Aperture: f/1.8
Software
About Edgar Canales
Edgar Canales is a Mexican landscape, adventure, and travel photographer. His goal is to portray the immenseness and beauty of the environment that surrounds us, while telling interesting stories through his images.
Save for later …