The City of Love: A Guide to the Most romantic things to do in Paris
When it comes to romance, Paris is a city that needs no introduction. From its charming streets and picturesque parks, to its world-renowned restaurants and iconic landmarks, the city of love is the perfect destination for couples looking for a romantic getaway as there is no shortage of romantic things to do in Paris. 
In this article, we will explore some of the most romantic things to do in Paris and some hidden gems that are perfect for couples. When it comes to finding the perfect accommodation for couples, our article on the best places to stay in Paris can help guide you to the most romantic hotels and apartments the city offers.
Romantic Things to Do in Paris
One of the most iconic romantic things to do in Paris is to take a stroll along the Seine River; the river's banks are lined with several charming cafes, bookstores, and street vendors, making it the perfect place to enjoy a romantic evening. Additionally, you could take a boat tour of the Seine River and see the city's famous landmarks, such as the cathedral of Notre Dame and the Eiffel Tower, from a new perspective.
One of the most romantic things to do in Paris is to visit the famous Eiffel Tower; take the elevator to the top, and enjoy a panoramic view of the city. On a clear day, you can see for miles, and the view of the city is simply breathtaking. And if you're feeling extra romantic, you can even take the elevator to the restaurant and enjoy a champagne toast with your loved one.
The Luxembourg Gardens is another must-visit romantic spot in Paris; this beautiful park is filled with lush greenery, sculptures, and charming fountains. We recommend you to stroll through the gardens and enjoy the serene atmosphere, or – if you're looking for an even more romantic experience – rent a rowboat and paddle around the garden's pond.
The city is – next to its romantic atmosphere – also filled with top attractions, such as The Eiffel Tower, Notre Dame Cathedral, and the Champs-Elysées. The city is filled with other top attractions – so read our guide filled with things to do in Paris if you are looking for more inspiration on a romantic weekend in Paris.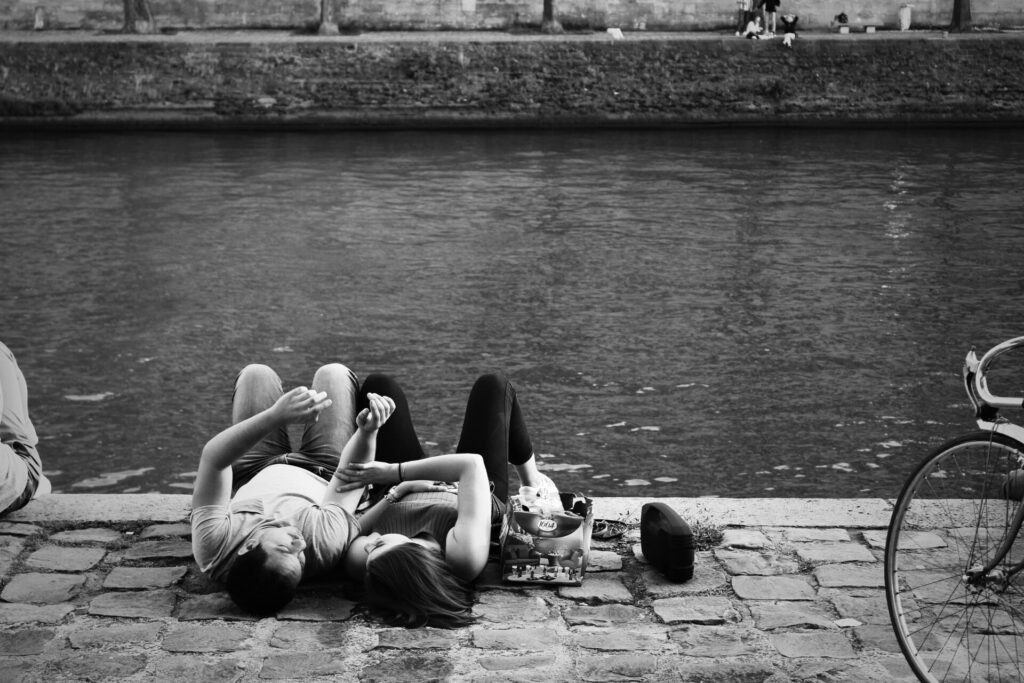 Things to Do in Paris as a Couple
Shopping in Paris as a couple is a must-do for any romantic getaway, as the city is renowned for its high-end fashion boutiques, charming vintage shops, and picturesque outdoor markets. 
There is no better way to wander around Paris than to stroll hand in hand along the charming streets, browsing through the colorful displays and finding unique treasures to bring home as a reminder of your romantic trip. Whether you're looking for designer clothes, vintage finds, or unique souvenirs, you'll have an amazing time. 
If you want to make the experience even more special, take a break and enjoy a croissant and coffee at a quaint sidewalk café while people-watching – a perfect way to spend a romantic day together and create lasting memories.
If you're looking for a more intimate experience, head to the Montmartre neighborhood before sunset and wander through the charming neighborhood (which is known for the most romantic spots in Paris) and take a stroll through the winding streets and enjoy the stunning sunset view of the city at the steps of Sacré-Cœur Basilica. 
Additionally, as you're in the neighborhood already: you'll want to visit Le Clos Montmartre, a picturesque vineyard located in the heart of the Montmartre district. It is one of the last remaining vineyards in Paris, and it is the perfect spot for a romantic stroll among the vines to learn more about the history of wine-making in Paris and to sample some of the wines produced on-site.
Most Romantic Things to Do in Paris
If you are looking for romantic but instagrammable moments, you'll want to visit the  "I Love You" wall in Paris, located in the Montmartre district; it is covered in colorful tiles that spell out "I Love You" in over 300 languages, making it the perfect spot for a romantic photo and it's also surrounded by many charming streets and picturesque views of the city.
Another romantic spot, and a local legend in Paris, is the Love Lock Bridge. The locals know it as "Pont des Arts", and it's ironic because the bridge is overwhelmed with thousands of love locks left by couples as a symbol of their love. 
Most couples pass by this bridge, attach their own lock to it, and take a selfie as a lasting memory of their romantic trip to Paris. By now it's a romantic tradition that can be found in many cities worldwide, but Paris was the first place to do it. 
Romantic Things to Do in Paris (France) for Couples
Another hidden gem is the Musée de la Vie Romantique (Museum of Romantics), located in a charming 19th-century townhouse that provides a glimpse into the romantic era of Paris. The museum's collection includes paintings, sculptures, and decorative arts from the early 19th century, as well as personal objects that belonged to famous romantic figures such as George Sand and Frédéric Chopin.
One of the museum's highlights is the beautiful garden, where couples can wander and admire the charming flowers and greenery. It also features a charming teahouse, where visitors can enjoy a cup of tea and a pastry while surrounded by the romantic atmosphere of the museum.
Another highlight of the museum is the salon of George Sand, the famous French writer, and feminist, which has been restored to its original state and offers a glimpse into the life of one of the most famous romantic figures of the 19th century.
Things to Do in Paris for Couples
For a romantic dinner, head to one of Paris' many restaurants. French cuisine is renowned for its quality and elegance, and there is no shortage of romantic restaurants in Paris. If you're looking for an exceptional experience, make a reservation at one of Paris' Michelin-starred restaurants.
Save for later …