Best cruises for young adults in 2023: Explore, Party, and Relax
Embarking on a cruise is an unforgettable way for young adults to explore new destinations, enjoy exhilarating parties, and unwind in luxurious relaxation. In this comparison review, we'll dive into the best cruises for young adults in 2023, highlighting the top cruise lines and ships that cater to a variety of interests, from adventure-seeking enthusiasts to wellness-focused travelers. We'll examine the unique offerings, itineraries, and onboard experiences that set these cruises apart from the rest, ensuring that you can find the perfect voyage to suit your needs and preferences. 
Whether you're a seasoned cruiser or a first-time voyager, get ready to set sail on the journey of a lifetime with our comprehensive guide to the ultimate cruising experiences for young adults in 2023.
Why do people go on cruises?
Cruises have long been a popular vacation choice for people of all ages, including young adults. With a myriad of activities, entertainment options, and opportunities to explore new destinations, cruising is an attractive way to experience the world in a convenient and enjoyable manner. One of the main reasons people choose to cruise is the all-inclusive nature of the experience. With accommodations, meals, and entertainment typically bundled into one package, travelers can indulge in a hassle-free vacation that often offers great value for their money.
Young adults, ranging from college students to young professionals, are increasingly recognizing the appeal of cruises. Cruises for 21-year-olds and other young adults offer a perfect blend of relaxation, excitement, and cultural immersion. Cruise lines like Royal Caribbean, Norwegian Cruise Line, and Carnival Cruise Line cater to this demographic by providing age-specific activities, parties, and events that create a lively and engaging atmosphere. Additionally, many cruise lines now offer a variety of themed voyages that cater to specific interests such as music festivals, wellness retreats, or adventure excursions, making them an ideal vacation choice for young travelers.
The cruise industry has also made strides in accommodating younger guests, including those in their early twenties. With no shortage of activities and entertainment options designed to appeal to the younger generation, 20-year-olds can easily find a cruise that suits their needs and interests. From adrenaline-pumping activities like zip-lining and rock climbing to exclusive clubs and lounges for younger guests, cruise lines have created a diverse range of offerings that cater to this age group. Ultimately, cruises provide a versatile and dynamic vacation option for young adults, presenting an array of experiences tailored to their unique preferences and desires.
What is a good cruise?
A good cruise is one that offers a well-rounded experience, catering to the diverse needs and interests of its guests. While the definition of a good cruise may vary depending on individual preferences, there are several key factors that contribute to an exceptional cruising experience. These factors include a wide array of onboard activities, quality accommodations, exceptional dining options, and exciting itineraries that take travelers to breathtaking destinations.
Onboard activities play a significant role in creating a memorable cruise experience. A good cruise will offer a variety of entertainment options and amenities that cater to different age groups and interests. These may include live shows, themed parties, sports facilities, swimming pools, and wellness centers. For young adults, cruise lines such as Royal Caribbean, Norwegian Cruise Line, and Carnival Cruise Line are renowned for providing exhilarating and engaging activities that appeal to this demographic.
Quality accommodations are another essential aspect of a good cruise. Comfortable, well-appointed staterooms with attentive service ensure that guests can enjoy a relaxing and rejuvenating stay. Many cruise lines offer a range of accommodation options to suit different budgets and preferences, from cozy interior cabins to lavish suites with private balconies. Furthermore, exceptional dining options that cater to various tastes and dietary needs are a vital component of a top-notch cruise experience. Guests can expect a mix of casual and fine dining venues, as well as specialty restaurants that offer diverse cuisine options.
Lastly, a good cruise will feature exciting itineraries that enable travelers to explore new destinations and immerse themselves in unique cultures. Cruise lines often curate itineraries that balance the time spent at sea with port calls, allowing guests to make the most of their vacation. The best cruises offer a combination of popular tourist destinations and lesser-known gems, providing an opportunity for travelers to create lasting memories and broaden their horizons.
What are the different types of cruises?
The cruising industry has evolved to offer a wide variety of options catering to diverse interests and preferences. In order to meet the needs of different travelers, several types of cruises have emerged, each with its unique offerings and experiences.
Adventure cruises are designed for those seeking thrilling experiences and active itineraries. These cruises often include activities such as kayaking, hiking, and wildlife watching, with destinations that showcase natural wonders, wildlife, and remote landscapes. Lines like UnCruise Adventures and Lindblad Expeditions are known for providing these types of immersive experiences.
Themed cruises focus on a specific interest or hobby, offering guests the opportunity to indulge in their passions while sailing. These cruises can revolve around music festivals, gastronomy, sports, wellness, or even television shows and movies. Cruise lines like StarVista Live and Sixthman are popular for their music-themed cruises.
River cruises provide a more intimate and leisurely experience, with smaller ships that navigate inland waterways. These cruises often include stops at charming towns, historical sites, and picturesque landscapes, with lines like Viking River Cruises and Avalon Waterways offering a range of itineraries.
Luxury cruises focus on providing an upscale, all-inclusive experience, with exceptional service, gourmet dining, and spacious accommodations. Cruise lines such as Regent Seven Seas and Crystal Cruises cater to guests who seek unparalleled luxury and sophistication.
Celebrity Cruises are known for their modern luxury and elegant design, and they also cater to young adults with their wide range of onboard activities, entertainment, and nightlife options. The age group that cruises the most can vary depending on the type of cruise and destination, but generally, the 40-60 age range is the most common demographic. However, younger travelers are increasingly taking to cruising, and many cruise lines are adapting their offerings to cater to these younger guests.
For travelers seeking an 18+ cruise experience, lines like U River Cruises by Uniworld and Virgin Voyages specifically target the young adult market, with age restrictions and a focus on creating a more youthful and energetic atmosphere on board. These cruise lines are designed to appeal to younger travelers with their modern amenities, unique experiences, and vibrant social environments.
When should you go on a cruise?
Deciding when to go on a cruise is an essential aspect of planning a memorable and enjoyable vacation. The ideal time to embark on a cruise depends on various factors such as destination, budget, personal preferences, and weather conditions. By considering these elements, travelers can optimize their cruising experience and make the most of their voyage.
Destination plays a significant role in determining the best time for a cruise. Different regions have their peak travel seasons, usually characterized by favorable weather and increased tourist activity. For example, the Caribbean is a popular year-round destination, but the optimal cruising season typically falls between December and April, when the weather is warm and sunny with minimal rainfall. On the other hand, Mediterranean cruises are best enjoyed between May and October, when temperatures are pleasant and the majority of ports are bustling with activity. Alaska's cruising season is shorter, spanning from May to September, with the warmest months being June and July.
Budget is another crucial factor when deciding when to cruise. Peak travel seasons often come with higher prices and increased demand, which may impact the availability of desirable accommodations and itineraries. Travelers on a budget may consider cruising during the shoulder seasons – the periods just before and after the peak seasons – to take advantage of lower prices and fewer crowds. Additionally, booking a cruise during the off-season or keeping an eye out for last-minute deals and early-bird specials can result in significant savings.
Lastly, personal preferences and priorities can influence the ideal time for a cruise. For travelers who prefer a quieter, more relaxed experience, cruising during the off-season may be more appealing. On the other hand, those who thrive on lively atmospheres and bustling ports may prefer to sail during peak travel seasons. It is essential to consider factors such as personal schedules, school or work commitments, and any specific events or festivals that may influence the timing of the cruise.
Best Cruises for young adults (top pick)
Our top pick for the best cruise for young adults in 2023 is the Norwegian Cruise Line's Norwegian Encore. This state-of-the-art ship offers an incredible mix of entertainment, dining options, and onboard activities that cater specifically to the tastes and interests of young adults, making it an ideal choice for an unforgettable cruise vacation.
One of the standout features of the Norwegian Encore is its wide range of onboard activities. Young adults can experience the thrill of the largest race track at sea, the Encore Speedway, or test their agility at the open-air laser tag arena. Additionally, the ship boasts a fantastic aqua park, complete with multi-story waterslides and splash zones. For those seeking relaxation and wellness, the Mandara Spa & Salon and the adults-only Vibe Beach Club provide the perfect retreat.
When it comes to entertainment, the Norwegian Encore does not disappoint. The ship features world-class Broadway-style productions such as "Kinky Boots" and "The Choir of Man," as well as live music performances and comedy shows. The various bars and lounges, including the Skyline Bar with its panoramic ocean views and the interactive Galaxy Pavilion, provide a lively atmosphere for socializing and meeting new people.
Dining is another area where the Norwegian Encore excels. With over 20 different dining options (Italian cuisine, Japanese cuisine,..), guests can indulge in a wide variety of culinary experiences, from casual eateries to specialty restaurants featuring international cuisine. The ship's Freestyle Dining concept allows guests the flexibility to dine whenever and wherever they choose, with no fixed dining times or assigned seating.
Lastly, the Norwegian Encore offers a range of itineraries that cater to young adults' adventurous spirits, with destinations such as the Caribbean, Bermuda, and the Mexican Riviera. These itineraries include exciting ports of call, where guests can participate in shore excursions, explore local culture, and indulge in adrenaline-pumping activities.
Best Party cruises for young adults (3 options)
The first option for the best party cruises for young adults is Carnival Cruise Line's Carnival Vista. Known as the "Fun Ships," Carnival Cruise Line is famous for its vibrant atmosphere and lively nightlife, making it an ideal choice for young adults seeking a party-centric cruise experience. The Carnival Vista features a range of bars, lounges, and clubs, including the RedFrog Rum Bar, BlueIguana Tequila Bar, and the energetic Liquid Nightclub. Additionally, the ship hosts themed parties and deck parties, ensuring non-stop entertainment for party enthusiasts.
Another excellent option for young adults looking for a party cruise is Royal Caribbean's Harmony of the Seas. This state-of-the-art ship boasts a dynamic nightlife scene, with a variety of bars and lounges such as the Bionic Bar, Boleros, and the Boot & Bonnet Pub. The highlight of the ship's entertainment scene is the onboard nightclub, Club Twenty, which features a DJ spinning the latest hits, a spacious dance floor, and a lively atmosphere perfect for late-night revelry. The ship also hosts themed parties and events, ensuring there's always something exciting happening on board.
Lastly, for a unique party cruise experience, consider Virgin Voyages' Scarlet Lady. Designed exclusively for adults, this cruise line focuses on creating a luxurious and sophisticated atmosphere while offering plenty of opportunities for late-night fun. The ship features a range of bars and lounges, including the extravagant Manor nightclub, inspired by Richard Branson's personal recording studio. Virgin Voyages also hosts themed parties and events, such as the Scarlet Night Party and the Aquatic Club, providing an unforgettable party experience for young adults seeking a more upscale and modern environment.
Best Mediterranean cruises for young adults (3 options)
The first option for the best Mediterranean cruises for young adults is Royal Caribbean's Odyssey of the Seas. This innovative ship offers an exciting mix of onboard activities, dining options, and entertainment, along with itineraries that take guests to some of the most iconic Mediterranean destinations, such as Rome, Barcelona, and the Greek Islands. The ship features a range of amenities tailored to young adults, including a surfing simulator, a skydiving simulator, and the SeaPlex, an indoor sports complex offering bumper cars and roller skating.
Another excellent option for young adults looking to explore the Mediterranean is Norwegian Cruise Line's Norwegian Epic. Known for its Freestyle Cruising concept, the Norwegian Epic provides guests with the flexibility to create their ideal vacation experience. The ship offers a wide array of dining options, a vibrant nightlife scene, and entertainment such as the famous Cirque Dreams and Dinner show. The itineraries include stops at popular Mediterranean destinations like Cannes, Naples, and Majorca, allowing young adults to immerse themselves in the region's rich history and culture.
Lastly, for a more intimate and immersive Mediterranean experience, consider Celestyal Cruises' Celestyal Olympia. This smaller ship focuses on providing guests with an authentic taste of the Mediterranean, with itineraries that include more time in ports and stops at lesser-known gems in the region. Young adults can enjoy the ship's cozy atmosphere and engaging onboard activities, such as Greek cooking classes, wine tastings, and language lessons. Celestyal Olympia's itineraries feature destinations like Mykonos, Santorini, and Crete, offering a unique opportunity for travelers to delve deeper into the Mediterranean's captivating charm.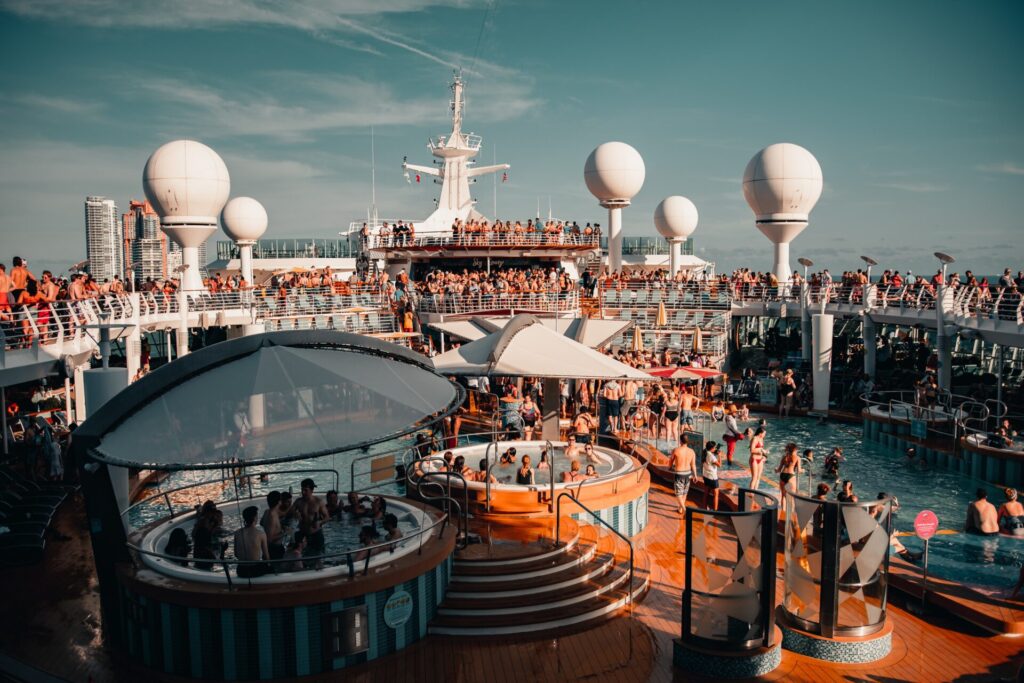 Best cruises for single young adults (3 options)
The first option for the best cruises for single young adults is Norwegian Cruise Line's Norwegian Getaway. This ship offers a fantastic range of amenities and entertainment options that cater to the needs of solo travelers. A unique feature of the Norwegian Getaway is its Studio staterooms, specifically designed for single guests, with access to an exclusive Studio Lounge, where solo travelers can socialize and make new friends. The ship's Freestyle Dining concept and diverse entertainment options provide ample opportunities for mingling with other guests in a relaxed and casual atmosphere.
Another great choice for single young adults is Royal Caribbean's Anthem of the Seas. This innovative ship offers a wide array of activities and entertainment that appeal to solo travelers, such as the RipCord by iFLY skydiving simulator, North Star observation capsule, and the Two70 lounge with its mesmerizing Vistarama shows. The Anthem of the Seas also features a Virtual Balcony stateroom, which offers solo guests a spacious and comfortable cabin with a real-time ocean view. With multiple dining venues and an energetic nightlife scene, solo travelers can easily connect with like-minded guests and enjoy a memorable cruise experience.
Lastly, for a more adult-focused cruise experience, consider Virgin Voyages' Scarlet Lady. This adults-only ship offers a range of amenities tailored to solo travelers, such as the Social Insider cabins designed for single guests. With a vibrant atmosphere and various onboard activities, including fitness classes, spa treatments, and cooking demonstrations, solo travelers have numerous opportunities to socialize and meet new people. The ship's lively bars, lounges, and themed parties create the perfect environment for single young adults to have a fun and unforgettable cruising experience.
Best cruise holidays for young adults (3 options)
The first option for the best cruise holidays for young adults is Contiki's Mediterranean Escape cruise. Contiki, a travel company specializing in vacations for 18-35-year-olds, offers a 7-day cruise that sails through the stunning Mediterranean, visiting destinations such as Barcelona, Nice, Rome, and Ibiza. With a focus on immersive experiences and connecting with like-minded travelers, this cruise provides young adults with opportunities to explore iconic sites, indulge in local cuisine, and enjoy nightlife both on board and in port, creating an unforgettable holiday experience.
Another excellent option for young adults is the Groove Cruise. This unique music-themed cruise offers an exhilarating onboard party atmosphere, featuring world-class electronic dance music (EDM) artists and DJs. With multiple stages, themed parties, and non-stop music, the Groove Cruise is perfect for young adults who love to dance and enjoy a high-energy vacation. The itineraries typically include stops at popular destinations in the Caribbean or the Mexican Riviera, allowing guests to enjoy beautiful beaches and exciting shore excursions during the day.
Lastly, for adventure-seeking young adults, consider G Adventures' Sailing Croatia – Dubrovnik to Split cruise. This 8-day sailing adventure explores the breathtaking Dalmatian coast of Croatia on a small, intimate yacht, allowing for a more personalized experience. With stops at historic towns, hidden coves, and pristine beaches, young adults can enjoy a blend of relaxation, exploration, and thrilling water-based activities, such as snorkeling and paddleboarding. This G Adventures cruise offers the perfect balance of adventure and leisure, making it an ideal holiday choice for young adults looking for an unforgettable experience.